Geomatics student, Mr. Quest Besing passed his FS and FE exams in 2022 Spring before his graduation
Thursday, Oct 27, 2022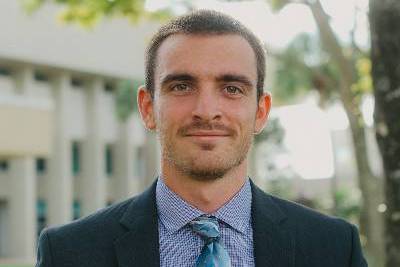 ---
Mr. Quest Besing passed his FS and FE exams in 2022 Spring before his graduation. He is a great example of unique environment that we provide for our students by creating pathways towards multiple engineering and surveying licensure.
Mr. Besing graduated from our robust Geomatics Engineering program by taking additional civil engineering courses. Department Chair, Dr. Kaisar said "We are really excited and happy with his accomplishments based on academic opportunities provided by Civil Environmental and Geomatics Engineering at Florida Atlantic University. We are thrilled that he was able to achieve this milestone in a timely manner."
Below is a personal story from Mr. Besing:
I am extremely fortunate and grateful for the opportunities provided to me by Florida Atlantic University and the college of engineering in my academic career. Four years ago, I sat in Dr. Yong's office as he spoke with prospective students who were interested in the geomatics engineering major and it was that moment which swayed me to choose FAU. A combination of the credits I was able to transfer from my high school and the four year scholarships I received from both FAU and the state of Florida gave me extra time and the opportunity to pursue classes in both civil and geomatics engineering while still graduating in four years.
In preparation for the fundamentals of surveying exam, the many classes provided by Dr. Su and Dr. Nagarajan gave me a strong foundation in the field and confidence to take the test. Their courses are not only focused on teaching the fundamentals of the practice but also preparedness for the exam.
Taking the fundamentals of engineering exam in the civil field was a goal I set with my father before I arrived on campus my freshman year. My advisor Jessica Meith gave me great direction in which classes I should look to take in order to best prepare for the FE exam. The structural courses I took with Dr. Rosson as well as the geotechnical courses I took with Dr. Sobhan gave me both the knowledge I needed for the exam and invaluable information that I will use for years in my professional journey.
After graduation I will be working for Barge Design Solutions in Nashville, Tennessee as a geomaticist, with the intention of becoming a Professional Land Surveyor. My hope is that the double licensure will give me the freedom to pursue other careers if I choose some day.