Student Spotlight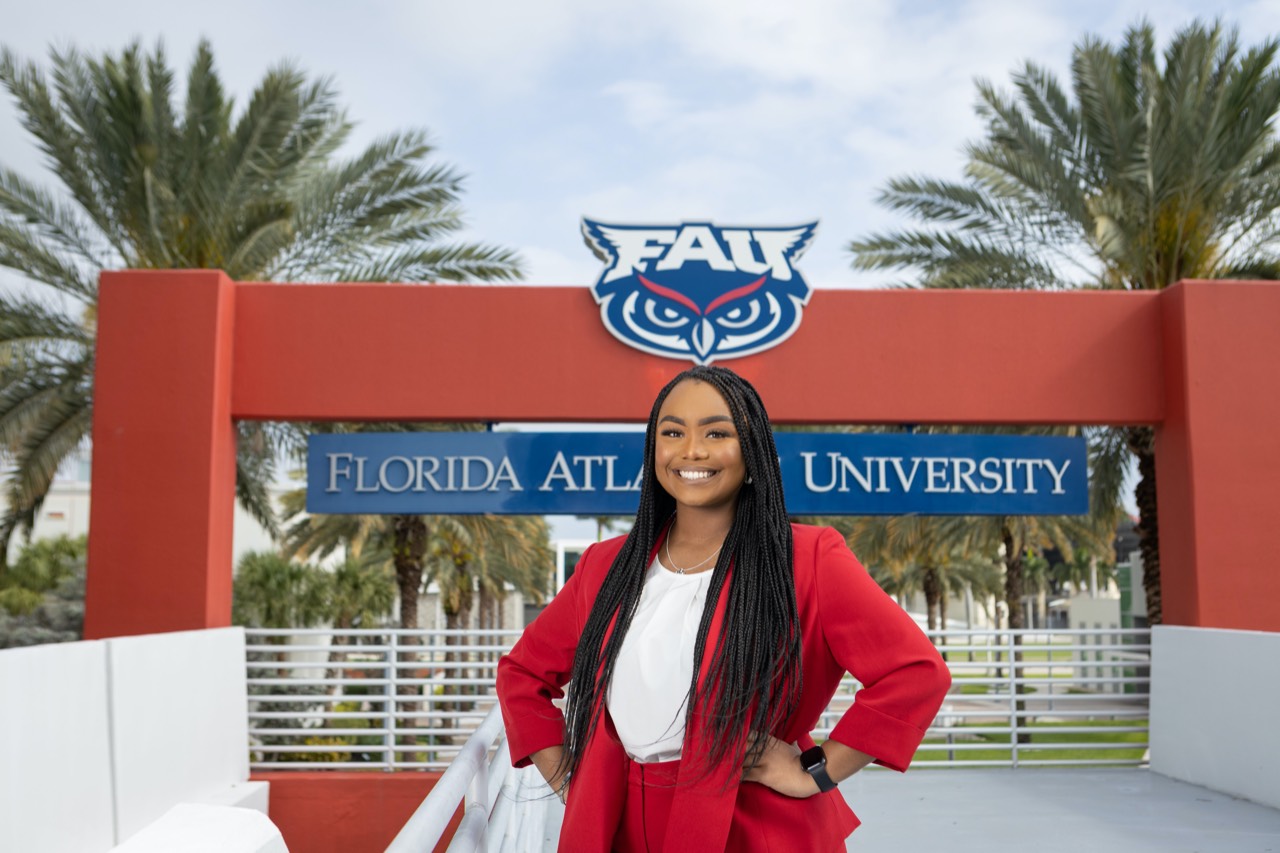 Kennedy McKinney
Sophomore, Multimedia Journalism
Kennedy McKinney is a sophomore at FAU with a major in multimedia journalism. The Jacksonville native has been involved in journalism since middle school. During her first year at FAU, McKinney and her peers felt the need for a publication that would represent the Black community, address issues pertaining to the community, and share their accomplishments. The first Black newspaper of FAU, The Paradigm Press, was founded a few months later in March 2020. As a founder and editor-in-chief of the newspaper, McKinney believes the publication is growing and serving its purpose every day. She says that although the newspaper takes a lot of time and effort, the process has been rewarding. McKinney plans on attending law school after graduation and aspires to be a social injustice correspondent. Her advice to other students is to find something that you like and get involved with the student organizations, and also make sure to manage your time properly. Kennedy was featured in a cover story for Legacy Magazine:   https://online.fliphtml5.com/bluyl/ixgn/#p=12


Lucas Wilson
Ph.D candidate
<p>Lucas Wilson is a candidate for a Ph.D. in Comparative Studies under the supervision of Alan Berger, FAU's Raddock Family Eminent Scholar Chair for Holocaust Studies. In the past year, Wilson has had his work published in several volumes, including the <em>Flannery O'Connor Review</em>, for which he won the Sarah Gordon Award, <em>The Struggle for Understanding: Elie Wiesel's Literary Works</em>; <em>Teaching Jewish American Literature;</em> and <em>Twentieth-Century and Contemporary American Literature</em>. He is, moreover, co-editing with his supervisor a collection of essays tentatively titled <em>Emerging Trends in Third-Generation Holocaust Studies</em>. His work has been accepted into several other edited collections, including <em>Canadian Holocaust Literature</em>; <em>Silenced Masculinities</em>; <em>Becoming: Transformative Storytelling for Education's Future</em>; and <em>Crossing Sacred Borders: Writing Journeys in Literature and Culture</em>. Further, his non-academic work has been published in <em>LGBTQ Nation</em>, <em>Queerty</em>, and <em>RVA Magazine </em>&nbsp;and he also conducted and transcribed a series of oral histories of children and grandchildren of Holocaust survivors that are now publicly accessible through the College of Charleston.<br /><br />This year, he has also taught at University of Toronto (where he was also both a Research Assistant and a Writing Tutor), as well as at Seneca College.</p> <p>&nbsp;Wilson completed his BA in English from Liberty University and finished his MA in English from McMaster University. He then complete his MTS with a Certificate in Jewish Studies at Vanderbilt University, graduating first in his class.</p>
Cameron Wheeler
Commercial Music
Commercial Music Major, Cameron Wheeler (professionally know as Camie Liz), won the 2019 iHeart Radio Jingle Ball Competition in LA. She will be performing for Jingle Ball at the Forum in LA on the 6th of December opening for Katy Perry, BTS, Billie Eilish, Camila Cabello, Lizzo, Halsey, Normani, and French Montana.
Alisha Hoath
Studio Art
Alisha is a senior majoring in Studio Art with a focus in sculpture. This summer she interned with NBC Universal's Late Night With Seth Meyers as a general production intern. Throughout the summer Alisha worked on database and social media management, studio support, and other administrative tasks. Over time she found her passion within the wardrobe department. Previously, Alisha interned with Pretty Vulgar (a makeup company within Sephora) and Statements 2000 (a metal sculpture and art company). "FAU genuinely changed my entire outlook on the school system. It has given me countless opportunities to be the best person I can be and has introduced me to incredible people, staff and students, who continue to support and inspire me."
Neasha Prince
Philosophy and Sociology
Neasha Prince is a senior double majoring in Philosophy and Sociology. During the summer of 2019, she interned with Kellogg as a Project Management Intern in the IT department.  "I worked on various projects, improving my leadership skills, cross-functional skills, communication skills, and global competency skills," said Prince. "I hope to explore future career opportunities with Kellogg post-graduation."
Jeffrey Coltman-Cormier
Department of History
Jeffrey Coltman-Cormier presented at the Notre Dame Student Peace Conference in March 2019. He presented his honors thesis titled Desperate Times Call for Desperate Measures: How Border Fortification Intensifies Transnational Insurgent Violence Against Civilians. More information on the conference can be found here http://sites.nd.edu/peacecon/files/2019/03/2019-Student-Peace-Conference-Program.pdf


Amanda Do Nascimento
Music
Amanda Do Nascimento is a senior majoring in Commercial Music Business. She is currently Vice President for Hoot/Wisdom Recording, FAU's on-campus record label, and an active member in SAI's music fraternity. She is also interning with the Florida chapter of The Recording Academy, which provides networking opportunities for professional musicians and opportunities for students. Some of these opportunities include access to behind-the-scenes sound checks, access to membership exclusive events and a Mentorship program. In October, Amanda worked with the Florida chapter of the Recording Academy in hosting a District Rally in the Wynwood Yard in Miami to celebrate the passing of the Music Modernization Act.This act, passed by Congress in October, aims to modernize copyright-related issues for music and audio recordings. After graduation, Amanda wants to pursue a career within the music industry as an event planner or find a job helping musicians market their material.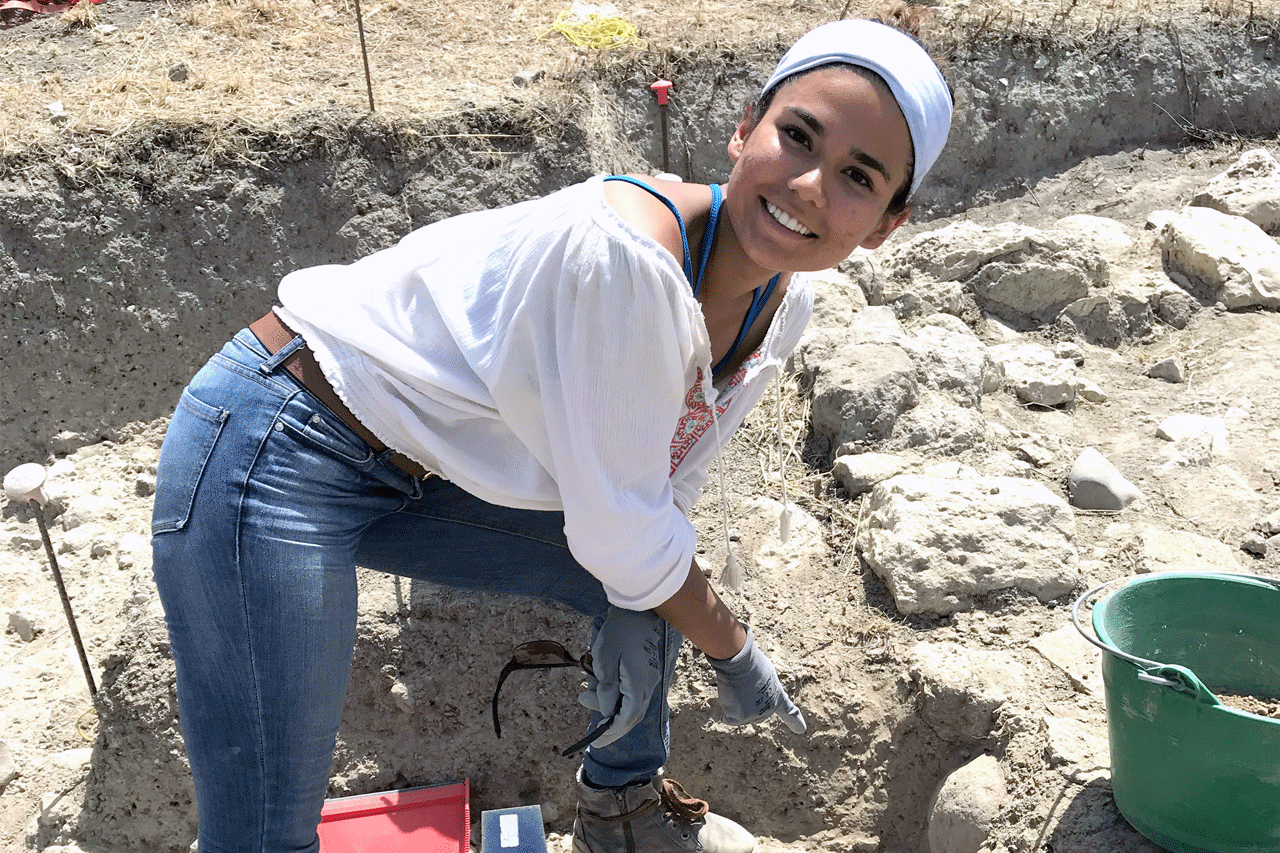 Roser Boltes
Visual Arts and Art History
Roser Boltes is a sophomore majoring in Art History. This past summer Roser went abroad on her first archeological dig in Sicily, Italy. The FAU study abroad program, Exploring Ancient Sicily at Palike, lead by Professor Brian McConnell, provides students five weeks of hands on experience in an archeological site studying and working under professional archeologists. On her last week at the site, Roser found a coin that was issued by the Greek city of Syracuse. The relatively rare incuse decoration dates the coin to ca. 415 B.C.E., and it shows the active relations between the Greek city and this important sanctuary of the indigenous, Sikel people.
Annie Baron
Political Science
Annie Baron is a senior majoring in Political Science. This summer she will be working as a policy fellow at Cavarocchi Ruscio Dennis and Associates in Washington, D.C. Her responsibilities will include summarizing hearings and markups, writing articles on legislative developments, preparing Hill Advocacy Day materials, and providing general support in the firm. This will be Annie's second time interning in Washington D.C., as she previously held an internship with a lobbying firm there. On campus, Annie is a part of the Leon Charney Diplomacy Program as well as the Elite Owls, a program designed to recognize exemplary student leaders at FAU. After graduation Annie hopes to be a policy analyst.
Sarah Mahoney
Studio Art
Sarah Mahoney is a senior, from Wellington, Florida, majoring in Studio Art. She is currently an intern in the Disney College Program at Disney World, where she works in the costuming department in Epcot. Before interning with Disney, Sarah completed an internship at Studio One to One in Wellington. In this role, Sarah assisted in photo editing, as well as marketing and communications for the studio. Sarah's dream job is to be a Disney animator. "The College of Arts and Letters has impacted me so much because it has helped me grow to be more independent, and find myself as an artist. I have realized what I am truly passionate about, which is animation and art. Like Walt Disney always said, if you dream it, you can do it!"