e-Learning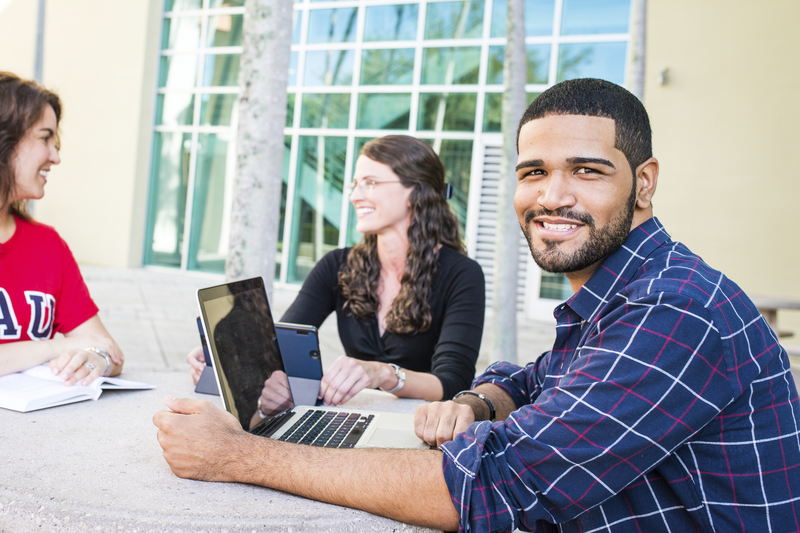 Registration Information
Students testing at an FAU campus will make appointments at www.fau.edu/testing at least 2 days before the desired test time and date.
Students testing at a Non-FAU test center should begin the request process at least 3 weeks before desired testing date.
The spelling of your name must match your ID exactly.
You must arrive at least 15 minutes prior to your testing time. Please be prompt. Late arrivals will not be admitted and must get instructor's permission to reschedule for a later date.
If you require assistance, please email fautesting@fau.edu 
Test Center Regulations
Examinees are required to be  professional, civil and respectful at all time while on the premises of the Test Center. All exams are continuously monitored by video and audio recording, physical walk-through, and through the observation window. The Test Center Staff is authorized to dismiss you from the test session for a violation of any of the Test Center Regulations, including exhibiting abusive behavior towards the Test Center Staff or other examinees.There will a brief security check upon entry to the test room.
What to Bring
An FAU Owl card must be presented prior to testing at all FAU campuses. NO EXCEPTIONS.
A copy of your appointment confirmation email.
Hoodies, sweaters, jackets, coats or outerwear are NOT permitted in the testing rooms. It is suggested to dress accordingly (long sleeves) or you may not be permitted to test.
Schedule Your Exam
Testing at FAU
Choose the FAU campus where you want to take your exam below.
This will take you to that campus test center's website where you will again select "e-LEARNING".
Exactly ONE WEEK prior to your exam, the scheduler for that campus where you can choose the eLearning course exam and make your appointment. Available appointment times will show on the drop down calendar.
Clicking on a time produces the next screen to record your registration information. Register only once for each exam. Click Here for more information.
Testing at Non-FAU Center
If you are unable to come to one of our campuses, please click here for more information, then contact kbishopmora@fau.edu
**When testing at a Non-FAU campus you must present a valid, government-issued photo ID or FAU Owl card**
Rescheduling your e-Learning Exam
You are able to reschedule your appointment up to 2 hours before your registered appointment time, after that you will not have the option to reschedule your appointment.


By clicking the campus location below, I agree that I have read and understand the listed information
above including the ID requirements and Test Center Regulations and I am now ready to register. PLEASE MAKE SURE YOU CLICK "eLEARNING" THROUGHOUT THE REGISTRATION PROCESS AFTER YOU PICK YOUR CAMPUS