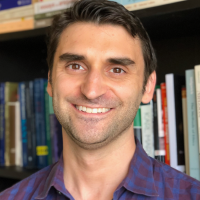 The Ethics of Vaccination During the Pandemic
Justin Bernstein, Ph.D.
Assistant Professor, Department of Philosophy,
Dorothy F. Schmidt College of Arts and Letters
---
---
There are two fundamental thoughts of vaccine distribution priority: protecting the vulnerable first or vaccinating those who are more likely to transmit the disease first to protect everyone. What's your opinion on which one is more appropriate?  
This is a great question, and it's one we grappled with when designing our guidelines for the CDC . We ultimately favored protecting the vulnerable. This was partly because, at the time of authoring the framework, it was unknown just how effective the vaccines were at preventing transmission, rather than just protecting the recipient. (More recently, we've gotten some encouraging evidence that suggests that the vaccines appear to prevent transmission effectively.)
Moreover, adopting the strategy of 'protecting everyone' from vaccinating high transmitters would require either (a) that we have enough vaccine to vaccinate a large segment of the population or (b) we have the ability to identify and reliably administer vaccines to high transmitters. And there are reasons to doubt that (a) and (b) apply to the circumstances of allocation.
First, the problem of priority-setting and allocation arises precisely because (a) is not the case. That is, we cannot give a vaccine to most people who want one during the first phase of allocation, and so there's a real worry that we couldn't get significant population level-benefits in the early phases of vaccine allocation.
(We also assumed that we shouldn't prioritize particular cities or states; i.e., maybe we could've gone for population protection if we allocated a lot more vaccine to certain geographical regions than others. But such a policy would run into all kinds of ethical and political problems).
With regard to (b), we thought that it would be too difficult to identify the relevant groups, ensure that they received the vaccine, and justify this decision to the public. With regard to the justification component, even if we found that college students who go to bars were more likely to spread the coronavirus than seniors at high risk, many would balk at prioritizing the college students.
That said, we thought that by prioritizing people in high-risk professions, such as healthcare workers or food supply workers, we would get some of the broader benefits you allude to. It just wasn't the primary consideration for the early stages of allocation.
---
When you spoke about whether medical professionals have a moral obligation to get a vaccination … don't medical professionals have to live by a higher standard than the general public … part of being a medical professional is doing what is best for your patients.  
I have three points in response.
First, I agree that medical professionals have to live by a higher standard than the general public.
But second, I don't think that this higher standard is 'doing what is best for your patients.' This is because 'doing what's best for your patients might be very, very demanding. To illustrate, consider the following example. Imagine that social scientists found out that medical practitioners without ADHD can provide substantially better care for their patients if they were to take Ritalin or Adderall. Your statement would imply that they are obligated to do so — after all, doing so would lead to better care for patients. But I'll assume — and I imagine many would share this assumption — that medical professionals are not obligated to take these drugs; if medical professionals decline to take them, they do nothing wrong. So, it seems that medical professionals are not obligated to do 'what's best' for their patients.
The more general point is this. Medical professionals certainly have moral obligations to patients, obligations that are more demanding than what strangers owe to each other. But it does not follow that the obligation is to maximally or best protect patients. Indeed, there are reasons to doubt that medical professionals have this more stringent obligation.
This means we need to figure out just how much medical professionals owe to patients in terms of protection, and what this means for vaccinating behavior. I suggested that we'd need more argument to show that medical professionals who wear a mask and take other precautions but decline vaccination violate this obligation to patients. That is, I don't see why vaccine-refusal means that medical professionals are taking insufficiently good care of their patients — assuming they use PPE and so forth.
Third, and building on the previous point, I'd note that medical professionals are already living in accordance with a very demanding set standards during this pandemic. They are working long hours under conditions of high risk, often without additional compensation. They are burning out at a very high rate. Given the sacrifices they have made and the precautions they're already required to take, it would sound odd if we accused medical professionals who refuse vaccination of failing their patients — or the rest of society — because they declined to get vaccinated.
---
Is someone who refuses to mask, distance, or get a vaccine violating an ethical obligation by being part of the bigger problem… increasing the likelihood that we will have new viruses that are more deadly and less likely to respond to vaccinations?  
Here, I think, the discussion in my talk about 'contributory ethics' is relevant. We are 'part of' many 'bigger problems.' Think of climate change, the enormous suffering from animals in factory farms, our purchase of goods that come from exploited child labor, our depletion of other common pool resources … the list can seem endless!
But it turns out that it's really hard to demonstrate the existence of an obligation not to be 'part of a bigger problem.' If you're curious about this sort of debate in ethics, generally, I'd recommend the paper by Travis Rieder and myself, as well as the philosophers we cite in that paper — especially work by the Mark Budolfson, Julia Nefsky, Walter Sinnott-Armstrong and Shelly Kagan. In our paper, Travis and I argue that while we might not have moral obligations to, say, reduce our carbon footprint, we still have reasons to do so, and then we explore how to think about these reasons.
So, how does this connect to the pandemic? I would argue that a similar point applies to our current situation. Individuals have moral reasons to 'not be part of the problem' when it comes to COVID-19, and this means that individuals have moral reasons to get vaccinated. But I don't think that there's a compelling argument that, at present, these moral reasons rise to the level of a moral obligation . That said, as I argue in one of my other papers, once a sufficiently large number of people get vaccinated, we will have obligations to get vaccinated — to do our fair share in producing the public good of herd immunity.
---
What is the USA's obligation to the rest of the world to share vaccinations? Are we being immoral now?  
This is a great question. Some of my colleagues and mentors are working on the ethics of "vaccine nationalism." I'll just briefly note that we should distinguish two relevant concerns.
The first is a concern of self-interest. Namely, if wealthier nations hoard vaccine, then we should worry that this will lead to worse results for us in the longer-term. That is, different strains will continue to arrive in our country, and we will all suffer for it.
The second is a moral concern. I'll assume, with many other philosophers, that we have obligations to other countries, and vulnerable people across the world. I think there's good reason to suspect that hoarding vaccine is a failure to fulfill that obligation.
Where does this leave things? Well, it seems as though both self-interest and altruism count in favor of distributing vaccine much more widely across the globe. So, we're failing on both counts.
---
What are your thoughts on Gov. DeSantis' recent statements that "vaccination cards" should not be used by either government or private services (hotels, businesses, employers, etc.)?  
On the one hand, vaccination cards would likely yield certain public health benefits. They would likely incentivize people to get vaccinated. And, we're getting some good evidence that the COVID-19 vaccines are effective at preventing transmission.
Moreover, if we think that government is justified in shuttering non-essential businesses or banning public gatherings, then I could see an argument for making access to such goods conditional on getting vaccinated. Put another way, if government can justifiably deprive everyone of access to various goods in the name of public health, why couldn't it justifiably just deprive those who refuse to get vaccinated?
Well, one natural answer here is that there are real worries about unfairly depriving people of access to various goods and services, worries I mentioned in my talk. If vaccination is disproportionately enjoyed by privileged people, then vaccine cards will only further exacerbate the relevant inequities.
There are responses to this concern, and the debate about the ethics of this will surely become more pronounced as time goes on … i.e., there's a lot more to be said here, and, schedule permitting, I hope to think more about it.
---
Your arguments suffer from two fatal flaws. First, the individual is absorbing the entire risk with unknown benefit over the long-term. You are assuming a perfect product, which is unreasonable. If a severe reaction results, what is the obligation of society to now support an injured person? Second, if "everyone must do their part," why aren't the pharmaceutical companies legally liable when problems occur? There is a plethora of research that shows individuals slack when accountability is reduced. Trust would increase significantly if those companies would absorb the same risk as all other U.S. manufacturers.  
Thanks for the question — it's a complicated challenge you press, and it requires some unpacking.
But, the really short version of what I'm going to say is this: none of your points count against my arguments specifically. If correct, your points count against vaccination policy in the U.S., generally. Also, there are reasons to be skeptical that these two 'fatal flaws,' do, in fact, count against vaccination policy in the U.S. generally.
First, none of my arguments assumed a perfect product. Every vaccine carries some risk of adverse side effects. For instance, for the MMR vaccine, one study estimated that 33 children out of 100,000 experience febrile seizures in the two weeks after receiving the MMR vaccination (Xi Lin, Yang Lin, Gang Yao, and Yicun Wang, 2018. "The Influence of Vaccine on Febrile Seizure." Current Neuropharmacology 16 (1): 59–65.) However, even granting this risk, I just don't see why we should think it counts decisively against the existence of an obligation to get vaccinated or the justification for MMR mandates. I was assuming that MMR mandates are justified, despite these risks, given the collective benefits — and the overwhelming likelihood of individual benefit to the recipient. If you'd like further argument in defense of this claim, see the following paper I recently published.
So, I've argued that requiring citizens to take on some amount of risk is morally justifiable for the sake of collective benefits. The question is just how much risk, or how much uncertainty, is acceptable to require individuals to take on. If you accept these two claims, then I'd think we just disagree about the margins of acceptable uncertainty and risk rather than disagreeing more fundamentally about whether governments are permitted to require citizens generally, or (one of the topics of my talk) healthcare workers specifically, to undertake any risk by getting vaccinated for COVID-19 specifically.
I'd then point out, that even to satisfy requirements of Emergency Use Authorization, vaccines have to pass a very high bar for safety. And there is a lot of evidence that, for a given person, the vaccine is overwhelmingly likely to reduce their risk of illness or death from COVID-19. I.E., individuals stand to benefit a great deal from getting the vaccine, even though, like all (very safe) vaccines, it carries some risk.
Your second comment asks about society's obligation to support a person injured by a vaccine. I'd note, again, that this question isn't specific to the COVID-19 vaccine. For example, when it comes to the MMR vaccine, taxpayers compensate people who might have suffered vaccine injuries—through the National Vaccine Compensation Program. (In many cases it's far from certain that the vaccine caused the injury, but we compensate people anyhow.) Relatedly, you express concerns about pharmaceutical companies not being held strictly liable for vaccine injuries.
In reply, I'd note that some express worries that pharmaceutical companies would not have sufficient incentive to develop vaccines if they were held liable for vaccine injuries. (See, e.g., https://www.theatlantic.com/health/archive/2019/05/vaccine-safety-program/589354/ ; https://www.hrsa.gov/vaccine-compensation/index.html ) The basic rationale is that, contrary to what some would have you believe, vaccines are not especially profitable for pharmaceutical companies, and they would be very un profitable if vaccine developers had to spend millions of dollars arguing in court against families that claim (whether sincerely and on the basis of good evidence, or insincerely and without any good evidence) that their children have suffered vaccine injuries.
If manufacturers lacked incentive to develop vaccines, however, then they wouldn't do so, and we'd all lose out on the public good of herd immunity. One solution, then, involves taxpayers footing the bill rather than holding pharmaceutical companies strictly liable for vaccine injuries. Now, just as you might think that no collective benefit justifies requiring citizens to take any risks, no collective benefits justify requiring citizens to pay into this fund. But that argument seems to rest on a pretty radical form of libertarianism or anarchism, and it would seem to have implications that go far beyond vaccine policy. I.E., we shouldn't be taxed for the provision of other public goods, if that's the underlying view. Addressing that kind of libertarianism or anarchism goes beyond the scope of my talk.
Now, if you're just insisting customers would have higher trust in vaccines if the manufacturers bore the liability for injuries after administration, then that's another debate. Funnily enough, many advocates of vaccine mandates worry about the message it sends to have government compensating victims of vaccine injuries — or purported vaccine injuries. They worry this compensation program makes vaccines appear less safe than they actually are, and it opens the door to anti-vaxxer conspiracy theories about big pharma and government cover-up, etc.
I'd note, however, that at this point, I'm no longer addressing whether pharmaceutical companies should, as a matter of doing their fair share, pay the bill for vaccine injuries. We're just talking about what would lead to greater buy-in/trust, on the assumption that such companies would produce enough vaccine, even if they were held strictly liable for vaccine injuries. Yet again, this sort of discussion goes beyond the arguments in my talk.
---
The flu vaccine does not always match the seasonally strain so the idea of herd immunity is not really possible, right? Also, note how the use of masks may be the reason our flu cases are so low this year. 
I've talked to several epidemiologists about this, both before this talk and after your question. They all concurred that while we'd need a more aggressive policy and to mandate vaccines earlier, and there would be years where we wouldn't have vaccines with the right strain, herd immunity is still possible for seasonal flu in a given year. I'm on record arguing that the flu vaccine should be mandated for school aged children if you'd like to read more .
But, yes, it would certainly help to combat seasonal influenza if we were all to wear masks during flu season, too.
---
The common is disregarded every day in both micro and macro ways, often without recourse. Help me understand how participating in research, because this is what is currently the case, if I do not want to. How would this not be similar to the research horrors of the past? This is not a vaccine in the way that we have always understood the word to mean. Someone one can decide not to wear a mask, and this is acceptable, but individuals will be forced to have something injected into their body.  
I'll make six points in response, and they're meant to address other questions this audience member asked that were in a similar vein.
First, it would be useful to distinguish between compulsory vaccination, which criminalizes vaccine-refusal, and mandates, which make enjoying various goods or services — such as access to public school or employment in a hospital — conditional on receiving a vaccine. Now, nothing in my talk suggested that we should even consider compulsory vaccination — which is what I take you to be suggesting when you bring up the possibility that 'it will be acceptable' that 'individuals will be forced to have something injected into their body.' I don't know of anyone in policy or ethics debates who is seriously entertaining a policy of compulsory vaccination against COVID-19.
But second, I argued that a mandate would require justification, given the costs it imposes on individuals.
Third, I argued that a universal mandate, even if ethically justifiable, is not currently politically feasible — and so policymakers should not attempt to implement it.
Fourth, when I restricted my focus to a mandate for healthcare workers, I indicated that there are compelling reasons not to implement such a policy, although one could make the argument that these reasons could be outweighed by the public health benefits and benefits to the patients.
Fifth, I never said that it's acceptable not to wear a mask. And, I'm happy to go on record stating that governors should all be implementing mask mandates — lifting mask mandates at this stage of the pandemic is utterly indefensible, in my view.
Sixth, I think it's worth saying something more general about the sorts of concerns voiced in this question (and other similar ones). Vaccination is an upsetting, deeply personal issue for many people. And I certainly don't mean to be dismissive of understandable concerns about the COVID-19 vaccines, given our deeply polarized political climate, the fact that these vaccines use new technology, or more general concerns about historical or ongoing injustice mentioned in the talk. It's understandable to have reservations about their safety, and to be opposed to even limited mandates from employers on the basis of those concerns.
But I also think it's really important that we work to avoid misinterpret people on the other side of this issue. I've indicated how I think this question misinterprets my arguments, and hopefully some of my other responses indicate how I think this question mischaracterizes the relevant issues.