Research Cores
FAU has core facilities, common equipment and shared equipment. We also have reciprocity agreements with Scripps-Florida and Max Planck Florida Institute for access to their core facilities. FAU faculty can access those cores with equal priority and on a cost basis.
Listed below are the types of core facilities FAU faculty have access to including descriptions of each core and contact information. Some of the cores listed are still under development, these are noted in gray.
Core Facilities policy: CoreFacilityPolicy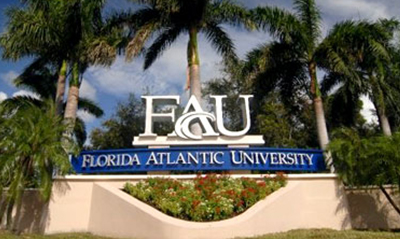 FAU Core Facilities
Advanced Computing and Informatics Cores
Biostatistics Collaborative Core
The mission of the Biostatistics Collaborative Core at FAU is to provide ready access to the highest quality of biostatistics support to promote successful collaborations with investigators involved in health-related research at FAU and beyond.
The FAU Cell Imaging Core provides imaging services and light microscopy equipment to support scientific and clinical investigators at FAU and other institutions.
FAU's Clinical Research Unit's (CRU) mission is to provide researchers at FAU with the facilities, tools, training, services and guidance to conduct high-quality clinical research.
The mission of Comparitive Medicine is to provide state of the art animal care in order to promote the health and well-being of animals used in research, testing and teaching in a manner consistent with animal welfare regulations and policies. The unit facilitates high quality animal research while being a resource for research staff on all issues relating to laboratory animals including humane treatment and judicious use of animals as well as further knowledge and skills.
Core Technology Conversations
The FAU Core Technology Conversations is a monthly webinar series that delves into FAU's different core facilities, and how they can assist researchers, as well as the community. Join us at the live webinars, or check out the recordings below. Each video offers vital information about the core in addition to a question and answer session with the director.
Engineering & Technology Core (ETC)
The Engineering and Technology Core offers applied project services to support FAU faculty with sponsored research projects. We provide quality and affordable engineering, project management, operations, and testing services that free investigators to focus on science, publishing, and new proposal development.
The Human Imaging Core manages FAU investigator access to various human imaging resources, including a GE 3T fMRI. Working with external partners and FAU administration, the mission of the core is to enable safe and accessible use of human imaging equipment for sponsored research and scholarly activity.
The mission of the Water Analysis Lab (WAL) in the Department of Geosciences at FAU is to provide high quality analytical services to support environmental research done by faculty in the Department, the University, and their collaborators. Additionally, the lab places a strong emphasis on providing education and research opportunities for both undergraduate and graduate students.
The Behavior Core at Scripps Florida provides an excellent resource for investigators wishing to include behavioral assays in their research programs.
Scripps Cell Based High-Throughput Screening Core
Researchers in the Cell-Based Screening (CBS) Core leverage high-throughput technologies towards a systematic description of the function of genes encoded by the human genome, and a more comprehensive understanding of the genetic basis for human disease.
Scripps Energy & Materials Center
The Energy & Materials Center at The Scripps Research Institute is developing new fundamental chemistry that will lead to revolutionary technologies in fuels, materials, and energy that will address these issues.
Flow cytometry can be used for a variety of applications, most commonly including cell analysis or high speed cell sorting. The Scripps Florida Flow Cytometry Core (FCC) serves the Scripps Florida community as well as researchers from outside Scripps on a fee-for-service basis.
Genomics Core at The Scripps Research Institute (TSRI)-Florida strive to provide the best service possible to our research community and encourage all investigators interested in incorporating sequencing analysis to their projects
Scripps High Performance Computing Resources
Scripps High Throughput Screening (HTS)
High Throughput Screening (HTS) is a drug-discovery process widely used in the pharmaceutical industry. It leverages automation to quickly assay the biological or biochemical activity of a large number of drug-like compounds.
The Scripps Florida Histology Core (SFHC) is able to provide full histological services as well as technical support for investigators. The lab is equipped with the appropriate ventilated working areas and equipment to prepare, process and stain frozen or paraffin embedded specimens.
Scripps Mass Spectrometry amd Proteomics
The Proteomics Core at Scripps Florida offers a wide range of mass spectrometry-based proteomics services to assist with protein characterization, identification and quantification.


The Scripps Florida Metabolic Core has consolidated analytical and in-vivo laboratories with a number of applications ranging from feeding, sleep, temperature, blood pressure, body composition and metabolic monitoring in mice, to cellular metabolism and in-depth chemical analysis of hormones, nutrients, inflammatory mediators and more.
Scripps Molecular Screening Center and Nuclear Magnetic Resonance (NMR)
The Scripps Research Institute Molecular Screening Center will use Scripps Florida's high throughput robotics to screen discoveries made in laboratories in La Jolla and Jupiter, as well as other research institutions, against various biological targets. The goal is to uncover "proof-of-concept molecules" that could be useful in developing new treatments for a large number of human diseases. Nuclear magnetic resonance, known as NMR, uses the magnetic properties of certain nuclei to study molecular structure.


Scripps X-ray Crystallography Core Facility
This core facility is to provide investigators state-of-the-art equipment and resources for crystallographic analysis of their target macromolecules and small inorganic or organic molecules.


MPFI Electron Microscopy Core
Our Electron Microscopy Core provides innovative ultrastructural visualization technologies based on collaborations with investigators, offering expertise, training, and support in the latest technologies and advances in the field.
Our Mechanical Workshop is a special Core Facility, typically present in most Max Planck Institutes, that designs and builds commercially unavailable equipment and customizes existing tools for use in novel research methods by MPFI scientists.
Our Molecular Core specializes in the use of viral based vectors for gene transfer, supporting investigators at MPFI and throughout the surrounding neuroscience community.
MPFI Optical Workshop and Light Microscopy
Light Microscopy Core provides state-of-the-art technology for imaging living cells and tissues and collaborates with investigators to develop and implement novel imaging technologies.
FAU is a member of SURA and has access to the these labs
Southeastern University Research Association (SURA)
Laboratory Support Services and Operations (LASSO)
Oak Ridge Associated Universities (ORAU)
Oak Ridge National Lab (ORNL)
Other Research Resources for FAU Investigators
Center for Molecular Biology and Biotechnology (CMBB)
The mission of the Center for Molecular Biology and Biotechnology (CMBB) is to develop research and training programs in molecular biology and biotechnology and serve as a link between FAU and other institutions and industries in this field.
FAU Harbor Branch Machine Shop
Mechanical design and fully-equipped machine shop for prototype development
Florida Research Development Alliance
The Florida Research Development Alliance has compiled a list of core facilities and equipment at Florida institutions that are available for use.
Flow Cytometry, Cell Sorting
The Flow Cytometry Core Facility provides access to a state-of-the-art analyzer, cell sorter and workstation and provides assistance to investigators and students with experimental design, data acquisition/analysis and interpretation.
Human Brain & Behavior Lab
HBBL facilities include three main integrated components, reflecting the goal of connecting brain and behavior on different spatial and temporal scales.
Marine Natural Products Lab
The overarching goal of the Marine Biomedical & Biotechnology Research Program (MBBR) is to harness the power of marine biotechnology to improve the human condition through the discovery of natural products that are useful in the development of improved medicines or as molecular probes to better understand disease.
Research Computing Services
All Florida Atlantic University faculty, researchers, employees, and students may request access to the research computing resources using the following complimentary resources.
The Kissimmee River project highlights environmental education using the Kissimmee River as a living lab and model of the world's largest river restoration. The program highlights the importance of the Kissimmee River restoration to the success of the greater Everglades ecosystem restoration that is outlined in the Comprehensive Everglades Restoration Plan (CERP)