FAU Student Team Selected to Participate in 2014 Maritime RobotX Challenge
Wednesday, Oct 30, 2013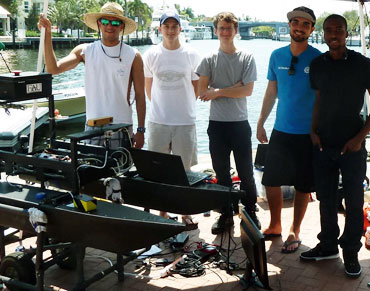 ---
Florida Atlantic University College of Engineering and Computer Science student members from the Association for Unmanned Vehicle Systems International (AUVSI) Roboboat team have been selected as one of three teams to represent the United States in the first Maritime RobotX Challenge in Marina Bay, Republic of Singapore from Monday, Oct. 20 through Sunday, Oct. 26, 2014. This initiative is sponsored by the U.S. Office of Naval Research, and the AUVSI Foundation, with local organization by the National University of Singapore to create a science, technology, engineering and mathematics (STEM) student outreach and promote interest in Pacific national partners in science and technology of autonomous systems.
Approximately 15 teams will compete from five Pacific Rim countries – U.S., Singapore, Australia, South Korea and Japan. FAU has partnered with the Roboboat team from Villanova University for the challenge.
"FAU and Villanova have long enjoyed a very friendly rivalry at the Roboboat Competition," said Karl von Ellenrieder, Ph.D. associate professor in FAU's department of ocean and mechanical engineering within the College of Engineering and Computer Science and the AUVSI Roboboat team faculty advisor. "Our partnership will enable us to leverage Villanova's strengths in path planning and vision-based navigation with FAU's strengths in unmanned systems design and electronics."
The FAU-Villanova team was selected by the AUVSI Foundation as only one of three teams to represent the U.S. based on their proposal, which presented a new approach to autonomy, systems integration, marshaling resources and technical support. The other two teams representing the U.S. are MIT-Olin College and the Embry-Riddle Aeronautical University.
Each team will receive a 16-foot Wave Adaptive Modular Vessel (WAM-V) and a grant for $25,000. The competition will focus on sensors, software and propulsion. Student vehicles will be launched from a floating platform and must complete five mission tasks, in order, autonomously using a remote control. The tasks involve navigation and control, obstacle detection and obstacle avoidance, symbol recognition and vehicle docking, underwater search and reporting and observation.
The 11-person team includes ocean engineering students Ivan Bertaska, Mario Miranda, Edoardo Sarda, Wil Klinger, Russ Jarvis, David Pearson; computer engineering students Keith Haizlett, Michael Kaiser Cross; electrical engineering students Jean Lapaix and Rodrique Toussaint; and mechanical engineering student Owen Pakledinaz.
The FAU AUVSI Roboboat team annually participates in a competition sponsored by the AUVSI Foundation in Virginia Beach, Virginia. The RoboBoat competition is a student robotics challenge in which teams race Autonomous Surface Vehicles (ASVs) of their own design through an on-water obstacle course.
For more information, contact Karl von Ellenrieder, Ph.D. at ellenrie@fau.edu.