FAU 46th Annual Honors Convocation
Monday, May 04, 2015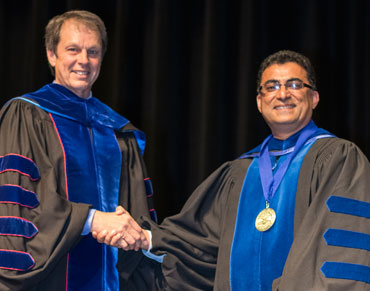 ---
Florida Atlantic University President John Kelly and Provost Gary W. Perry hosted the University's 46th annual Honors Convocation at the University Theatre, Dorothy F. Schmidt College of Arts and Letters on Thursday, April 16, on the FAU Boca Raton campus.  The ceremony recognized the University's most outstanding students and faculty.
"Honors Convocation is a longstanding and important tradition," said Perry. "This ceremony allows us to spotlight the academic excellence of our best faculty and students."
Awards and recognition included eight University scholars; the Distinguished Student award; the University Club Merit award; the Phi Kappa Phi scholar; the Stan and Renee Wimberly scholar; the Undergraduate Researchers awards; the Student-Athletes of the Year awards; and the Fraternity and Sorority scholars. Additionally, the FAU Board of Trustees Service Award was awarded to a community member who has served the University. Faculty honors included the FAU Alumni Association's Degree of Difference Award; Researchers and Scholars of the Year awards; as well as Teaching and Advising awards; and the Distinguished Mentor of the Year for Excellence in Undergraduate Research Mentoring award.
The winner of the Distinguished Teacher of the Year award, which is determined by FAU students, presented the keynote speech. This year's recipient was Javad Hashemi, Ph.D., of the College of Engineering and Computer Science. Hashemi currently serves as professor and chair of the Department of Ocean and Mechanical Engineering. Since his arrival at FAU in 2011, he has led the Department's efforts to invest in hands-on educational experiences — including the development of human-powered submarines, Formula-style race cars, and marine robotics. He is also the co-author of the fifth edition of the popular undergraduate textbook, Foundations of Materials Science and Engineering.
For more information about the Honors Convocation, call 561-297-3061.
2015 Florida Atlantic University College of Engineering and Computer Science Honors Convocation Awardees
University Scholar
Maryam Eneim
Undergraduate Researcher of the Year
Alyssa Harris
Excellence and Innovation in Undergraduate Teaching
Shihong Huang, Ph.D., associate professor in the Department of Electrical Engineering & Computer Science
Distinguished Mentor of the Year for Excellence in Undergraduate Research Mentoring
Daniel Meeroff, Ph.D., associate chair and professor in the Department of Civil, Environmental and Geomatics Engineering