FAU Receives Grant to Build Big Data Training and Research Lab
Friday, Sep 19, 2014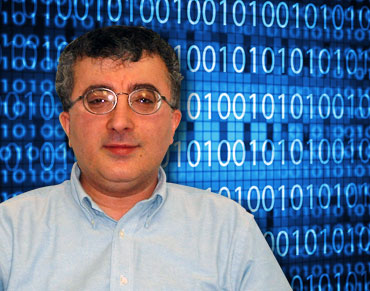 ---
Florida Atlantic University's Department of Electrical Engineering & Computer Science professor Taghi Khoshgoftaar, Ph.D. has received a National Science Foundation (NSF) grant of $600,000 with a matching grant of $257,000 from FAU to build a Big Data Training and Research Laboratory on the FAU Boca Raton campus to address the need for processing and managing of extremely large quantities of information.
"This lab will help position FAU at the forefront of the growing field of Big Data," said Mohammad Ilyas, Ph.D., dean of FAU's College of Engineering and Computer Science. "Experiments from a wide range of scientific and engineering fields demand the analysis of Big Data, and only through the use of large-scale computing resources can this information be analyzed to extract useful information and make important research contributions."
FAU will upgrade an existing Data Mining lab by adding a high performance computing system and extra storage capacity. The challenges that involve managing Big Data include capturing, organizing, storage, searching, sharing, transferring, analyzing and visualization of the information. Faculty researchers, and graduate and undergraduate students will use the lab to advance new and ongoing projects that include improving a cluster computing platform, complex bioinformatics analysis, machine condition monitoring, underwater acoustics and signal processing, video encoding, streaming data and climate modeling.
"We are very pleased and honored to have been selected to receive this highly competitive grant award." said Khoshgoftaar. "Both the financial support of the NSF and the matching support of FAU will enable the lab researchers to implement and test more complex approaches to help solve difficult problems facing industries in their development of technologies that create Big Data challenges."
The co-principal investigators of the project include FAU faculty members Ramesh Teegavarapu, Ph.D. from the Department of Civil, Environmental and Geomatics Engineering; Hari Kalva, Ph.D. and Xingquan Zhu, Ph.D. from the Department of Electrical Engineering & Computer Science; and Pierre-Philippe Beaujean, Ph.D. from the Department of Ocean and Mechanical Engineering. The project investigators are FAU faculty members Ankur Agarwal, Ph.D. and Borko Furht, Ph.D. from the Department of Electrical Engineering & Computer Science; and Ilyas.