Alan B. and Charna Larkin Symposium
on the American Presidency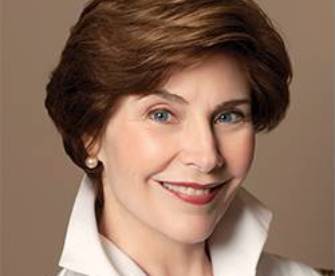 A Conversation with Laura W. Bush
and Barbara Pierce Bush
Laura Bush, First Lady of the United States (2001-09)
Barbara Pierce Bush, Co-founder and Board Chair, Global Health Corps
Moderated by Presidential Historian Timothy Naftali

4 pm, Saturday, February 11, 2023
Carole and Barry Kaye Performing Arts Auditorium

Florida Atlantic University,
Boca Raton, Florida


---

Laura Bush is an advocate for literacy, education and women's rights. After leaving the White House, President and Mrs. Bush founded the George W. Bush Presidential Center in Dallas, Texas. The Center is home to the Bush Presidential Museum and Library and the George W. Bush Institute, a public policy center established to solve today's most pressing challenges by developing leaders, advancing policy, and taking action.
Barbara Bush is an Executive-in-Residence at Schmidt Futures, a venture facility and foundation for public benefit focused on technology & society, shared prosperity, and scientific benefit. In this role, she supports racial justice, global health, and COVID-19 investments and programs, along with some of the world's most talented entrepreneurs through the Entrepreneur in Residence program. Barbara is co-founder and Board Chair of Global Health Corps (GHC), an organization that mobilizes young leaders to solve the world's most pressing health issues. Barbara served as GHC's CEO for its first 9 years. Bush and her co-founders are united by the belief that health is a human right and that their generation must build the world where this is realized. Since 2009, GHC has placed over 1,000 young leaders on the front lines of health equity in East Africa, Southern Africa, and the United States, developing a cadre of creative, effective, and compassionate change makers.


Lecture tickets: Regular - $35-$125
VIP* tickets: $200
*VIP tickets include reception and photo with Laura Bush.
All attendees must be fully vaccinated.
Groups of 15 or more: $30
FAU Faculty, staff, students, alumni: FREE 
Osher Lifeling Learning Sudents Discount Available

For tickets, visit fauevents.com or call 561-297-6124