Faculty Accomplishments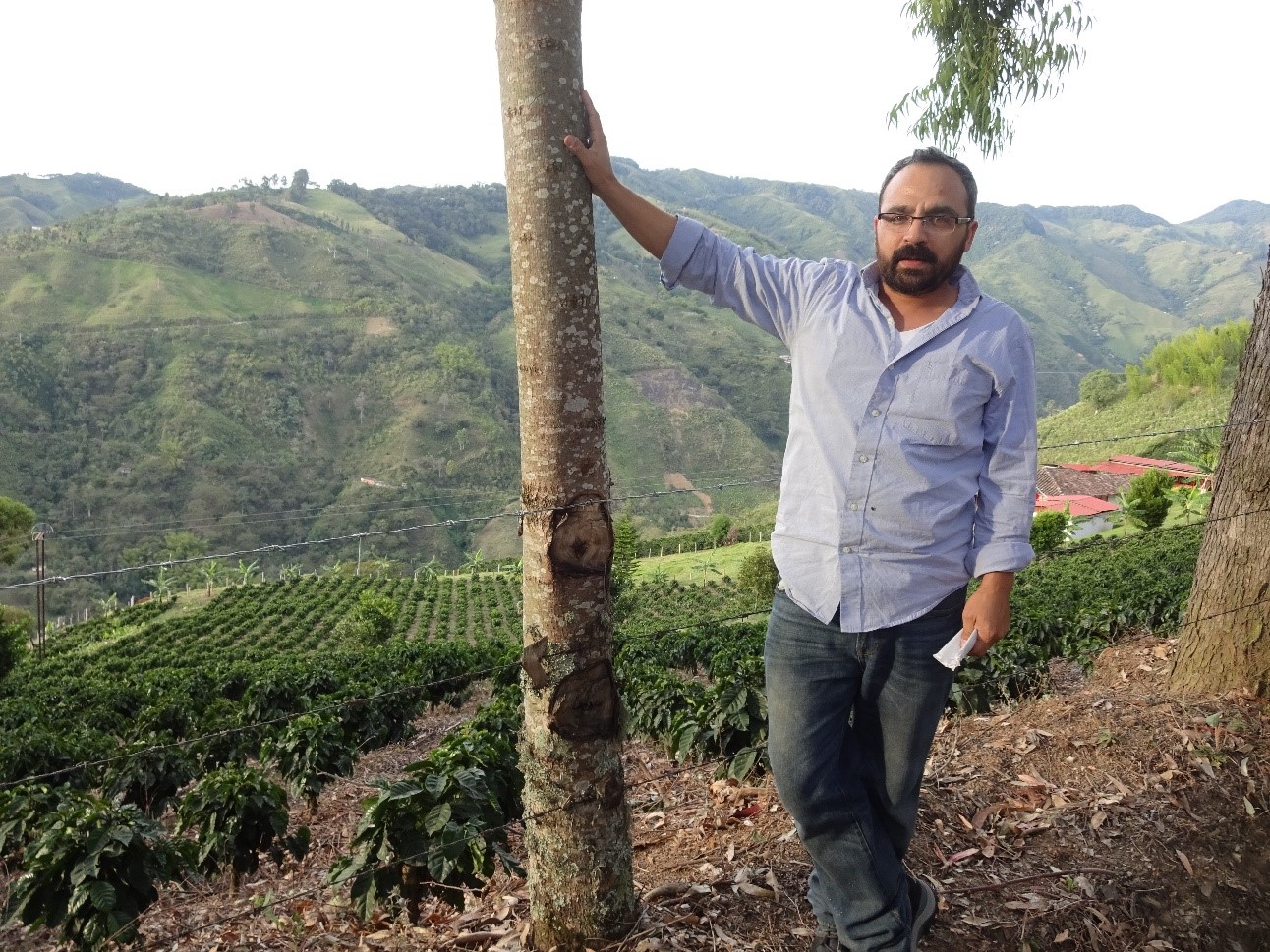 Phillip Hough, Ph.D.
Associate Professor Of Sociology
Phillip Hough, Ph.D. was awarded a 2018-2019 Fellowship for $50,000 from the American Council of Learned Societies (ACLS). He will use the fellowship to complete the writing of his book on this research project. Professor Hough's project, Global Markets, Local Labor: Development, Production and Crisis in Rural Colombia, engages contemporary scholarly debates about labor rights, repression, and development in the global economy through a comparative and world historical analysis of local labor regime dynamics in three economic sub-regions of rural Colombia: coffee, bananas, and cocaine. The research for this project is rooted in over a decade of research that includes various rounds of qualitative fieldwork in Colombia, quantitative data analysis of social protests, political violence, and local labor regime dynamics, and secondary data analysis of global market trends. Professor Hough finds that the development opportunities offered by the world market have shrunk over time as US world hegemony unraveled, leaving Colombia's local labor regimes squeezed between periods of intense labor repression and social crisis.
Carol Prusa
MFA, Professor Of Painting/Drawing
Carol Prusa, MFA, Professor of Painting/Drawing, spent the summer preparing a solo show at the Sarasota Art Center, which opened in September. She also traveled to Nebraska for the total eclipse. As a result of this trip, she is beginning a project based on seeing the totality of the eclipse and reading about American women astronomers.
Ilaria Serra
Languages And Linguistics
Ilaria Serra, Languages and Linguistics, recently had her article "Italian American Femininities" published in the Routledge History of the Italian Americans. The article is a review of Italian American memoirs by women and it is structured in an original way, as a walk among the rooms of their homes.

Mallory Fenn and Sara Ayers-Rigsby
Florida Public Archaeology Network
Mallory Fenn and Sara Ayers-Rigsby, FAU's representatives for the Florida Public Archaeology Network, were recently interviewed for an article in Atlantic Magazine on sea level rise
Rebecca LeMoine
Political Science
Rebecca LeMoine, Political Science, will give a talk In November at Boston University for the Ancient Philosophy Workshop. The talk is titled, "Cultural Diversity in Plato's Cave?" She was invited by David Roochnik, Professor of Philosophy, and Maria Stata, Professor of Classical Greek Studies. Dr. Roochnik has published several top books and articles on Plato and Aristotle, and is very well-known in his field. Dr. LeMoine also recently published an article in the leading journal The American Political Science Review. Published in the August 2017 issue, the article is titled, "Foreigners as Liberators: Education and Cultural Diversity in Plato's Menexenus."
Gerald Sim
School Of Communication And Multimedia Studies
Gerald Sim, School of Communication and Multimedia Studies, has been selected to participate in the Television Academy Foundation's 2017 Faculty Seminar Program. Members of the Television Academy selected just 25 professors from colleges and universities nationwide for the annual program. The faculty fellows will gain the latest information on the television and content development industries from top entertainment professionals during a weeklong Southern California seminar Nov. 6-10, 2017. The seminar will include panel discussions with broadcast and cable networks' programming and scheduling executives, legal experts and cutting-edge content creators. Private studio tours and trips to top Hollywood production facilities to meet with producers, observe production, and get first-hand updates on the latest in television technologies are also part of the program. First launched in 1987, the Foundation's annual seminar offers faculty a comprehensive program designed to enhance knowledge and in turn enrich learning environments.
Marina Banchetti
Department Of Philosophy
Professor Marina Banchetti, department of philosophy, has just finished guest editing two special issues of Foundations of Chemistry (Springer), the leading international journal in the philosophy of chemistry. These two issues feature selected papers from the 20th annual conference of the International Society for the Philosophy of Chemistry, which was organized by Professor Banchetti last summer and was held August 1-4, 2016 at Florida Atlantic University. The conference included participants from 11 countries, with keynote addresses by Manuel DeLanda and Eric Scerri, and included topics in the history of chemistry, as well as ontological, epistemological, pedagogical, ethical, and environmental issues that arise from the theory and practice of chemistry.
Ben Lowe
Professor And Chair Of The Department Of History
Dr. Ben Lowe, professor and chair of the Department of History, has been selected as an NEH Summer Scholar from a national applicant pool to attend one of 24 seminars and institutes supported by the National Endowment for the Humanities. The Endowment is a federal agency that, each summer, supports these enrichment opportunities at colleges, universities, and cultural institutions, so that faculty can work in collaboration and study with experts in humanities disciplines. Lowe will participate in a seminar titled "The Formation and Re-formation of the Book: 1450-1650." The 4-week program will be held at The Huntington Library, in San Marino, CA.

Don Adams
Department Of English
Don Adams, Department of English, has been awarded a Fulbright to conduct research and teach in India starting in August 2017. During his stay, Dr. Adams will be affiliated with Christ University in Bangalore, a private liberal arts college with ties to the indigenous Catholic church. Adams will conduct research in Indian philosophy and theology, and will be working with the school's department of English as well as their attached theological institute, the Dharmaram Vidya Kshetram institute of philosophy and theology. His scholarship focuses on "analyzing relatively marginalized figures in modern literature in regards to metaphysical thought systems that enable and illuminate their work through alternative contexts." This will be Adams' second Fulbright award. His first took him to Vietnam from 2002-2004, and he describes the experience as "life and career-changing." During this time, Adams worked on his second scholarly monograph which asserted that "alternative world-views are expressed generically in fiction as alternative realisms, endlessly ramifying in their existential and epistemological difference." Adams seeks to use his upcoming experience in India to expand upon this topic. "I feel that my habitual life and thought are overdue for another cultural-intellectual intervention," Adams said. "I really am looking forward to it.

Ilene Prusher
School Of Communication And Multimedia Studies
Ilene Prusher, School of Communication and Multimedia Studies, will be one of two journalism professors to lead the Journalism program of Fellowships at Auschwitz for the Study of Professional Ethics (FASPE), a two-week summer fellowship in Germany and Poland, which uses the conduct of professionals under Nazi rule as a way to reflect on contemporary professional ethics. Now in its eighth year of operation, FASPE provides a unique historical lens to engage graduate students in professional schools as well as early-stage practitioners in five fields (business, journalism, law, medicine, and seminary) in a course of study focused on contemporary ethical issues in their professions. FASPE Journalism uses the conduct of reporters and other media professionals in Nazi-occupied Europe as a way to reflect on contemporary journalism ethics. Its approach differs from the usual classroom experience by looking beyond formal or informal rules of conduct to focus on concrete ethical problems faced by journalists in contemporary media settings. This year, the Journalism program has 12 Fellows, both graduate students and early-career journalists, who were drawn from a pool of nearly 200 applicants.