Honors Spotlight: Tristan Sheridan
HONORS SPOTLIGHT
Tristan Sheridan
1st Place: Music, Art, Literature, Theater, History & Philosophy II Category
Title: "Interactivity and Unsettling Agency in Fallen Hero"
Author: Tristan Sheridan
Faculty Mentor(s): Timothy Miller
Tristan, on her experience in the English Honors Program:
Although I participated in the Honors program through remote learning due to the pandemic, I felt connected to and supported by the faculty I worked with as well as my fellow students. I am so grateful to those who went out of their way to help me succeed in actualizing the vision I had for my thesis project, one that was as difficult as it was exciting to approach because of the level of investment I had in doing it justice. 

My experience in the Honors program helped me prepare for graduate studies and made the prospect of attending graduate courses much less intimidating. I can't imagine how daunting it would be to write graduate-length papers without having first completed the Honors program. The program encourages independent study, taking initiative, and most importantly, the pursuit of interests that are closest to oneself.
Abstract: Interactive fiction, by its very definition, grants its readers the ability to interact with and influence the direction of a text, much like the familiar Choose Your Own Adventure children's books. However, the assumption that interactivity allows for increased reader agency has generated debate among followers of the medium, as interactive texts can naturally only provide readers with as much agency as authors are willing to anticipate for and allow. The interactive novel series Fallen Hero is of particular relevance to this debate, as its protagonist's struggle to maintain their agency causes the series' thematic content to mirror its form. I argue that Fallen Hero does not attempt to assure readers of their agency, but instead purposefully denies it to them through its unique approach to the conventions of interactive fiction—including second person narration and multiple-choice interactivity—therefore increasing reader empathy with the protagonist's own troubled relationship to agency.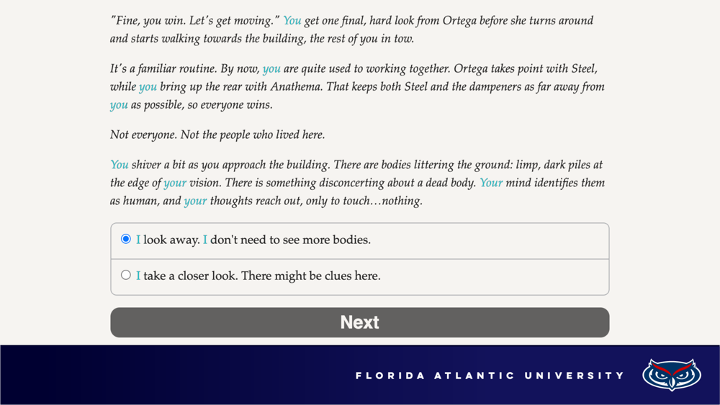 ---
11th Annual Undergraduate Research Symposium | April 9 2021 | Florida Atlantic University