Emergency Medicine Residency Alumni
Listing of alumni for the Emergency Medicine Residency program at the FAU Schmidt College of Medicine.
Class of 2022
Elizabeth Calhoun, M.D.
Family, Beaching, Gardening
Spencer Greaves, M.D., M.P.H.
Medical College of Wisconsin (MD)
Marquette University (BS Engineering)
Amateur Rocketry, Working out, video games, travel
I love the beach and the ocean and the weather! Great faculty, simulation lab, and residents!
Independence Day is my favorite holiday!
Rebecca Mendelsohn, M.D.
The Warren Alpert Medical School of Brown University
Aerospace Medicine, Disaster Medicine
Scuba diving, unofficial theme park tour guide, Marvel movie aficionado
The people. When I rotated here, the attendings and residents were insanely welcoming and friendly, and went out of their way to ensure I had a good experience. When I became a resident, that ethos became even more apparent and amazing. Attendings and fellow residents have gone well out of their way to help me become the best physician I can be. Every program says it, but here, it's true: the people in this program are like family.
I'm a dog person, but I have an awesome cat named Scooby.
Thomas Peterson, D.O.
VCOM at Auburn University in Auburn, AL
Spanish w/ minor in Chemistry at Brigham Young University
Emergency Medicine, International/Disaster Relief Medicine
Lifting weights, water sports, reading, hiking
Because of the culture, patient population, location, longitudinal set up of the EM program
I have a Miniature Schnauzer.
Ali Syed, M.D.
State University of New York at Stony Brook School of Medicine
BS Biology with Concentration in Neuroscience; State University of New York at Stony Brook
Swimming, basketball, fantasy sports, comedy, bollywood, NBA
Having spent my entire life in New York, I wanted to move away from the cold. I was always interested in Florida due to the warm weather, no state income tax, and proximity to the beaches. I did an away rotation here during my senior year of medical school, and I knew by the end of my first week that I wanted to be here. The core faculty members were approachable and the residents were extremely happy and had a good work/life balance. Out of all my away rotations and interviews, the residents at FAU showed the highest amount of satisfaction: no program came close. Residency is supposed to be challenging, but I would rather be somewhere where I know I have a good support system. I knew without a doubt, that I wanted to spend my three years here.
I would like to be a multibillionaire one day. Plan is to finish residency and then pursue a career in real estate and screenwriting on the side. Ideally would want to practice in Florida or Texas due to the warm weather and lack of state income tax.
Michael Turchiaro, D.O., M.P.H.
Nova Southeastern University
Basketball, weight lifting, video games, music
I chose FAU because of the people and how amazing our staff is.
I am a new Dad of a now one-year old daughter
Class of 2021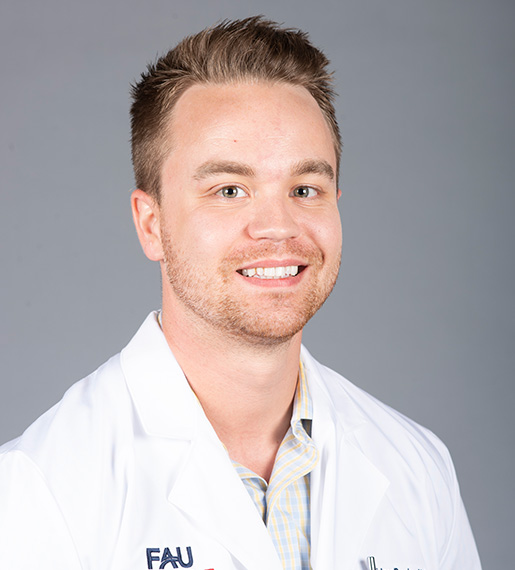 Alexander Busko, M.D., M.P.H.
University of Miami, M.P.H.
Cardiac arrest and critical care
Fishing, exercising, reading, D.O.gs
I moved to south Florida after college and fell in love with the weather and living on the beach. Was super impressed with how friendly and easy going the faculty were on interview day and liked the idea of a residency where you're on a first name basis with your attendings.
Math and science were my least favorite subjects in high school. I went to college to be a writer, but switched my major from journalism to cellular biology and never looked back.
Zachariah Hatoum, M.D.
George Washington University School of Medicine
University of Maryland, B.S. Finance
Community EM, Administration
Amazing faculty, great clinical exposure, opportunity to shape the program
Mohsin Khan, D.O.
Nova Southeastern University College of Osteopathic Medicine
Florida International University
Traveling, playing basketball/football, watching movies, playing video games
FAU allows me to work and learn at an institution that is new and growing with academic faculty and staff that are very invested in our education. The area has plenty to offer including multiple hospital sites which have their own unique characteristics and pathology. The ability of being close to the beaches and enjoying warm weather year-round is a plus as well. Also, I completed internal medicine residency at FAU before I started emergency medicine residency.
Danielle Klein, M.D.
FAU Schmidt College of Medicine
Difficult airways, post-intubation sedation
OrangeTheory, eating, being a wife and mom
Loved my medical school experience and wanted to stay in South Florida
I'm an avid runner, have completed multiple half marathons and 5Ks.
Zuheir Mirza, M.D.
University of South Florida
University of South Florida
Reading, eating, general loafing about
EM faculty seemed genuinely involved with residents
I'm proficient at winking with both eyes
Anabelle Taveras, M.D.
University of South Florida BS Finance
Spending time with family, fishing, food
Rotated here as a student, loved the small class and the family feel
Medicine is my second career
Class of 2020
Sean Argo, M.D., M.S.
USF Morsani College of Medicine
University of South Florida
Reading, gaming, spending time with friends and family
The faculty and leaving my footprint on a new program
I grew up watching shuttle launches and want to go into space someday
Damien Carracedo, M.D.
FIU Herbert Wertheim College of Medicine
Microbiology and Cell Science from the University of Florida
Interested in new emergency medicine programs
Boarded in Internal Medicine
Jeffrey Klein, M.D.
BS in Nutrition from the University of Florida
Excellent Attending to Resident Ratio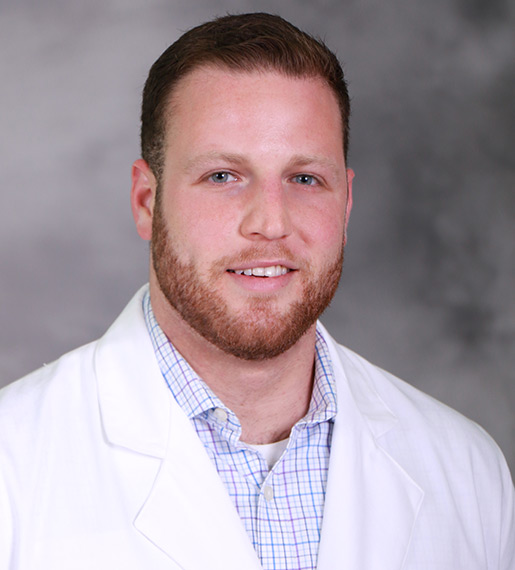 Benjamin Mazer, M.D.
Medical College of Georgia
Critical care in the Emergency Department
Cooking, painting, exercising, photography
I wanted to be part of a new program so that I could help mold the program in the best interest of future residents
Fun fact? I was nearly killed as a baby during the 1989 Loma Prieta earthquake in San Francisco. Random detail? I have three miniature dachshunds.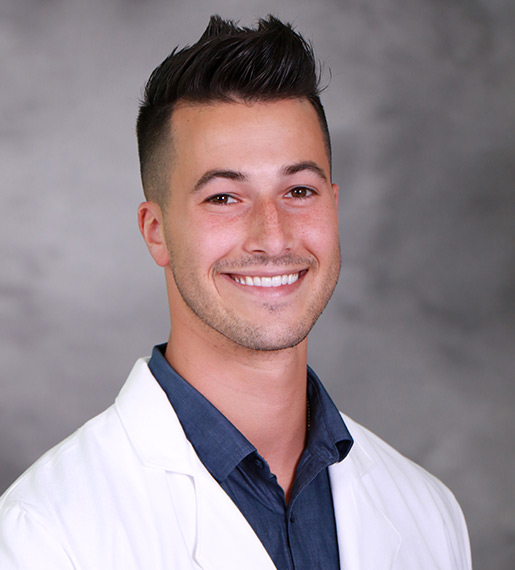 Daniel Parks, D.O., PA-C
Lake Erie College of Osteopathic Medicine
Pennsylvania College of Technology - Physician Assistant
Basketball, snowboarding, playing the drums, exercise/weight lifting
I found the core faculty to be motivated and inspiring. They have a vision and hold ideals that are similar to my own. I also love that it's located in South Florida on the beach. I wanted to train in a community hospital type setting. FAU gives you the opportunity to work in a community hospital meanwhile giving ample exposure to a level 1 trauma center, comprehensive stroke center, STEMI centers, pediatric hospital, OB hospital and more.
I have been working in the ED in some capacity (ED PA, resident, and now almost attending) since 2010. I truly enjoy emergency medicine. I'm happily married with two wonderful sons! I love to spend time with friends and family.
Matthew Wallace, M.D.
Ross University School of Medicine
Community Emergency Medicine
Golf, Classic Cars, Homebrew Beer, Sports
FAU is very near my hometown which sparked my interest, however I was really drawn to the burgeoning program with a family like atmosphere.
I have a wonderful wife and two beautiful kids who keep me busy outside of the hospital. Prior to Emergency Medicine, I completed an Internship in General Surgery, as well as an Internal Medicine Residency at FAU, with the goal of becoming dual boarded.