Emergency Medicine Residents
Class of 2023
Tony Bruno, D.O.
Dr. Kiran C. Patel College of Osteopathic Medicine Nova Southeastern University
BS in Sport and Exercise Science from the University of Central Florida
Ice hockey, golf, horseback riding
The attendings and the residents that I worked with as a medical student.
I have an English black lab named Shae.
Timothy Buckley, M.D., M.P.H.
University of Texas Health San Antonio
BS in Psychology, University of Arizona
MPH, University of Texas Health Science Center Houston
Analyzing how metric data is used in Emergency Medicine to provide high quality, patient focused care.
Watching, playing, and talking basketball. I also enjoy playing video games.
I rotated here and loved it. Great people, great program, great location.
My favorite animals are bears. I own a dog though, close second and easier to live with.
Collin Hickey, D.O.
Arizona College of Osteopathic Medicine of Midwestern University
Music, Sports and The Beach
Beautiful Weather, Friendly Community, Family
My favorite sports team is the Chicago Blackhawks.
Daniella Lamour, D.O.
Edward Via College of Osteopathic Medicine - Carolinas
Florida International University Honors College
Listening to music, hanging out with my family and friends, watching movies, playing basketball, going for a ride on our boat
I love FAU's balance of autonomy and support, its value and execution of the best wellness curriculum, the longitudinal ultrasound and pediatrics curriculum, and not to mention the familial environment amid the residents and faculty.
I love giving back to my community, teaching, and helping others navigate the medical field. I am very excited to begin my purpose and career with FAU Emergency Medicine!
Mihael Plantak, M.D.
Loma Linda University School of Medicine
BS in Biology, Andrew's University
Traveling and exploring new countries, listening to music, movies, cars/driving, watching basketball.
Wonderful and caring faculty, great training, family feel, and right next to beach!
Laid back and love to relax outside of work. I'm all about the good vibes :)
Christopher Williams, M.D.
BA Business Administration, University of Hawaii at Manoa
Emergency Medicine and Wilderness Medicine
Surfing, Scuba Diving, Sailing, Spearfishing…pretty much anything in the ocean.
I was drawn to FAU because of the diversity of training locations, longitudinal curriculum and welcoming environment.
After college I worked as a yacht captain and sailed across the Atlantic Ocean twice. During this time, I developed an interest in medical care at sea which lead me to my current career path.
Class of 2024
Andrew Arteaga, D.O.
Edward Via College of Osteopathic Medicine - Carolinas
University of Central Florida
Sports Medicine, Academics/Administration
Overeating, working out, and anything that gets me outside on the water.
FAU has wonderful attendings and residents. I had a great experience here rotating as a student. The pathology, procedures, and overall learning environment I experienced here were exactly what I was looking for.
I'm a big fan of pineapple and ham on pizza and I'm tired of pretending that I'm not.  
Alex Deri, M.D.
Texas Tech University Health Sciences Center
Critical Care, Ultrasound, Wilderness Medicine
Traveling, Baking, Hiking, Movies/TV/Video Games
The faculty and residents were extremely friendly and welcoming, and the program spans multiple sites allowing for more diverse experiences. I'm also going to enjoy avoiding the north Texas winter weather that I have become TOO familiar with.
I want to visit 100+ countries, and every national park while I'm able to enjoy them to the fullest.
Danny Gersowsky, D.O.
Philadelphia College of Osteopathic Medicine
BS in Exercise Physiology at Florida State University
General Emergency Medicine, Emergency Medical Services, International Emergency Medicine
Soccer, Rugby, Cycling, Traveling, Beach
I grew up in Boca Raton, so I wanted to return home for residency. FAUs family feel and unique longitudinal curriculum. Beautiful South Florida weather.
I hope to travel to every country in my lifetime 
Salil Phadnis, M.D.
University of South Florida
Movies, motorcycling, running, intramural soccer
It's not easy to convey the genuine vibe of a program over Zoom, but the faculty and residents did just that and convinced me this was a great place to learn and grow. Also, beaches.
I'm a big Christopher Nolan fanboy.
Bailey Pierce, M.D., M.B.A.
Florida Atlantic University Charles E. Schmidt College of Medicine
Exercising, hiking, and listening to music/going to concerts
I chose FAU because it is close to my family so I'll be able to spend more time with them. Also, the weather down here is great.
Christian Schuetz, M.D.
University of South Florida
University of South Florida
Disaster medicine, teaching, administration
Playing/watching soccer, gardening, landscaping, attending EDM music festivals, learning Spanish to impress my wife and in-laws
Fantastic residents, faculty, and location! FAU provides the resources and opportunities to become a rockstar EM doctor. The faculty really care about the residents and will do what they can to help us out.  All the residents treat each other like family. Did I also mention that FAU is in South Florida?
Class of 2025
Tiffany Christian, M.D.
University of South Carolina School of Medicine
University of South Florida, Political Science
Florida State University, Master of American Politics and Policy
Furniture restoration, weightlifting, traveling, hiking, MMA events, going to the beach
Friendly faculty and residents with a strong commitment to wellness, and close proximity to the beach and my family.
I have a 15 year old Australian Cattle Dog named Cooper.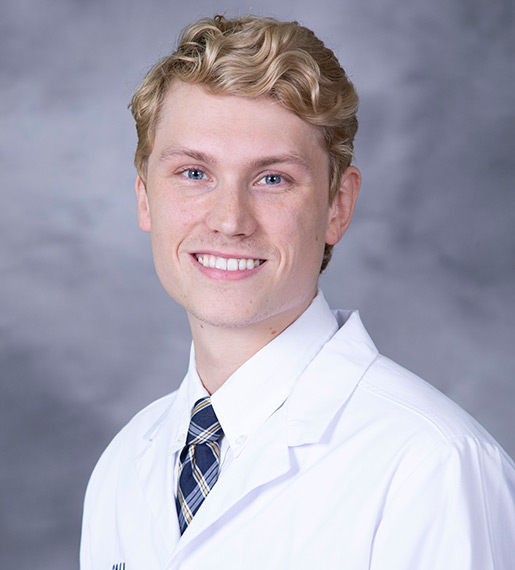 Keenan Dunkley, M.D.
University of South Carolina School of Medicine - Columbia
BS in Biology/Minor in History from the University of South Carolina
Emergency Medicine, Disaster Relief
Running, Reading, History, Basketball, College Football, Investing
After attending both college and medical school in South Carolina, I was ready for a change and rotated as a medical student at FAU. Instantly, I loved the area, the residents, the weather, and the lifestyle South Florida offered. Additionally, I felt I could learn, grow, and become the best Emergency Medicine physician possible with the help of the faculty at FAU and the resources offered through the program. Core faculty were always happy to take the time to teach, challenged me to improve each shift, and were welcoming in their tutelage.
I was a History minor and still enjoy historical study and discussion, specifically Classical Antiquity and Catholic History. I also have a lot of interest in business and investing with a hope to practice Emergency Medicine in South Florida after residency and earn my MBA down the road.
Alyssa King, D.O.
Campbell University School of Osteopathic Medicine
University of Florida - Biology
Fishing, crafting, exercising
I loved the faculty and senior residents when I did my away rotation here. FAU has a strong base for education, learning, and an extremely happy and supporting environment.
I started my own medium sewing business while in medical school and I have a Shih Tzu named Teddy.
Robert Ledbetter, M.D.
Wake Forest School of Medicine
University of Tennessee BA: Philosophy of Science and Medicine
Social aspects of medicine
Reading, writing, exercising, plants
FAU is a place where you can get training to handle intense scenarios and see interesting pathologies with attendings who are genuinely interested in your education as well as your mental well-being.
I've jumped off one of the highest bungee platforms in South America.
Christian Pilot, M.D.
Cooper Medical School of Rowan University
Critical Care Medicine and Sports Medicine
Music production, Golf, Beach
Diverse pathology with both an academic and community feel. Large volume of procedures and excellent work/life balance. Amazing faculty and co-residents! Can't forget about the coastal South Florida location.
I have been producing music for several years and play the piano.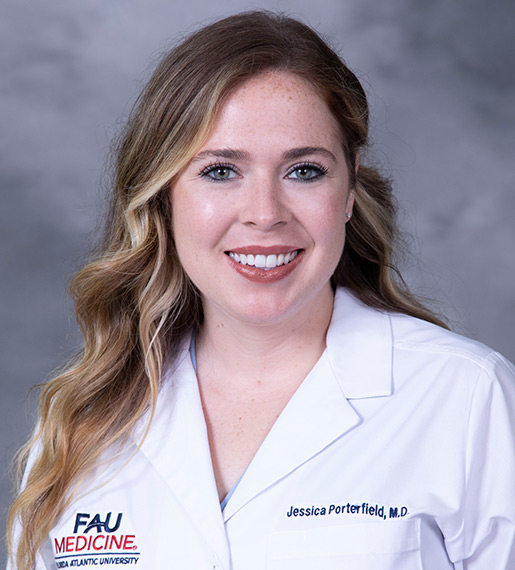 Jessica Porterfield, M.D.
University of Arkansas for Medical Sciences
It's a medium, tight knit group that greatly facilitates learning and relationships. We value fulfilling work and fulfilling lives outside of work. And we're in an awesome location!
I studied abroad in Australia and got to dive with sharks on the Great Barrier Reef.