University Village Apartments (UVA)
University Village Apartments (UVA)
University Village Apartments (UVA) is an apartment building consisting of four bedroom apartments or studio singles apartments for upperclass, graduate, and transfer students. The four bedroom apartments, which are two-story units, feature a furnished living/dining area and kitchen on one floor and four single bedrooms on a separate floor. The studio single apartments offer an efficiencies unit for one person with the bedroom and living area combined. UVA residents are allowed to furnish the apartments with their own microwave oven that is 1.4 cubic feet capacity or smaller and has a maximum of 1,100 watts at 120 volts.
---
Room Features and Hall Amenities
4 Bedroom/1 bathroom apartments two-story apartments
Studio Single apartments
Front desk operations
Multipurpose room
Complimentary laundry facilities
Cable TV via streaming
Ice Machines
Wired Ethernet Connections
Kitchen within each apartment
BBQ grills
Sand Volleyball
Computer Lab
Unlimited building-wide Wi-Fi access
---
Dimensions, all room sizes are approximate
Studio Single one-person apartment:
15' x 12'
Four Bedroom apartment with rooms ending in A, B, C, D:
Single - 8'6" x 12'6"
Mattress (all rooms): 36" x 80" extra-long twin
---
Floor Plans
Four Bedroom Single Suite
Two-story apartment with four bedrooms and one bathroom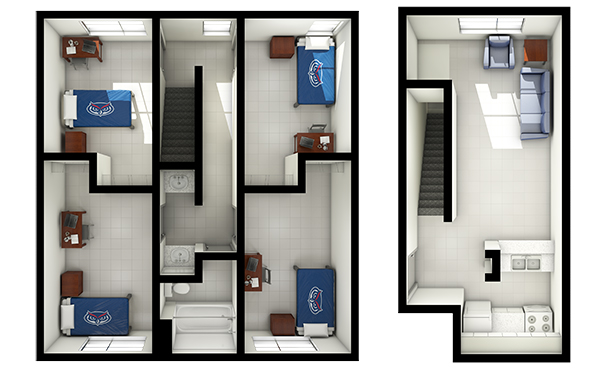 Shared Studio Double
Studio Single with bathroom in unit