Residential Move-in Information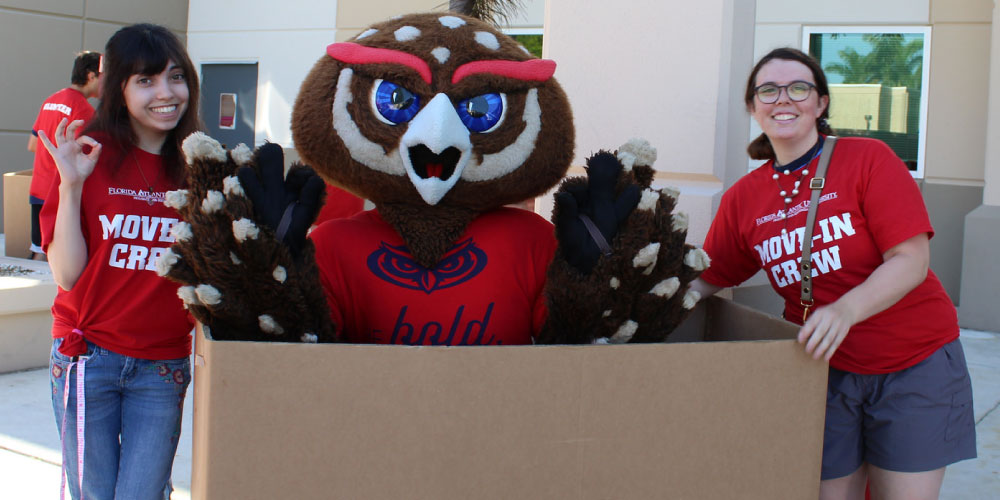 ---
Welcome to Your New Home!
---
On behalf of the Department of Housing and Residential Education at Florida Atlantic University, we would like to welcome you to Florida Atlantic University. Soon you will be moving into your home away from home. We are very excited to have you staying with us this year, and hope that you will find the answer to many of your questions regarding Move-In.
To get you started, we have compiled the following resources to make your Move-In as smooth as possible:
Move-In Dates and Times
We have created a schedule that promotes physical distancing.
Students will be required to complete the Resident Information Card on the housing portal before they can select a move-in appointment
Move-in will happen daily from 9 a.m. - 6 p.m.
Students will sign up for move-in time slot on their housing portal under Fall 2021 Move in. Appointment start each hour.
Students will be able to select a date and time to arrive:

First Year Students:

Boca Raton Campus: August 17 -20
Jupiter Campus: August 17 -19

Returning Students:

Boca Raton Campus: August 19 -22
Jupiter Campus: August 19 -22

Students will receive a confirmation email, which will include their selected appointment time.
Students should complete the testing registration via the link provide in their email to help expedite the testing process.
Please finalize travel plans prior to scheduling an appointment.
Day of Move-In
Move-in will be a touchless process. Students will complete all forms online.
Students will be limited to three guests to assist with move-in.

Pets are not permitted. Only certified service animals are permitted.
Residents and their move-in assistants will be expected to follow CDC guidelines and any state, county, or city orders at all times. This includes bringing and wearing personal protective equipment (face coverings and/or gloves)(Not required at this time), practicing social distancing and frequently washing hands when in the buildings.
Residents are required to follow social distancing guidelines when utilizing elevators. Limiting passengers will be practiced.
All students and helpers are recommended to wear face coverings when on campus.

Carts will be wiped down and sanitized after every use by a staff member. Students also have the option to bring their own dolly or hand-truck.
Parking permits are not required on move-in day. Do not park on sidewalks, on the grass or in ADA spaces.
Covid-19 testing: All students, regardless of vaccination status, are expected to participate in a COVID-19 symptom screening and testing on site at Parking Garage II / Lot 74 during their move-in appointment time. Do not arrive more than 15 minutes before your move-in appointment. Please note that 6 p.m. appointments must be in line by 6 p.m.
---
---