Researcher Wins World Ocean Challenge for Innovative Underwater WiFi Technology
by Yaffi Spodek |
Tuesday, Apr 13, 2021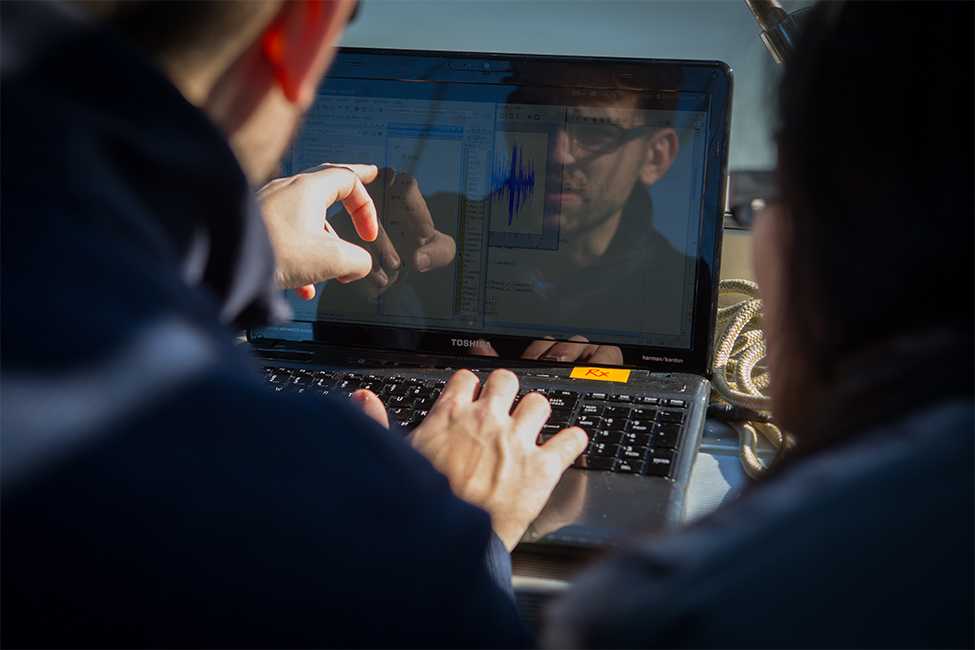 ---
Dr. George Sklivanitis, research assistant professor in the Department of Electrical Engineering & Computer Science, faculty fellow at the Institute for Sensing and Embedded Networks Systems Engineering (I-SENSE), and founding member of the Center for Connected Autonomy and Artificial Intelligence (CCA-AI), was selected as one of the three winners of the World Ocean Initiative's Ocean Changemaker Challenge, organized by The Economist. The global competition showcases leading early-career researchers and professionals who are working to develop business solutions to ocean-related sustainability challenges. 
Dr. Sklivanitis is the co-founder of ExtremeComms Lab, a startup company that aims to bring to market technology for hyper-fast, resilient underwater wireless networking, similar to WiFi. ExtremeComms Lab's mission is to accelerate the deployment of underwater IoT ("Internet of Things") and develop avenues for interaction with the ocean both as an environment and as a resource.
Though the ocean covers 70% of the Earth's surface, 95% of the underwater world remains unexplored. Existing underwater wireless technology has limitations; less than 1 in a million IoT devices are underwater and these devices focus solely on point-to-point communications, with limited speeds. "Even though the number of underwater sensors will grow over the next few years, systems that transmit data underwater are very slow, even slower than your 1990s dial-up modem," Dr. Sklivanitis explained. "This shortcoming hampers networked system operation and a wide range of activities including underwater search-and-recovery operations, precision aquaculture and remote monitoring of fisheries, subsea robotic exploration, climate monitoring, improved ocean mapping and real-time data collection from (semi-) permanently subsea assets/sensors."
At ExtremeComms Lab, Dr. Sklivanitis is working to develop a new class of SWaP-C ("Size, Weight, Power and Cost") optimized underwater modems and other open-source, modular, sensing and communication architectures and protocols that will enable high-speed resilient wireless networking of underwater IoT platforms over long distances.
ExtremeComms Lab first demonstrated its wireless technology as part of the "Smart Lake Erie" pilot project in 2017. ExtremeComms Lab's underwater wireless modems enabled remote real-time collection and monitoring of underwater phosphorus and other nutrient sensor data. The project served as a proof-of-concept to monitor, predict, and manage nutrient loading and harmful algal blooms in Lake Erie.
In addition to harmful algal bloom monitoring, the technology has the potential to enable other applications in support of environmental sustainability. "Some of the technology's future applications include wireless positioning and networking of schools of robotic fish, wireless diver-to-diver communications, wireless remote command-and-control of manned and unmanned submersibles, wireless telemetry for persistent monitoring of critical subsea infrastructure, and real-time collection of oceanographic sensor data," said Dr. Sklivanitis. "I am grateful to The Economist and the World Ocean Initiative for giving me the opportunity to showcase our work on underwater IoT. It is an exciting time to be working in ocean technologies that can accelerate the deployment of impactful solutions and drive the growth of the Blue Economy."
To help bring his idea to life, Dr. Sklivanitis is participating in a 12-month mentorship program, during which he will receive guidance from renowned ocean leader Chip Cunliffe, director of sustainable development at AXA XL, a global insurance company. Dr. Sklivanitis also presented his research and business idea for a networked blue economy during a special changemakers session at The Economist's 8th Annual World Ocean Summit Virtual Week in March 2021. The event featured over 150 speakers and 60 sessions and drew more than 5,000 attendees from 100 countries, including ocean experts, policymakers, business leaders, and industry specialists.