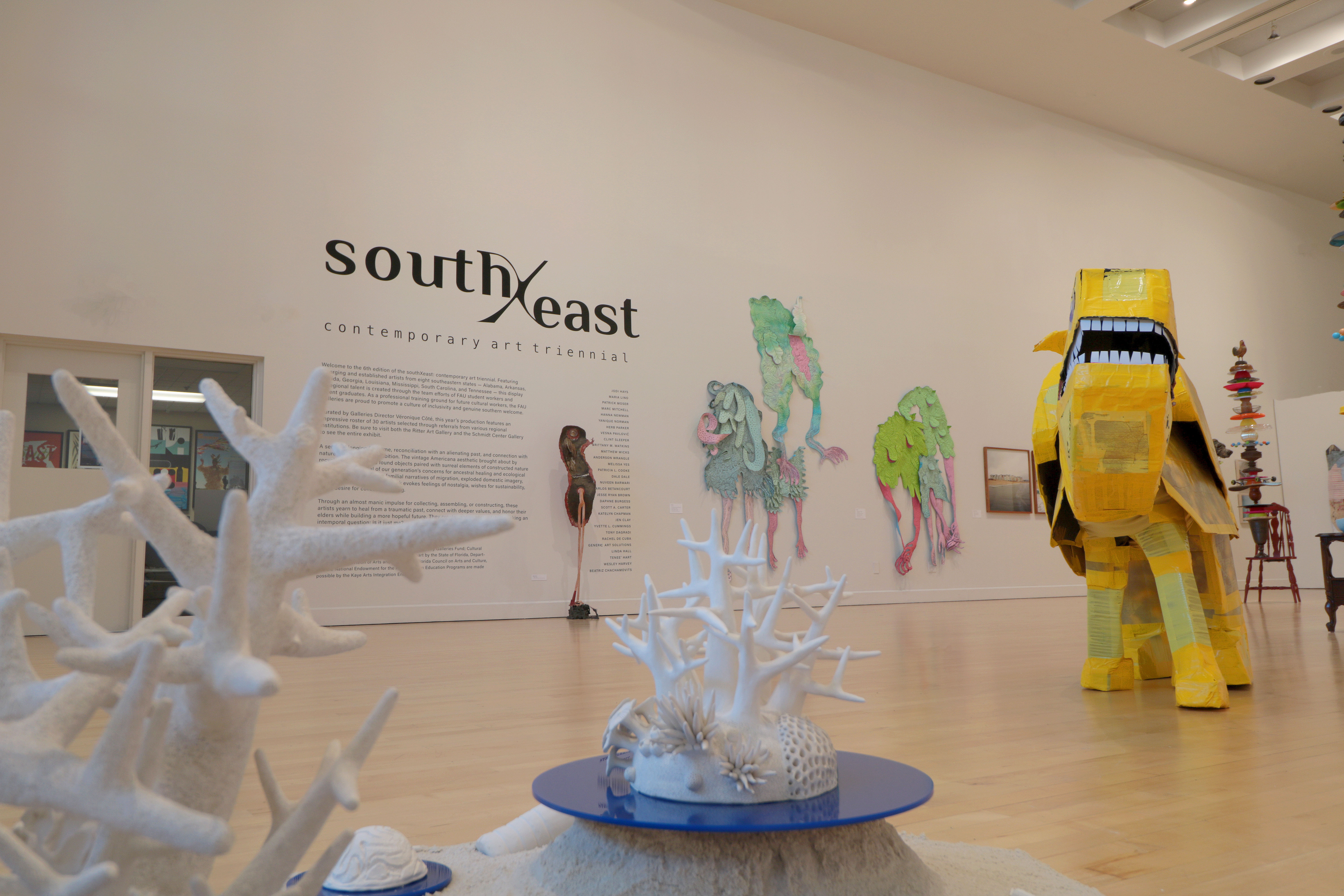 Curated By: Véronique Côté
Schmidt Center Gallery: January 27 - March 11
Ritter Art Gallery: January 20 - March 4
Opening: January 26, 6:30 pm - 8:00 pm
JODI HAYS, MARIA LINO, PATRICK MOSER, MARC MITCHELL, HANNA NEWMAN, YANIQUE NORMAN,
HERB PARKER, VESNA PAVLOVIĆ, CLINT SLEEPER, BRITTANY M. WATKINS, MATTHEW WICKS,
ANDERSON WRANGLE, MELISSA YES, PATRICIA L. COOKE, DALE DALE, NUVEEN BARWARI,
CARLOS BETANCOURT, JESSE RYAN BROWN, DAPHNE BURGESS, SCOTT A. CARTER, KATELYN CHAPMAN
JEN CLAY, YVETTE L. CUMMINGS, TONY DAGRADI, RACHEL DE CUBA, GENERIC ART SOLUTIONS, LINDA HALL
TENEE' HART, WESLEY HARVEY, BEATRIZ CHACHAMOVITS
The 6th southXeast: contemporary art triennial follows a legacy initiated in 2005 at Florida Atlantic University. As a professional training ground for future museum workers, the Galleries are proud to promote a culture of inclusivity and genuine southern welcome. This year's production highlights an impressive roster of thirty artists selected through referrals from various institutions across the southeastern United States.
A sense of longing for home, reconciliation with an alienating past, and connection with nature permeate this exhibition. The Americana aesthetic brought about by recycled materials paired with surreal, constructed nature form a striking visual of our generation's concerns for ancestral healing and ecological stewardship. Through an almost manic impulse for assemblage, we yearn to heal from a traumatic past, connect with deeper values, and honor our elders while building a hopeful future. We create contemporary totems asking a timeless question: is it just me?