We are proud to introduce our new faculty colleagues specializing in this cluster. They include: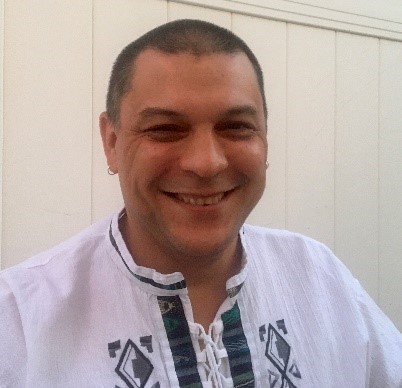 Dr. Andrés Espinoza Agurto.
Dr. Agurto has been playing percussion since he was 8 years old. He studied Afro-Cuban percussion at the Escuela Nacional de Arte (ENA) in La Habana, Cuba, graduated summa cum laude from Berklee College of Music, receiving a BM in Jazz Composition, and holds an MA in Jazz studies and Ethnomusicology from the University of York (England). He received his Ph.D. in Ethnomusicology from Boston University in 2014. His upcoming book is titled Una Sola Casa: Salsa Consciente and the Poetics of the Meta-barrio, and analyzes the impact of Salsa music as a forging element of social and political identity within Latino and Latin American communities. He is also the composer, musical director, and percussionist of the Andres Espinoza World Jazz Ensemble, the Andres Espinoza Octet, and the Latin fusion sextet Los Songos Jalapeños.
Dr. Daniel Auguste, Sociology.
Dr. Auguste earned his Ph.D. in Sociology from the University of North Carolina at Chapel Hill, where he also served as an Associate Editor of Social Forces. Daniel earned a BA from Covenant College, with a major in Economics and a minor in Community Development. His research and teaching interests include inequality, stratification, economic and organizational sociology, and entrepreneurship. Daniel is currently working on several projects that investigate the importance of entrepreneurship for economic wellbeing among low and-moderate income households in the United States, the role of the state in shaping entrepreneurship development, and the link between religion and economic inequality.
Dr. Candace Cunningham, History.
Dr. Cunningham earned her M.A. and Ph.D. from USC where she won the Robert H. Wienefeld Essay Prize and was a Fellow in the Grace Jordan McFadden Professors Program. Her research focuses on the 20th century African American experience with a special emphasis on civil rights, education, gender, and the South.  She has presented her research at numerous conferences, including the Association for the Study of African American Life and History, the History of Education Society, and Southern Labor Studies. She is currently working on a manuscript about African American teachers who were in the long civil rights movement. 
Dr. María Alejandra Aguilar Dornelles Languages, Linguistics and Comparative Literature.
Dr. Dornelles earned her M.A. and Ph.D. in Latin American literature from Washington University in St Louis, MO. She also completed the graduate certificate in Women, Gender, and Sexualities Studies in 2011. Her research interests include 19th Century Latin-American literature, Caribbean literature, Brazilian literature, Gender Studies, and Afro-Latin American Diaspora. Dr. Aguilar's article, "Heroísmo y conciencia racial en la poeta afro-cubana Cristina Ayala," was awarded the 2017 Ibero-American Prize for an Academic Article on the Nineteenth Century, and with the Harold Eugene Davis Prize awarded by the Middle Atlantic Council of Latin American Studies.. She is currently working on a book-length project entitled Herederos de la libertad: heroísmo y afrodescendencia en Colombia, Brasil y Cuba.
Dr. Regis Fox, Department of English.
Dr. Fox earned a Ph.D. in English from the University of California, Riverside. Her primary research interests include Nineteenth-Century American Literatures, Feminist Theory, and African-American Literary and Cultural Studies.  She has published in such journals as Women's Studies: An Interdisciplinary Journal and the Journal of American Studies, and in edited collections, including A Determined Life: The Elizabeth Keckley Reader. A McKnight Junior Faculty Fellow for the 2015-16 academic year, she released her first book, Resistance Reimagined: Black Women's Critical Thought as Survival (University Press of Florida) in December 2017.
Dr. Lindsay Harroff, School of Communication and Multimedia Studies.
Dr. Harroff comes from the University of Kansas as an Assistant Professor. Her research draws on perspectives from rhetorical studies, decolonial theory, and African studies to refigure matters of violence, identity, national community, justice, and democratic norms. Her dissertation, titled "Reimagining the National Community through Truth and Reconciliation: A Rhetorical Analysis of Truth Commissions in South Africa, Kenya, and the United States," focuses on key concepts in the work of truth commissions—truth, reconciliation, and justice—to examine how they contribute to national unity.
Dr. Gonzalo Aguiar Malosetti, Languages, Linguistics and Comparative Literature Department.
He earned his M.A. and Ph.D. in Latin American literature (Spanish and Portuguese) from Washington University in St Louis, MO. He studies Latin American intellectual history, literature, cinema, and the atre.His book La modernidad refractada: pensamiento, creación y resistencia en la historia intelectual de Argentina, Brasil y Uruguay (1900-1935) was published in 2019 by Editorial Cuarto Propio (Santiago de Chile). The book shows how Latin American intellectuals reclaimed contested spaces in the struggle for political and cultural power. Dr. Aguiar Malosetti's current research project has been selected to participate in the 2020 National Endowment for the Humanities Summer Seminar titled "The Making of Modern Brazil."
Dr. Marquese McFerguson, School of Communication and Multimedia Studies.
Dr. McFerguson comes to FAU from the University of South Florida as an Assistant Professor with an emphasis in Intercultural Communication. His research, teaching, and service focuses on how individuals in society communicate, perform and (re)imagine identity across the diverse number of cultural intersections including race, class, gender, and sexual orientation. Furthermore, his creative-intellectual research about representation and media-created scripts is guided by feminist, aesthetic, and narrative sensibilities and situated within the interdisciplinary fields of Media Studies, Hip Hop Studies, and Performance Studies.
Dr. Stephanie M. Ortiz, Sociology.
Dr. Ortiz joins us as an Assistant Professor from Texas A&M University where she received her Ph.D. in Sociology.  Her research examines how racism and sexism are reproduced and contested in the everyday context. This fall, she will be teaching Sociological Perspectives and Race & Ethnic Relations.
Dr. Jermaine Scott, Department of History.
Dr. Scott received his Ph.D. in African American Studies from Northwestern University, and a BA in History from Florida Agricultural and Mechanical University. His research interests include 20th century African American history, the cultural politics of sport, black politics, African Diaspora history, and postcolonial theory. He is working on a manuscript, tentatively titled "Black Teamwork: Soccer and Black Politics in the African Diaspora, 1950-2008," that interrogates the ways black athletes transformed football (soccer) into a site for black politics and solidarity during the second half of the twentieth century. 
Dr. Eyal Weinberg, History.
Dr. Weinberg received his Ph.D. from the University of Texas at Austin where his dissertation was recognized with Honorable Mention for Best Dissertation in the Humanities by the Latin American Studies Association's Brazil Section. Weinberg's research examines histories of medicine, health, political violence, and human rights in Cold War Latin America, with a focus on Brazil.  His current book project explores the contested realms of professional medicine, bioethics, and political repression in military and post-authoritarian Brazil. Weinberg's teaching explores the intersections of medicine and human rights in Latin America, as well as histories of the Cold War, torture, and transitional justice in the Southern Cone and the Global South.