Psychiatry Residency Hospitals and Facilities
Delray Medical Center
Delray Medical Center is a community-based acute care hospital offering a wide range of specialized medical and surgical services. Certified as a Level I trauma center for adults and children, it comprises over 490 beds, 18,000 admissions, 79,000 outpatient visits, and 42,000 ER visits per year. Five separate Intensive Care Units support the management of the surgery, trauma, medical, neurosurgical and cardiac/medical patients. Pinecrest, a 60-bed rehabilitation hospital, meets the complex physical and occupational therapy needs of recovering patients. The hospital has been the recipient of the Healthgrades "America's 50 Best" and "Distinguished Hospital Award - Clinical Excellence" awards™ for nine years in a row, has been rated by the Joint Commission as a "Top Performer" in surgical care, and has received an "A" rating by The Leap Frog Group for safety and avoidance of errors.
On the Delray Medical Center campus, Fair Oaks Pavilion comprises a 66-bed, three-unit psychiatry inpatient facility that includes a specialty unit for geriatric psychiatry and provides medication-assisted detoxification. As a Baker Act institution with a dedicated psychiatric emergency service, this sponsoring hospital offers 24-hour emergency assessment of the psychiatric needs of community residents across a full range of demographics and psychopathologies. Within the general medical hospital setting, the consultation-liaison psychiatry service plays an integral role in the care of patients in the emergency department, on the medical floors and trauma service, and in the ICU. The electroconvulsive therapy service for inpatients and outpatients treats 1,300 patients a year.  
Residents on all services receive direct supervision tailored to their stage of training and unique learning needs. The institution provides committed staff support for this residency as well as residency offices and computer labs, call rooms, a resident lounge, and interactive virtual classrooms so that residents may participate in conferences throughout the Florida Atlantic University College of Medicine Graduate Medical Education Consortium. Residents teach third- and fourth-year medical students as part of a team-based approach to psychiatric care. 
Bethesda Hospital East
Bethesda Hospital East is a community-based hospital in Boynton Beach that is part of the not-for-profit Baptist Health South Florida system. It offers a full array of healthcare services.
401 hospital beds
Over 19,000 admissions per year
Comprehensive cardiovascular services including a freestanding heart hospital that performs complex interventional procedures and cardiothoracic surgeries.
Advanced primary stroke center
Surgical services including residents from the FAU surgery residency program
FAU EM residents staff the emergency department which has >60,000 ER visits per year
Inpatient rehabilitation center
Host site for one of the two continuity clinics (Bethesda Community Health Center)
OB-GYN services with >3,000 deliveries per year 
Psychiatric Specialty Center
Psychiatric Specialty Center was founded by local psychiatrists with a goal of providing affordable, high quality mental health care to the Palm Beach County community. Since our inception, we have been providing psychiatric services for seniors, adults, adolescents, and children. We offer medication management, individual, and group psychotherapy. We perform Transcranial Magnetic Stimulation and Electroconvulsive Therapy. Outpatient services are provided in our outpatient offices in Delray Beach and West Palm Beach. Inpatient services are provided at Delray Medical Center and St. Mary's Medical Center. Our staff includes psychologists, therapists and psychiatrists. Our physicians are board certified in general psychiatry, geriatric psychiatry, child and adolescent psychiatry, consultation-liaison psychiatry, and addiction medicine.
Ruth & Norman Rales JFS
For over 40 years, Ruth & Norman Rales Jewish Family Services (JFS) has been providing help, hope and humanity through a comprehensive range of programs and services that support people of all ages and beliefs. With locations in Boca Raton and Delray Beach, JFS programs and services include food and financial assistance, senior services, counseling and mental health services, career and employment services, family & children's services and many volunteer opportunities.
JFS counseling and mental health services offer comprehensive, innovative and compassionate client-centered care. Our multidisciplinary clinical team provides assessments and treatments that directly address the needs of our clients. JFS staff is comprised of licensed and experienced clinical social workers, mental health counselors, psychologists and psychiatrists. The array of services provided include psychotherapy, psychological testing, psychoeducational testing, psychiatric evaluations and medication management for pediatric, adult and geriatric clients.
JFS is also proud to serve as a practice site for graduate level students from six universities. Students working on their Masters or Doctorate in Clinical Social Work, Mental Health Counseling, Psychology and Nurse Practitioner Programs. This synergy of academia and practice helps to ensure that our client-centered care is of the highest quality through the utilization of innovative best practices.
Additional Research and Scholarly Activity Opportunities
In addition to the research and scholarly activity opportunities within the clinical rotations above, research electives and collaborations may be arranged through additional programs located across FAU campuses.
FAU Brain Institute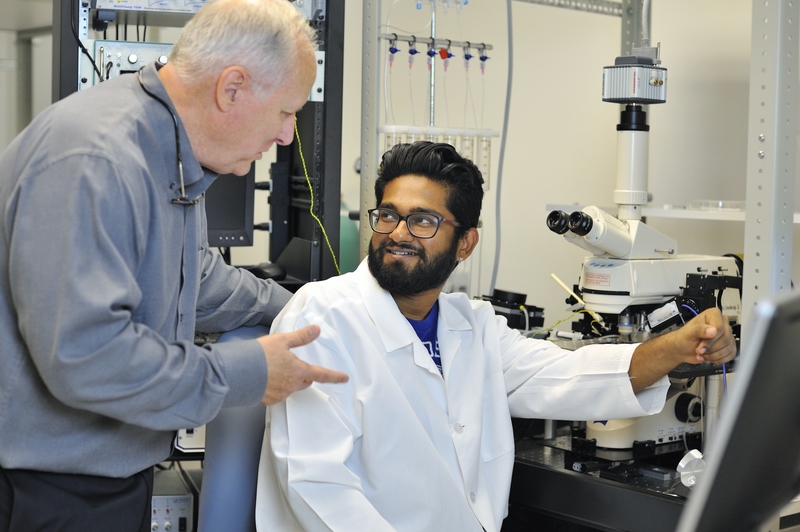 The FAU Brain Institute supports research, education, and community outreach, with efforts spanning all FAU campuses. Its administrative home is on the FAU MacArthur campus in Jupiter, Florida, that also houses the Harriet L. Wilkes Honors College, the Max Planck Florida Institute for Neuroscience, and the Scripps Florida Research Institute.
The Brain Institute supports state-of-the-art research and innovative educational activities of more than 100 neuroscience faculty-level investigators located at FAU and affiliate research centers and sponsors the FAU Neuroscience Student Organization. The Institute's mission is
to unlock the secrets of brain development, function, and plasticity and their implications for devastating brain disorders such as autism, schizophrenia, depression, and Alzheimer's Disease. 
FAU Healthy Aging Institute
The FAU Biomedical Research Institute offers a number of programs and services to support research and innovation. The Institute for Healthy Aging and Lifespan Studies (I-HEAL) is dedicated to the advancement of health through pioneering research and translational applications. The I-HeAL team is leading the way with novel intervention programs to improve the care of dementing elders and their caregivers, leading to improved care confidence and mobility, delayed nursing home placement, reduced hospital re-admission, and lower health care costs. 
Scripps Florida
Scripps Institute is an academic research facility with investigators in six of the institute's 15 departments: Cancer Biology, Chemistry, Immunology and Microbial Science, Metabolism and Aging, Molecular Therapeutics, and Neuroscience, as well as the unique Translational Research Institute, which includes the Advanced Technologies and Drug Discovery divisions. While the focus of basic scientific research is to understand the mechanisms that lead to disease and its potential treatment, the Translational Research Institute seeks to identify new biochemical targets for drug development and to optimize and further develop these drug candidate lead compounds.
Max Planck Institute for Neuroscience
Part of the prestigious Max Planck Society based in Germany, MPFI is the first and only institute of its kind in North America. Situated in the new biosciences cluster in South Florida's scenic Palm Beach County, MPFI fosters a vibrant, collaborative environment where scientists are provided generous ongoing support to conduct high-impact research at the cutting edge.