FAU Ocean Engineering students come second place in a national Unmanned Surface Vehicle competition!
by Debbi Johnson-Rais |
Monday, Aug 28, 2023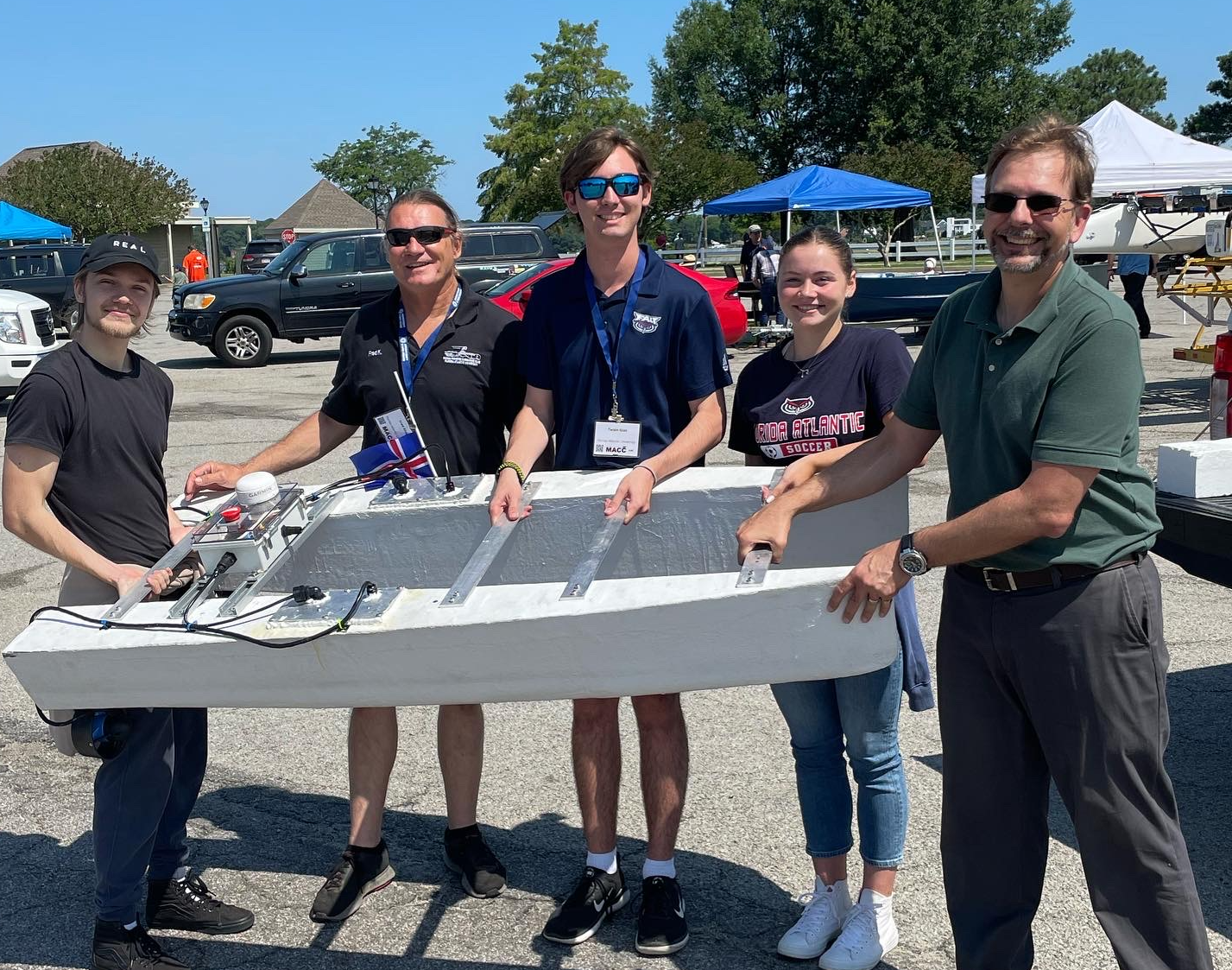 ---
A team of four FAU Ocean Engineering students and their faculty advisors came in second in a national Unmanned Surface Vehicle competition.
This group was made up of students Twain Glas, Nicole Vernon, Connor Hartmann and Emily Serrano, accompanied by Fred Knapp, who is the lead machinist in the College of Engineering and Computer Science, and Pierre-Philippe Beaujean, Chair of the Department of Ocean and Mechanical Engineering.  They won second place in the Promoting Electric Propulsion (PEP) for Small Craft (navalengineers.org) 2023 competition. 
The event was organized by the American Society of Naval Engineers (ASNE), and took place on June 27-28, 2023, in Portsmouth, VA.  The students competed against many prestigious Universities such as Texas A&M, Johns Hopkins University, University of Washington – Bothell, University of Rhode Island, Stevens Institute, Florida Tech, University of Kentucky, Christopher Newport University, William & Mary, North Carolina State University, University of Maryland, Virginia Tech and University of Connecticut.
For its first competition ever, this new FAU Unmanned Surface Vehicle (USV) traveled 4.5 miles at nearly 10 mph.
The Unmanned Surface Vehicle (USV) was developed as an Ocean Engineering Senior Design project by Twain Glas, who was the group leader working on the mechanical aspects of the project, along with Luis Devito. Nicole Vernon and Alain André focused on electronics, and Connor Hartmann and Nicholas Gomez on software.  The project was conducted under the supervision of Dr. Pierre-Philippe Beaujean.
The Marine Robotics Club at FAU will bring this vehicle to compete once more in 2024.  If you wish to join the club, or if you are interested in getting a degree in Ocean Engineering or in Mechanical Engineering, please reach out to Dr. Pierre-Philippe Beaujean at pbeaujea@fau.edu.

Congratulations to our FAU students for this great achievement and GO OWLS!