FAU College of Engineering and Computer Science Team Places in Top Three at International Submarine Race
by Brittany Sylvestri |
Monday, Jul 23, 2018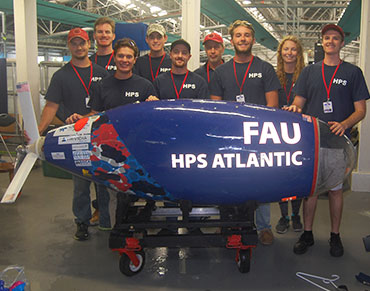 ---
The Florida Atlantic University College of Engineering and Computer Science (COECS) Human-Powered Submarine (HPS) team placed third overall at the fourth biennial European International Submarine Race (eISR) at Haslar in Gosport, England.
The race is a unique sporting and engineering challenge which involves teams from universities across the world designing, building and racing human-powered submarines around a slalom course at QinetiQ's Ocean Basin, one of the world's largest indoor freshwater tanks.
The team's submarine, HPS Atlantic, was designed specifically for the slalom section of the eISR course and was named the most maneuverable vessel in the field. Its directional thrust system, in which a flexible joint in the propeller shaft allowed the propeller to be pointed off-axis, removed the need for a drag-inducing rudder and allowed their experienced pilot to rip through the tight turns of the challenging slalom course and on to victory on the last day of the main competition. It also landed them the coveted BMT Award for Innovation.
"I could not be more pleased with how our team performed," said Michael Denny, FAU HPS team president. "We showed off just how innovative and prepared FAU engineering students and computer science are, and we had a blast doing it. None of it would have been possible without the support from our university and our sponsors."
Along with Denny, the FAU team members that attended the competition included Declan Depietro, Dan Luvisi, Ryan Fisher, Ryan Kwaterski, Mackenzie Smith, Remy Komocsin and Wyatt Van Meter. The team also was guided by Fred Knapp, FAU senior lab teaching instructor, and Anthony LaVigne, team adviser and FAU machinist. Active team members that did not attend the race include Jesse Schreck, Will Foster, Carlton Jones, George Albrecht, Natalia Linares, Spencer Ellis, Jake Joers, Jake Lamoureux, Steve Roberts, Richard Cook, and Yun Ni. 
"I am very proud of our HPS team," said Stella Batalama, Ph.D., dean of FAU's College of Engineering and Computer Science. "We have established a tradition of excellence in all of our club activities that prominently positions the college as an engineering and computer science powerhouse on the international stage."
The FAU COECS HPS team plans to compete in the 15th International Submarine Race, which will take place in June 2019 in Maryland.
For more information about the College of  Engineering and Computer Science, visit fau.edu/eng, and for information about the Department of Ocean and Mechanical Engineering, visit fau.edu/engineering/ome.