Owls Racing Takes Second Place at the Fifth Annual Formula South Invitational
by Kelsie Weekes |
Friday, Mar 03, 2017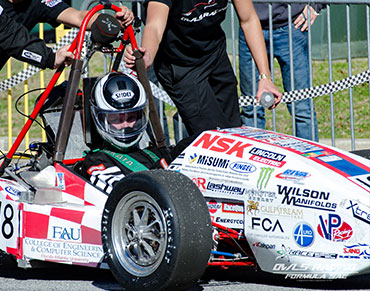 ---
Owls Racing, Florida Atlantic University's Society of Automotive Engineers (SAE) racing team, recently took home second place at the fifth annual Formula South Invitational hosted by Kennesaw State University Motorsports in Marietta, Ga.
The team, competing with its OR-16 racecar, placed second in acceleration and endurance and sixth in skid pad. The team's second place overall finish put them ahead of other teams such as the University of Florida, Georgia Tech and the University of South Florida.
"Owls Racing continues to grow and succeed because of the knowledge and skills of returning members that gets passed down each year," said Marco Cheraso, president of the club team. "We work hard, critique our work, make changes and come out stronger every time."
Six members of Owls Racing made the trip to Georgia to compete, including Obrien Lavin, Jeron Bornstein, Seth Chapman, Thomas Strickland, Joshua Mesnick and Mathew Burgos. The rest of the team stayed behind to continue work on OR-17, the team's newest racecar. Along with Cheraso, those team members included Halle Mayne, Stephen Lyons, Austin Licata, Daniel Morishita-Horner, Chris Branfield, Steve Gaillott, Steven Stanfield, Mitchel Hardan, Jason Reyes, Patrick Brandon, Dylan Kovar, Frederick Meyer, Alexis Ruiz, Shaun Swannick, Nate Cadet, Trent Ksionek, Richard Nelson, Sil Schoonman, Max Welnitz, Alex Conrad, Blake Lewend, Romulo Peraza, Michael Simpson, Gabi Zamojski, Bradford Davis, Melanie Maldonado, Matthew Quintieri and Christopher Spreadborough.
"I continue to be impressed with the success of Owls Racing," said Oren Masory, Ph.D., the team's faculty advisor and a professor in FAU's Department of Ocean and Mechanical Engineering. "The work that the students do for the club is extracurricular and they do not receive any academic credit for it. This talented group recognizes the value of hard work, and more importantly, teamwork. I look forward to seeing what they accomplish at the 2017 FSAE race.
Owls Racing will head to Michigan in May to compete in Formula SAE Michigan, the largest and longest running Formula SAE event for undergraduate and graduate students. FAU is one of 120 teams competing in the event from May 10-13 at Michigan International Speedway.
For more information on Owls Racing, visit its website at owlsracing.com.