FAU's RoboBoat Team Takes Second Place at International Competition
by Cheryl Halle |
Tuesday, Jul 19, 2016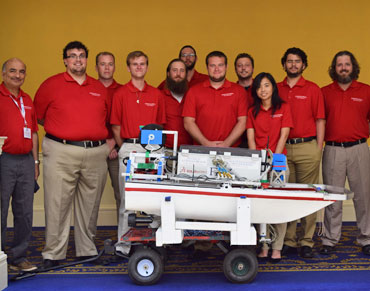 ---
Florida Atlantic University's RoboBoat team recently won second place out of 13 teams at the ninth annual International RoboBoat Competition hosted by Robonation in Virginia Beach, Va. taking home $4,000 in prize money.
Each team's boat was tested on its speed and power; basic navigation through a pair of buoys; correct dock-slip detection; auto-docking; obstacle avoidance; launching and recovery of a submersible-imager; location and circling of a buoy based on an acoustic pinger; and returning to the starting dock without disturbing the course.
The FAU Marine Robotics Club team entered "Owltonomous", their 6th Generation Vision-Based Autonomous Surface Ship (V-BASS). In preparation for the 2016 event the team enhanced their boats onboard vision, overhauled the acoustic system, implemented a secondary vehicle and updated the vehicles communications system.
"Our students are some of the best engineers in the nation as evidenced by their continued high level of performance in national and international competitions," said Javad Hashemi, Ph.D., chair of FAU's Department of Ocean and Mechanical Engineering. "The technology the students are learning to build into their boat designs are the same functions that are being developed for coastal surveillance, port security and other types of oceanographic operations by full-size robotic boat companies and organizations."
The FAU vehicle was one of the few vessels navigating the obstacle course autonomously from the first day of competition. The team's key onboard achievements were navigating cleanly through two pairs of buoys; launch and recovery of a secondary, unmanned underwater vessel (UUV) with onboard control box, thrusters, and camera; navigating through a buoy-laden obstacle field based on fusion of LiDAR and webcam imagery; detecting the frequency of and heading to an acoustic source; and returning autonomously to the launch point.
"This is the second year in a row FAU has taken second place at the RoboBoat competition," said team captain, Travis Moscicki. "This consistency is affirmation of the incredible work ethic and natural ability the engineers at FAU possess."
FAU's team was guided by faculty advisors Manhar Dhanak, Ph.D. and Karl von Ellenrieder, Ph.D., professors in the Department of Ocean and Mechanical Engineering.  In addition to Moscicki, team members include Justin Koenig, William Wiard, Joshua Simmons, Jared Wampler, Harold Davis, Christina Tsai, Andrew Barbosa, Adam Hall, Alec Calhoun and Bianca Mesa.
"The team performed really well against a formidable field of competitors, with the improved Owl-eye LIDAR and USBL acoustic systems on their unmanned surface vehicle coming through to help the team clinch 2nd place." said Dhanak.
The Marine Robotics Club at FAU is looking to build upon their success as they continue on towards their next competition, the larger scale Maritime RobotX Challenge that will be held in Oahu, Hawaii, December 2016. For more information, visit the team's website at auvsiasv.fau.edu.