FAU Bioengineering Professor Receives NIH Grant to Develop Novel Biodegradable, Polymer Stent for Esophageal Cancer
by Gisele Galoustian |
Tuesday, Jan 19, 2016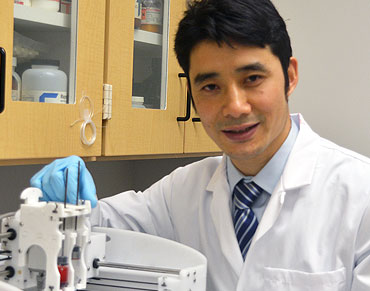 ---
Esophageal cancer is the eighth most common form of cancer worldwide and treatment of this disease continues to be a major medical challenge. Despite improvements in surgical techniques, 50 to 60 percent of patients with esophageal cancer are not suitable for surgery, because of late tumor detection or metastases that cannot be removed with surgery.
The gold standard for treating inoperable esophageal cancer patients is a surgically implanted metal mesh stent, which causes a number of complications such as bleeding, chest pain, perforation, and tumor ingrowth.
A bioengineer in the College of Engineering and Computer Science at Florida Atlantic University has received a $141,743 grant from the National Cancer Institute of the National Institutes of Health to develop a novel biodegradable polymer stent that will be designed to prevent complications while at the same time serving as a drug delivery system for esophageal cancer therapy. Stents used by surgeons today are composed of metallic wires and are unable to carry and deliver anti-cancer drugs to treat esophageal tumors and prevent tumor tissue ingrowth.
"Currently, there are no stents that are available in a clinical setting that have the ability of preventing or decreasing the complications, and at the same time providing the capability of delivering cancer therapy drugs," said Yunqing (Kevin) Kang, Ph.D., principal investigator and assistant professor of biomaterials and regenerative medicine in FAU's Department of Ocean and Mechanical Engineering.
Kang and his team will use a special 3D printing technique to develop the tissue-engineered stent using biodegradable elastomeric polymer materials that will make it sufficiently rigid yet flexible enough to expand and contract with the esophagus. This new stent, which will mechanically open the esophagus, also will release the anti-cancer drug paclitaxel (PTX) to locally treat esophageal cancer.
"Because our materials will be made from biodegradable polymer, they will dissolve and disappear after the stent is surgically placed into the patient's esophagus," said Kang. "Once treatment is completed, it won't be necessary for the surgeon to remove the stent, making the process and treatment much more comfortable for the patient."
According to the American Cancer Society, approximately 16,980 new esophageal cancer cases were diagnosed in 2015. The disease is three to four times more common among men than among women, and the lifetime risk of the disease in the U.S. is 1 in 125.
"Dr. Kang's technology is a game changer for how esophageal cancer could be treated in the future," said Mohammad Ilyas, Ph.D., dean of FAU's College of Engineering and Computer Science. "The physiochemical, drug-release and biocompatibility properties of this stent could have a wider impact on the treatment of esophageal cancer and the need for tissue-engineered stents for esophagus regeneration after surgical removal."
Kang joined the College of Engineering and Computer Science in August 2014 to establish the FAU Kang Biomaterials Laboratory. He has spent his career as a bone tissue engineer, merging his expertise in tissue engineering and cancer drug delivery systems. Kang's laboratory is focused on developing functional biomaterials for applications of bone tissue regeneration and drug delivery system.
"Dr. Kang is an outstanding addition to our department and to the existing cancer research scientists at Florida Atlantic University. We expect that Dr. Kang's state-of-the-art approach in the treatment of esophageal cancer will help our university emerge as a leader in the treatment of a variety of cancers through tissue engineering approaches," said Javad Hashemi, Ph.D., chair and professor of FAU's Department of Ocean and Mechanical Engineering.