SMART Health Opening
by Debbi Johnson-Rais |
Tuesday, May 02, 2023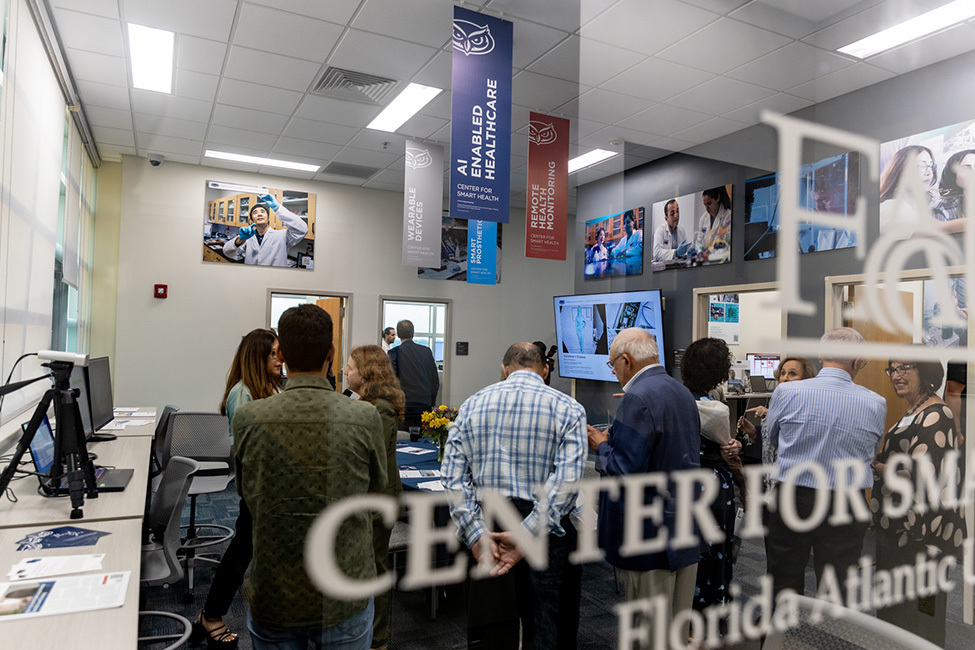 ---
On May 2nd, 2023, the College of Engineering and Computer Science, in conjunction with the Charles E. Schmidt College of Medicine, and the Christine E. Lynn College of Nursing, hosted the opening event of the Center for Sensing, Monitoring, Analytics, Remote and Technology (SMART) Health.  
The Center for SMART Health brings together a multidisciplinary team of experts in health, engineering, and informatics to facilitate state-of-the-art research and education in patient-centered health care, disease prevention and improved quality of life. This will be done through the integration of technology and AI in Medicine and Nursing, the funding of projects that support collaborations across disciplines and the strengthening of partnerships in industry to produce real-world health care practices.
The Center received a seed grant from Judith and David Teller, who adopted FAU as their philanthropic priority, and have a keen interest in the nexus of health and engineering. Since its funding in 2022, the Center has named co-Directors, Dr. Sarah Du and Dr. Behnaz Ghoraani, who will see the Center for SMART Health through its inaugural phase.  The Center also has twenty-two affiliated faculty researchers, an inter-departmental advisory and industry advisory boards made up of professionals in the fields of medicine, nursing, and engineering.
Cutting-edge interdisciplinary research collaborations through the Center for SMART Health include hybrid and smart prosthetics, point-of-care disease diagnostics and prognostics, wearable devices for disease monitoring and early disease prediction, Technology and AI enabled rehabilitation, and remote health monitoring to name a few. The Center has also supported three seed grants to researchers from engineering, medicine, and nursing.
For more information on the Center for SMART Health, please visit https://www.fau.edu/engineering/research/smart-health/