Faculty Spotlight: Dr. Isaac Elishakoff
by Debbi Johnson-Rais |
Thursday, Mar 30, 2023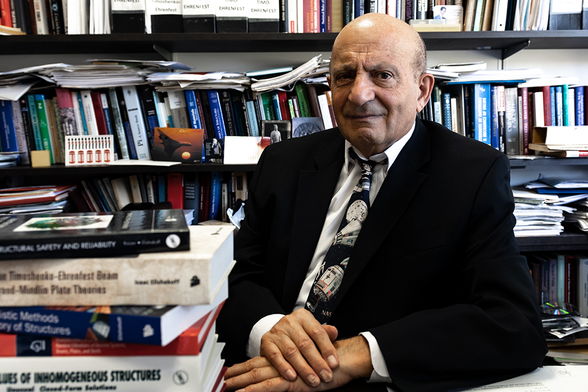 ---
Dr. Isaac Elishakoff, distinguished Research Professor in the Department of Ocean and Mechanical Engineering at the FAU College of Engineering and Computer Science received the President's Award for Career Achievement (PACA) at the 2023 Honor's Convocation on April 12, at the University Theatre in the Dorothy F. Schmidt College of Arts and Letters.
The President's Award for Career Achievement (PACA) is the highest award given by FAU to honor senior faculty who have consistently demonstrated exemplary achievements in scholarly research and/or creative endeavors and mentoring of students and junior colleagues. Recipients have also, through service and other professional activities, brought distinction to themselves and to Florida Atlantic University.
According to Associate Provost Teresa Wilcox, "award recipients are nationally and internationally recognized scholars and leaders in their field of expertise and exemplify the highest-level of achievement and commitment both to the University and to the broader academic community."
Dr. Elishakoff joined FAU in 1989 after following a long, distinctive, and impactful academic path. He has an extensive research record of international recognition and has made ground-breaking contributions in various areas of civil, mechanical and aerospace engineering that have shaped the technological state of the art in these fields and were adopted by several international agencies.
Throughout his professional career, Dr. Elishakoff has advised and mentored a total of 80 students and scholars, including Ph.D. students, master's students, visiting scholars and postdoctoral fellows. His pedagogical efforts have, many times, focused on how state-of-the art technology can address eminent societal needs.
The College of Engineering and Computer Sciences wishes to extend heartfelt congratulations to Professor Elishakoff on this outstanding achievement.