ESWATINI, AFRICA, BRIDGE PROJECT
by Debbi Johnson-Rais |
Wednesday, Mar 15, 2023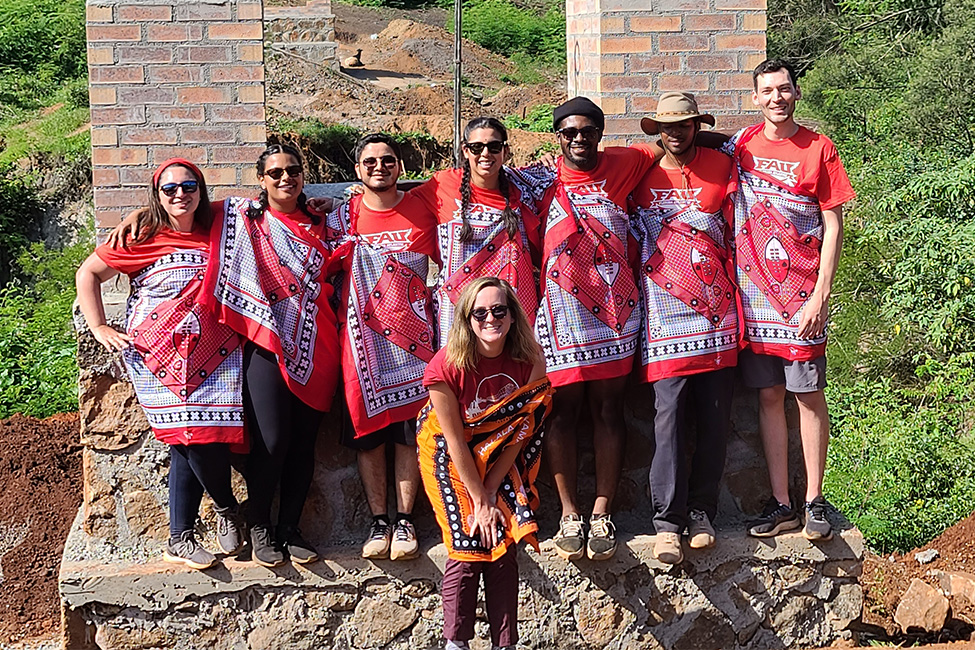 ---
Alexander Hintze has always been fascinated by how things work. His interest in creating solutions to solve real world problems led him to Eswatini, Africa to complete his senior capstone project, which involved building a bridge to facilitate travel and trade in the Mkhulamini community. Now as a graduate of FAU's College of Engineering and Computer Science's civil engineering program, he is dedicating his life to building bridges for communities in Eswatini, full-time.
Since 2020, the FAU College of Engineering and Computer Science has collaborated with Engineers in Action (EIA) to participate in the Bridge Program, an initiative created to provide footbridges to rural communities previously isolated from commercial centers. FAU is one of the few schools to build three bridges since 2020, making it a leader in building bridges with this program.
The mission of EIA is to "support the development of sustainable systems and infrastructure with underserved communities, local expertise and global partners."  The organization provides opportunities for students in over forty universities worldwide to participate in projects that not only connect underserved communities to essential services, but it also offers students critical hands-on experience and leadership skill development.
This year, seven current and past civil engineering students from FAU, including the two past bridge team captains, traveled to Mkhulamini, Eswatini in Africa, to build a footbridge that will provide access for the Mkhulamini community to the rest of the Manzini region. 
The Emlaleni Mabovini footbridge will facilitate the movement of more than 3,700 individuals, connecting them with schools, healthcare clinics, grocery stores, churches and various farmland or residential homesteads.  Additionally, it will allow a community that is 70% reliant on subsistence agriculture to travel to sell or trade their products such as maize, spinach, and various livestock. This will be a huge boost to the local economy.
The project manager for the Eswatini Bridge Project this year was Emmanuel Francois, a senior in civil engineering from FAU's College of Engineering and Computer Science. He has lead the team since June of 2022 through the team building and design phase to the implementation phase, which involved the team recently traveling to Eswatini for three weeks. According to Francois, one of the most impactful experiences for him was just to be able to see the power of engineering at work, which is particularly important for young engineering students.
The team met with the workers and participating community members at the start of each day to create a strategy to help with daily challenges. "It was never an option for this project not to happen," said Francois, adding that he now looks forward to what he considers the most rewarding part: seeing how the whole community benefits from this bridge they built together.
Alexander Hintze and Carolina Velez are two alumni who have participated in the program since the beginning.  Hintze, who graduated in 2020 with a degree in civil engineering, said he found the "attitude of gratitude and joy felt from the local community to be both humbling and reviving…getting in the trenches and implementing a project as opposed to simply designing and planning it has been a rewarding experience." 
Carolina Velez, who graduated from FAU in December of 2022 with a master's in civil engineering and is now a design engineer for Structures International, also participated in the project during 2020 year. Although the team was able to design the bridge that year, they were unable to travel to Eswatini due to COVID-19. Velez lead the bridge efforts from Florida, and this year was able to travel to build on the bridge her team initially designed. One of the most meaningful experiences for Velez, she said, was the collaboration with partners around the world working toward one common goal. There was also a deep cultural exchange between the students and the Eswatini people since the team lived with members of the local community in Mkhulamini. "We had to walk around the river to find rocks, which, coming from a place where everything is readily available, was an experience," Velez said.
The students said they were immersed in the culture of the village for several weeks. "The food and living conditions are not like home," Velez said. "Jungle safety, construction safety and techniques, and working with labor that does not have the tools commonly found in the U.S. help students appreciate the opportunities they have at home."
The bridge projects have historically been done as a senior design class, according to Frederick Bloetscher, Ph.D., associate dean for Undergraduate Studies and Community Outreach, Department of Civil, Environmental and Geomatics Engineering. Bloetscher leads the capstone design class. The goal for all projects is to have a client with a real need to solve, he said. "We had a former student contact us about this EIA opportunity. It seemed like a good fit for what we are trying to accomplish in the class," Bloetscher said. "The opportunity to travel adds to the experience by allowing the students to see their design become a real project."
Bloetscher noted that the bridge projects create some interesting challenges. Students cannot travel to the site beforehand, surveying tools are less than ideal, and the situation may be different on the ground. "Adaptability is important," he said. "For example, changes to the design this year were needed because the soil characteristics were not as described by the workers on site. That necessitated changing the location of the pylons and the length of the bridge while under construction. The lack of power, Wi-Fi and running water added to the challenge."  
Florida Atlantic is among 24 schools, including Duke University, the University of Notre Dame, Northwestern University, Penn State University, Virginia Tech and McGill University, that design and construct bridges. "We are relatively new to this, but we have built more bridges than some of these bigger schools," Bloetscher said. "Our plan is to continue to build bridges as long as we have interested students and a community willing to help us raise the funds to go."
For more information about the African Bridge Project click here .