NSF CAREER Award to Use Wearables and a Smartphone for Early Detection of Alzheimer's
by Yaffi Spodek |
Saturday, Apr 25, 2020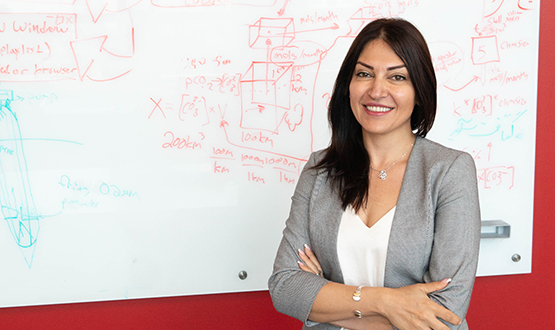 ---
What if we could detect chronic medical conditions such as Alzheimer's using the latest AI technology? A researcher at the FAU College of Engineering and Computer Science was awarded a prestigious CAREER grant from the National Science Foundation to do exactly that.
Behnaz Ghoraani, Ph.D., faculty fellow at FAU's Institute for Sensing and Embedded Network Systems Engineering (I-SENSE) and associate professor in the Department of Electrical Engineering & Computer Science,received a $524,191 grant for a five-year project entitled "CAREER: Advanced Data Analytics for Early Detection of Alzheimer's Disease Using Wearables and Smartphone."
Alzheimer's afflicts 5 million people in our country, and 10% of those affected are Florida residents. This debilitating cognitive disease also burdens the U.S. economy by at least $250 billion annually, and its prevalence is predicted to triple by 2050 unless further discoveries facilitate the prevention of the disease.
Currently, the risk and rate of cognitive decline caused by Alzheimer's is measured by patient interviews. However, the assessment is lengthy and requires specialized training for proper administration, which makes it less practical to use in typical neurology or geriatric practices. Additionally, these tests are unsuccessful at identifying changes in individuals' cognitive decline with early-stage disease and may not accurately predict progression. As a result, Alzheimer's remains undiagnosed until cases advance to the extent that reversal of the disease is unlikely. 
"What we desperately need is a cognitive screening tool that can objectively detect at-risk individuals and monitor the disease progression rate in any clinical setting, with no specialist staff or specialized medical equipment," said Dr. Ghoraani. "Driven by rapid advancements in wearable sensors and their growing social acceptability, this CAREER program will develop novel data analysis approaches required toward the reliable adaptation of wearable sensors and smartphones in early detection of Alzheimer's. 
Dr. Ghoraani's innovative proposal develops a cognitive screening tool that can be used at home or in any clinic, with no extensive infrastructure, using a sensor-based assessment system through wearable sensors with inertial measurement units and a smartphone. At the same time, the project's advanced data analytics approaches can be applied to other engineering fields (e.g., speech recognition, neuroengineering), clinical diseases (e.g., motor neuron disease), or rehabilitation modalities (e.g., stroke recovery). 
"By developing innovative individualized deep learning approaches, we can significantly improve the early detection of the disease, as well as its progression rate," said Dr. Ghoraani. "Such a tool could also initiate further biomarker testing and early interventions to alleviate neuronal damage before it becomes too late."
The broader impacts of this project are significant as well. An integrated education and outreach program is being designed to foster interdisciplinary research training opportunities with a focus on neurodegenerative diseases, intended to increase the participation of females and underrepresented groups in STEM disciplines. This includes research training opportunities to target middle and high school students, integration of healthcare applications in the engineering curriculum by developing new learning modules, and knowledge dissemination via research publications, tutorials, and workshops.
"The NSF's Faculty Early Career Development or CAREER program is one of the most prestigious awards in support of early-career faculty who have great potential to serve as role models in research and education," said Stella Batalama, Ph.D., dean of the FAU College of Engineering and Computer Science. "Professor Ghoraani truly exemplifies this mission to be a leader and role model in AI-driven innovation. Her research already has significant impact in early detection of Alzheimer's that, in turn, leads to the improvement of the quality of life for the millions of patients who suffer from this debilitating neurodegenerative disease."