FAU wins 2019 SWANA International Solid Waste Design Competition
by Daniel Meeroff, Ph.D. |
Tuesday, Oct 22, 2019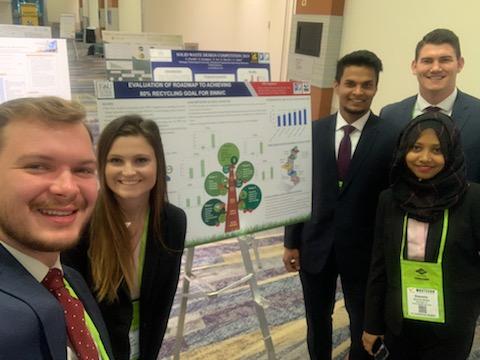 ---
The FAU team of Joshua Tronnier (BS Environmental Engineering), Sharmily Rahman (MS Civil Engineering), Kaitlyn Luck (BS Environmental Engineering), Zach Smierciak (BS Environmental Engineering), and Bishow Nath Shaha (Ph.D. Ocean Engineering) was awarded first place in the international solid waste design competition for the Solid Waste Association of North America (SWANA) at the WASTECON annual convention held in Phoenix, AZ on October 21, 2019. FAU also won 2nd place in the inaugural competition held in 2015 and 1st place in 2017. The other finalists this year included: University of Pittsburgh, University of Colorado, Wayne State University, and Michigan Technological University.
The FAU project was an evaluation of a roadmap to achieve an ambitious 80% recycling goal for fictitious Valley County. The FAU students were provided with waste composition data, facilities descriptions, annual operating data, population estimates, etc. The project analyzed 4 different recycling regulatory frameworks (Florida, California, Oregon, European Union), after which the students determined that the recycling rate would only be 55% if nothing changed, so they set out to come up with an implementation plan to achieve the goal. Incrementally, they evaluated expanding curbside pickup to unincorporated areas, mandating multi-family recycling programs, crafting a construction/demolition waste ordinance, fiber recycling education program, plastic film recycling for 3-D printer filament, and organic waste anaerobic digestion for energy production. All of the programs were paid for with revenues generated from expanding services to the community. Even with assuming no future value for recyclables, the project ended up costing less than $30 per household per year.
Team captain, Sharmily Rahman said, "Our ideas seemed to be more innovative and our presentation and poster were very polished. We could not have done it without the leadership of our faculty mentor, Dr. Meeroff." One of the undergraduate students on the team, Kaitlyn Luck, who is on track to graduate in May 2020 said, "I've had 3 different job offers, and we are only here at the conference for one day so far! I don't even know what to think except thank you Dr. Meeroff!"