Motorola Solutions Foundation Provides Grant for New FAU Women in Engineering and Computer Science Program
by Cheryl Halle |
Monday, Sep 26, 2016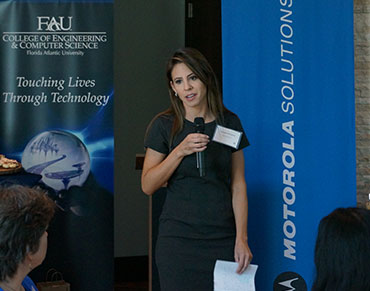 ---
Motorola Solutions Foundation provided a $10,000 grant to Florida Atlantic University's College of Engineering and Computer Science to create a Women in Engineering and Computer Science program to encourage female students to pursue science, technology, engineering and math (STEM) careers by fostering a supportive environment.
The college hosted a kick-off event for the new program on Wednesday, September 21, on the FAU Boca Raton campus with guest speaker Claudia Rodriguez, Corporate Vice President, Motorola Solutions. The event was attended by more than 50 students, faculty, staff and female engineering leaders from Motorola Solutions, Lockheed Martin and Belcan Engineering Group.
The program strives to provide a supportive and valuable framework to enable the 400 female students enrolled in FAU engineering and computer science majors with peer mentorships, academic and career development seminars, industry field visits, industry open houses, networking events and hands-on activities.
"We hope to foster a collaborative community that will enrich the academic engineering experience and impart a positive and lasting impression for our students here at FAU and beyond," said Mohammad Ilyas, Ph.D., dean of the College of Engineering and Computer Science. "Together, we aspire to shape and advance the presence and impact of women in the fields of engineering and computer science."
The program addresses the need for engineering and computer-related workforce development in South Florida, providing superior learning and professional development opportunities to the students.
For more information on FAU's College of Engineering and Computer Science, visit eng.fau.edu.