FAU 47th Annual Honors Convocation
Tuesday, May 10, 2016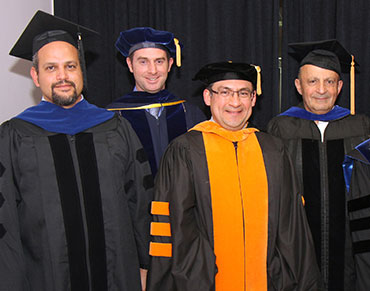 ---
Florida Atlantic University President John Kelly and Provost Gary W. Perry hosted the University's 47th annual Honors Convocation on Wednesday, April 20, 2016 on the Boca Raton campus. The ceremony recognizes the University's most outstanding students and faculty.
Awards and recognitions included eight University scholars, the Distinguished Student award, the University Club Merit award, the Phi Kappa Phi scholar, the Stan and Renee Wimberly scholar, the Undergraduate Researchers awards, the Student-Athletes of the Year awards, and the Fraternity and Sorority scholars. Additionally, the FAU Board of Trustees Service Award was awarded to a community member who has served the University. Faculty honors included the FAU Alumni Association's Degree of Difference Award, Researchers and Scholars of the Year awards, as well as Teaching and Advising awards, and the Distinguished Mentor of the Year in Undergraduate Research award.
For more information about the Honors Convocation, call 561-297-4747.
2016 Florida Atlantic University College of Engineering and Computer Science Honors Convocation Awardees
University Scholar
Quintin Warren
Computer Engineering Major
Phi Kappa Phi Scholar
Washington Garcia
Computer Engineering Major
University Club Merit Award
Alyssa Harris
Electrical Engineering Major
Undergraduate Researcher of the Year
Lisandre Meyer
Civil Engineering Major
University Researcher of the Year - Professor Level
Karl von Ellenrieder, Ph.D., Professor and Associate Director of SeaTech, in the Department of Ocean and Mechanical Engineering
University Researcher of the Year - Associate Professor Level
Francisco Presuel-Moreno, Ph.D., Associate Professor in the Department of Ocean and Mechanical Engineering
Scholar of the Year
Isaac Elishakoff, Ph.D., Distinguished Research Professor in the Department of Ocean and Mechanical Engineering
Excellence and Innovation in Undergraduate Teaching
Khaled Sobhan, Ph.D., Professor in the Department of Civil, Environmental and Geomatics Engineering