FAU's College of Engineering and Computer Science Appoints New Executive Advisory Board
by Cheryl Halle |
Thursday, Mar 03, 2016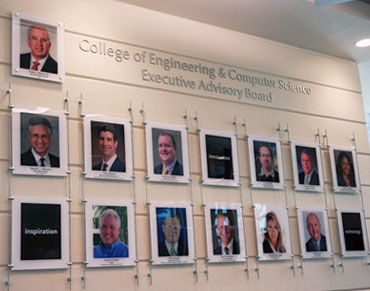 ---
Florida Atlantic University's College of Engineering and Computer Science recently announced its new Executive Advisory Board (EAB) comprised of industry representatives who are prominent in their fields.
"We are very fortunate to have such high caliber board members who bring invaluable industry experience and knowledge to our Board and our College," said Mohammad Ilyas, Ph.D., dean of FAU's College of Engineering and Computer Science. "We are proud and honored to have their support and counsel to fulfill our goal of producing creative, innovative and competitive graduates."
The new board members include Peter LoBello, Sr., executive advisory board, Chair; Steven L. Abrams, Palm Beach County commissioner; Kerry Byrne, Belcan Engineering Group, Inc., vice president, engineering operations and quality; Andrew Duffell, Research Park at FAU, president and CEO; John Duffy, 3Cinteractive Corporation, CEO; G. Keith Hardy Jr., Florida Power and Light, vice president corporate projects; Erika J. Marshall, Lockheed Martin Mission Systems and Training, project director RMS and manned submersibles; Frank O'Neill, Agilis, president and CEO; Mike Read, Teledyne Corporation, Teledyne Marine and Teledyne Oil and Gas, president; David Robinson, Turner Construction, vice president and general manager; Claudia Rodriguez, Motorola Solutions, Inc., vice president; Scott Verner, Trividia Health, president and CEO.
"I am very pleased and privileged to be the Chair of this important group that supports FAU's engineering and computer science initiatives," said LoBello. "It's exciting to be part of an institution that is preparing it's graduates to effectively address real world issues in our communities."
The primary mission of the board is to work with the dean to further develop and enhance the programs and reputation of the College by:
Providing advice and guidance in determining the current and future needs of the engineering and computer science profession so that the College can be responsive to and address these needs as appropriate, and continue to remain a viable educational partner to industry;
Pursuing priorities set for the board by the dean in order to support the spirit of excellence in education that historically embodies FAU;
Enhancing philanthropic/financial support for the College's scholarships, professorships, programs and facilities;
Promoting awareness of the College in the broader community;
Increasing engagement and collaborations between the College and the broader community.
For more information about the College email info@eng.fau.edu or visit https://www.fau.edu/engineering/.