FAU Receives Grant from the Florida Engineering Foundation
by Cheryl Halle |
Wednesday, Nov 18, 2015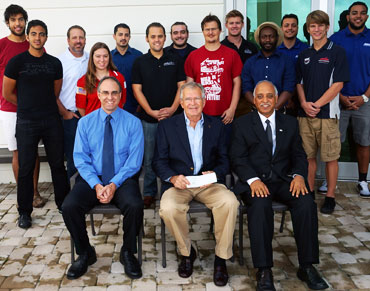 ---
Florida Atlantic University's College of Engineering and Computer Science received a $2,000 grant from the Florida Engineering Foundation (FEF) to support students competing in professional, society-sponsored design competitions.
Don Goddeau, P.E., F.N.S.P.E., FEF trustee presented the check to FAU student representatives from the following clubs: American Society of Civil Engineers (ASCE), Human Powered Submarine (HPS), Marine Robotics Club (MRC), Society of Automotive Engineers (SAE) and the Technology and Aerospace Club.
The ASCE student chapter is one of five FAU teams to receive funds from the FEF. Members of this team participate in the annual Southeast Student Conference. Students have an opportunity to network and participate in competitions with other student teams from 26 universities in the region, as well as from Puerto Rico and China. The event includes a business meeting, professional/technical presentations, a variety of competitions, (concrete canoe, steel bridge, surveying, technical paper presentations, etc.), social activities and an awards banquet.
The HPS team will benefit from the FEF grant as they design and race submersibles that are propelled by the students themselves. With the competition taking place underwater, these races are a challenge of human "pedaling" strength and endurance, as well as a test of putting academic theory into practice. The next competition is the 14th International Submarine race, held in June at the Naval Surface Warfare Center, Carderock Division in West Bethesda Maryland.
FEF funds will also help the MRC as they participate in the annual Roboboat competition held by the AUVSI Foundation. The RoboBoat competition is a student robotics challenge in which teams race Autonomous Surface Vehicles (ASVs) of their own design through an aquatic obstacle course.
The funds will help the FAU Owls Racing Team when they race the vehicle they designed and built at the 2016 Formula SAE® competition sponsored by the SAE, in May 2016 at the Michigan International Speedway in Brooklyn, Michigan. Over 100 university teams from around the world attend the annual race. Students are asked to conceive, design, fabricate and race small formula-style race cars in this competition.
The TAC student club will use their portion of the funds for a planned trip to New Mexico in December 2105 to launch a high altitude balloon. The goal of the project is to obtain high altitude imagery of earth, with a future plan to launch a CubeSat which is a miniature satellite in order to collect research data. The club is working with Space Port America and the White Sands Missile Range.
Photo front row l-r: FAU College of Engineering and Computer Science Associate Chair, Dan Meeroff, Ph.D.; FEF Trustee, Don Goddeau, P.E., F.N.S.P.E.; FAU College of Engineering and Computer Science Dean, Mohammad Ilyas, Ph.D.; second row l-r: TAC member, Mark Younan; MRC member, Bianca Mesa; TAC member, John Calloway; ASCE member, Justin Dacey; ASCE member, Chad Cole; SAE member, Steven Stanfield; third row l-r: TAC member, Michael Mian; student, Augustus Slaven; student, Paulo Fernandes; TAC member, Patrick Hanley; HPS member, Michael Perry; ASCE members, William Lacobs, and; Gaethan Amedee.