FAU Undergraduate Student Awarded the IEEE PES Scholarship
Thursday, Nov 20, 2014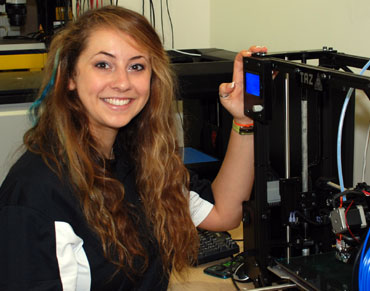 ---
FAU, Electrical Engineering & Computer Science undergraduate student Océane Boulais was awarded the 2014 Institute of Electrical and Electronics Engineers (IEEE), Power and Energy Society (PES) scholarship.
The IEEE Power and Energy Society is committed to shaping the future of the power and energy industry.  To demonstrate this commitment they created the PES Scholarship Plus Initiative which provides scholarships and career experience opportunities to high-achieving U.S. and Canadian undergraduate students considering a future in power engineering. One hundred and eighty-four (184) PES Scholarship recipients were selected from the 590 individuals who applied for the scholarship. These undergraduate students are majoring in electrical engineering, are high achievers with strong GPAs with distinctive extracurricular commitments and are committed to exploring the power and energy field. These scholarships are made possible due to the generous donations of individuals and corporations to the IEEE Power & Energy Society Scholarship Fund of the IEEE Foundation.
The Initiative provides multi-year scholarships and career experience opportunities to qualifying U.S. electrical engineering undergraduate students. Recipients that continue to meet the requirements, receive $2,000 the first year, $2,000 the second year, and $3,000 the third year.