FAU Professor Emeritus Inducted into Florida Inventors Hall of Fame
Monday, Sep 01, 2014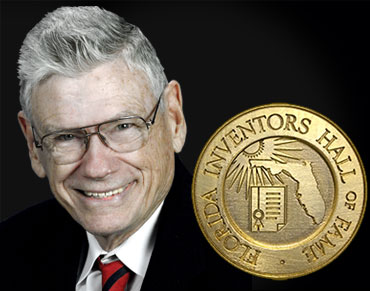 ---
William E. Glenn Jr., Ph.D. (1926 – 2013), a distinguished professor emeritus of electrical engineering in the College of Engineering and Computer Science at Florida Atlantic University, has been posthumously named to the Florida Inventors Hall of Fame.
Glenn was selected for his lifetime of innovations, achievements and contributions in the fields of high resolution imaging technology, electronic and optical physics and electrical engineering. He was the head of FAU's Imaging Technology Center and NASA Imaging Technology Commercial Space Center (formerly Space Communications Technology Center). He was awarded more than 137 U.S. patents and published more than 105 technical articles. He holds an honored position among 50 prolific, commercially viable U.S. inventors whose number of patents are exceeded only by those issued to Thomas Edison.
Glenn is among six inventors that were announced July 8, 2014 as the first inductees of the Florida Inventors Hall of Fame. Also announced as part of the inaugural class were Thomas Edison; Robert Cade, Gatorade inventor; John Gorrie, the air conditioning pioneer; Shin-Tson Wu, the inventor of the next generation liquid crystal display; and Shyam Mohapatra, whose nano-HIV detection kit provides a diagnosis in 20 seconds.
Honorees are nominated and then selected by a 31-member advisory board made up of leaders and inventors from public corporations, private businesses, research universities, nonprofit institutes, governmental agencies and other areas. Nominees that are elected are inducted at an annual ceremony, where they will be honored for their achievements and their influence on society.
The newly established Florida Inventors Hall of Fame is located at the University of South Florida, Tampa. The first induction ceremony will be held on September 10, 2014 in Tampa, Florida.
For more information about the Florida Inventors Hall of Fame or the 2014 inductees and ceremony, visit FloridaInvents.org.