FAU Signs Licensing Agreement for a Patent that Disables Cellphone Texting Features While Driving
Wednesday, Jul 16, 2014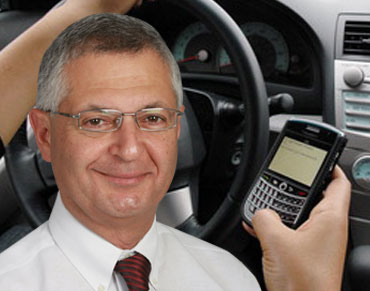 ---
Florida Atlantic University and PortNexus have entered into an exclusive licensing agreement to implement a patented idea that will help solve the growing national problem of auto accidents caused by people texting while driving—potentially saving lives one blocked text at a time.
The patent created by Daniel Raviv, Ph.D., professor in FAU's Department of Electrical Engineering & Computer Science, will help stop driver distractions before they happen by disabling a cellphone from sending and receiving text messages when the driver's phone is in a moving vehicle.
"I'm glad that this invention may help save lives, which is a part of my goal to help the community at large," said Raviv. "Improving public safety through new, innovative technologies can make a real difference in the lives of millions."
PortNexus, a South-Florida based company, along with AT&T Certified Solutions Partner, will use the idea to develop programming for Phone Service Providers (PSP) which then could offer the service to its customers. The idea does not require downloading of any software or special installations and would be handled by the PSP through the customer's account.
"As we aggressively enter the age of mobile technology, distraction caused by mobile devices will only increase," said Steve Jones, CEO of PortNexus. "Our technology will control what features are enabled on a cell phone based on the finely-tuned understanding of the motion of the device. It can eliminate an entire category of auto accidents that claim thousands of lives every year."
Control of cellphone texting can be coordinated using Geo-referencing of spatial data so that the device that a person is using can be monitored at an exact location. Travel by train, bike or at an amusement park would be distinguishable by using location features and patterns of speed. The technology is precise enough to disable the driver's phone, but not the phones of any of the car's passengers.
"We are very pleased to help play a role in bringing this idea to market," said Mohammad Ilyas, Ph.D., dean of FAU's College of Engineering and Computer Science. "This research is just one of the ongoing efforts by FAU's students and faculty who are working on new generations of active safety applications and systems to help further reduce auto accidents."