Surplus Reiterations
Ritter Art Gallery | Schmidt Center Gallery Public Space: Sep 30 - Nov 6, 2022
Opening: October 19th, 2022, 6:30pm
Tom Scicluna, Letty Bassart, Rod Faulds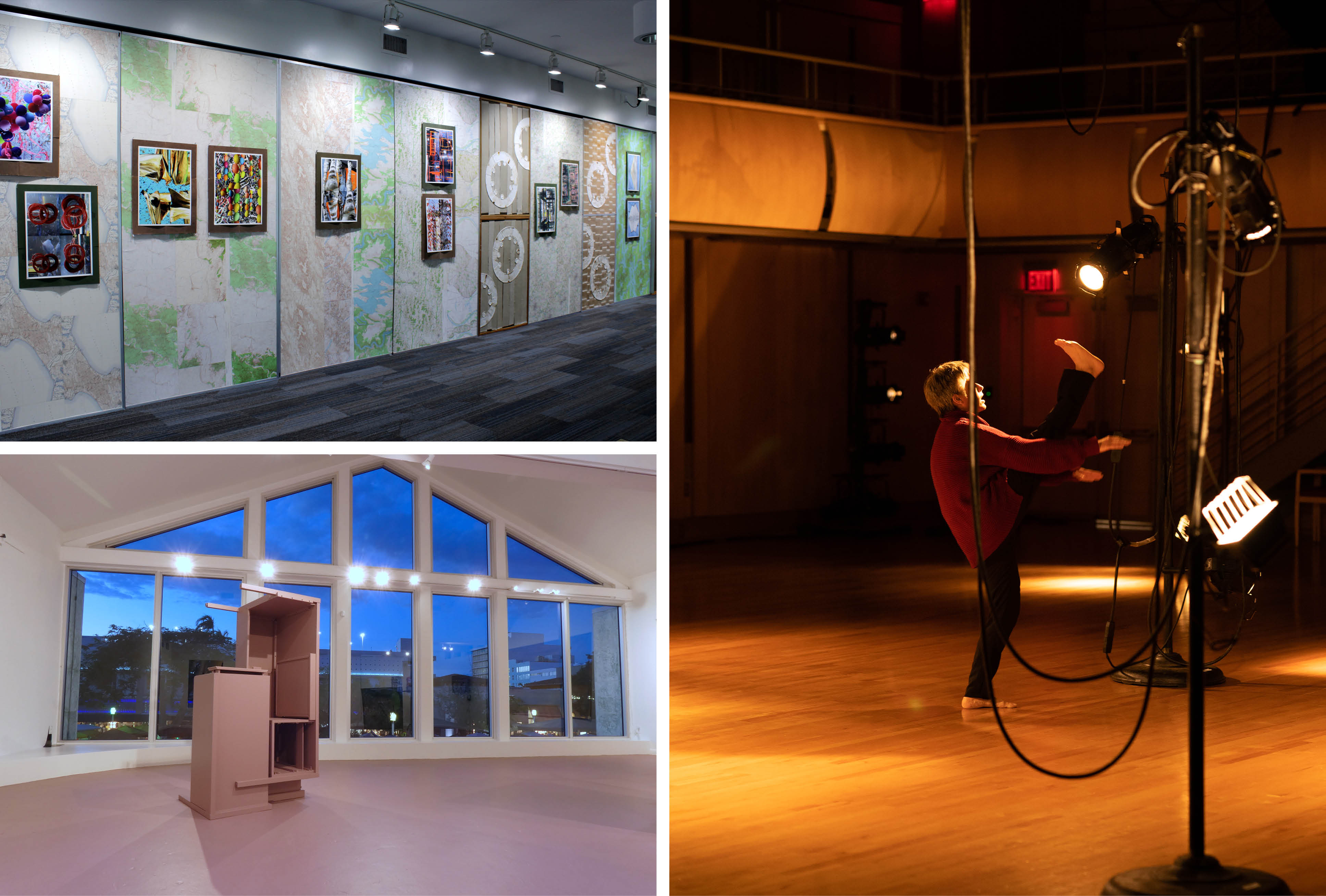 Images (Clockwise from top left): Rod Faulds, installation View, Hybrid Detritus, 2022, ink-jet prints mounted on pendaflex folders mounted on 8 ft x 4 ft map panels (geological maps on whiteboards); Letty Bassart, Some Ways to Continue, installation, photo by Charles Han; Tom Sicluna, installation view, Full Bleed, 2018, Former ArtCenter/South Florida administrative desk and exhibition related paint, image courtesy of the artist and Nina Johnson.
Surplus Reiterations is a collaborative exhibition/performance space with South Florida visual artists Tom Scicluna, Rod Faulds and dancer/choreographer Letty Bassart. The project, a site-specific installation and performances in the Ritter Art Gallery at FAU, has at its core, objects sourced from the University's "Surplus" operation.
The opening reception (October 19, 6:30 pm) will include an improvisational performance, featuring: Joanna Asch, Aubry Jacques, and Joanna Martin The performance will be actualized in collaboration with FAU Professor, and Dance Program Director Clarence Brooks' student and professional dance community.
Special Thanks to Ilias Gyftopoulos, Tavares Hill and Tim Blackmon, FAU Properties Services for assisting the artist's access to FAU Surplus; and Clarence Brooks, FAU Department of Theatre and Dance for recommending the featured professional dancers, and engaging dance students Yanileisy Lopez Hernandez and Raquel Perry. The artists also appreciate the enthusiastic support of the University Galleries Staff Team.