Research Thursdays - Scholarly Work in FAU's Hispanic Honor Society Recognized by Association of College Honor Societies
Research Thursdays - Scholarly Work in FAU's Hispanic Honor Society Recognized by Association of College Honor Societies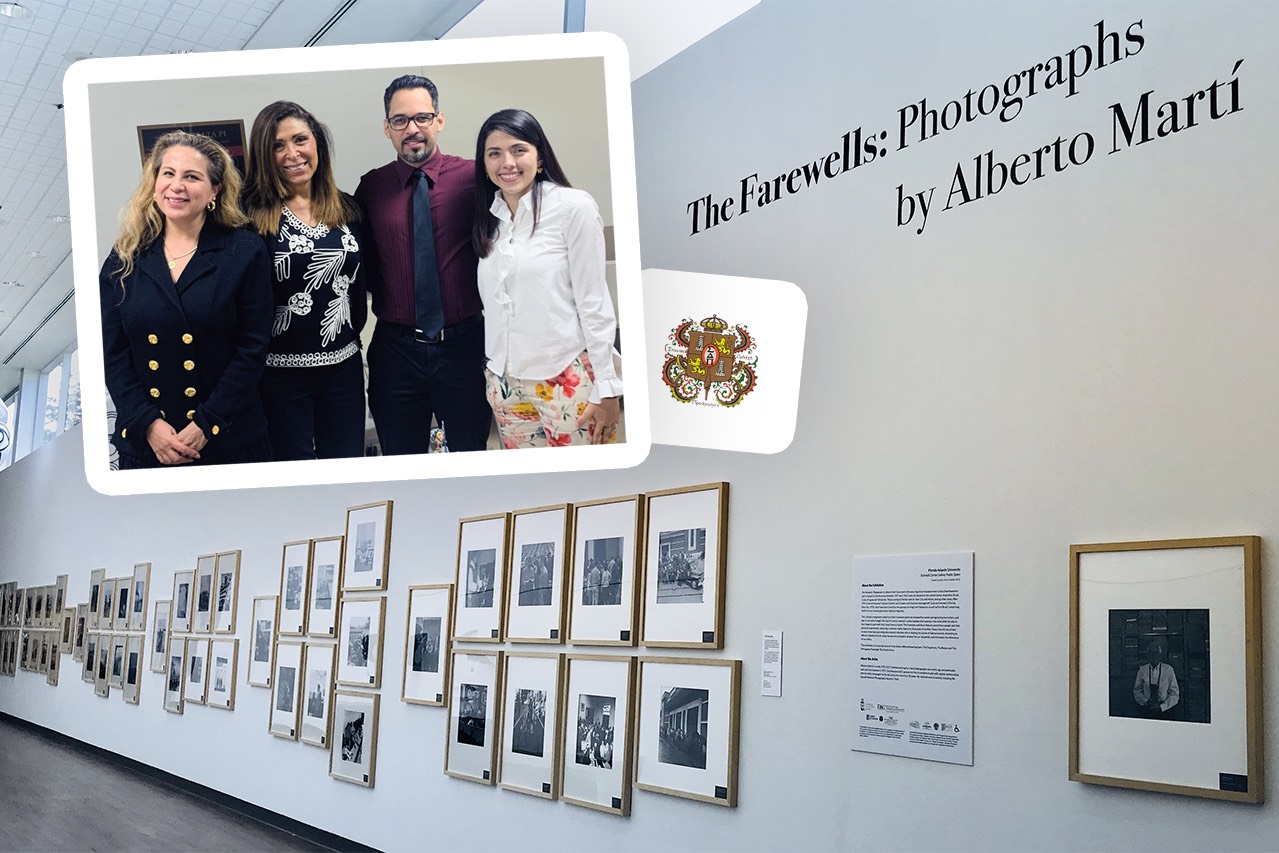 ---
Thursday, Oct 01, 2020
Images: FAU's Rho Omicron Chapter of Sigma Delta Pi (l-r): Luzmila Perez (Secretary), Roxana Ambrosini (VP), Luis Reyes (COSO Representative/Treasurer), Gabriela Penagos (President); "The Farewells, Photographs by Alberto Marti" Exhibition
Florida Atlantic University's Rho Omicron Chapter of Sigma Delta Pi the National Collegiate Hispanic Honor Society, has been named an "Honor Chapter" for its outstanding activities in 2019-20. This is an award that was bestowed on only 11 chapters nationwide. 
Each summer, the 627 chapters of Sigma Delta Pi nationwide are asked to submit an annual report detailing their numerous activities and projects from the academic year. Based on these reports, the National Executive Committee chooses approximately 10-15 "Honor Chapters" for the year. This recognition is based upon the caliber of chapter projects that reflect the Sigma Delta Pi mission of honoring excellence in the study of the Spanish language, contributing to cultural understanding and upholding the goals of the society

Members of Sigma Delta Pi executive committee, Gabriela Penagos, Roxana Ambrosini, Luis Reyes, and Luzmila Pérez along with students in FAU's honor chapter were recognized for the research they conducted in Hispanic Cultural Practices and Hispanic Literature, which then conveyed to lectures and events throughout the 2019-20 academic year. Topics of the lectures included "El Popol Vuh," Plato's literary criticism and theory" by Betsaida Casanova, Ph.D.; "Sigmund Freud's "Uncanny" in relation to magical realism in Latin-American novels" by Analiz Faife-Casas; and "Caribbean/Hispanic theater" by Carmen Duarte. A major event was the exhibition "The Farewells, Photographs by Alberto Marti," which showcased the photos taken of the Galician migrant exodus to the Americas between 1957 and 1963. Nuria Godón, Ph.D., was the Guest Curator of the exhibition which was on display at FAU in the Fall of 2019. 


This is the tenth year that FAU has been chosen as an honor chapter and Nancy K. Poulson, Ph.D., FAU's retired chapter adviser, was instrumental in earning this year's national honor. Poulson is professor of Spanish and Latin American Studies and Director of Graduate Studies in the Department of Languages, Linguistics and Comparative Literature. She is a recognized scholar in 20th century Latin American writers. 
Image (left to righ): Luzmila Perez (Secretary), Roxana Ambrosini (VP), Luis Reyes (COSO Representative/Treasurer), Dr. Nancy Poulson (Adviser), Gabriela Penagos (President) 



For the fall semester, FAU students involved in the honor society are working to deliver cultural presentations on the Hispanic Word and promote the upcoming "Conversations on Literature, Languages, and Social Justice," co-organized by Professors of Spanish, Alejandra Aguilar, Ph.D., and Dr. Godón, Ph.D. This series of Zoom and Facebook presentations will take place this Fall and will feature three scholars researching the role played by literature and languages in the making of more diverse and just communities. Topics include "Blackness, the Past, and the Future of a New World: The Nuevo Muntu," "Disposable Bodies: Penal Colony, Race, and Biopolitics in the Carceral Archipelago of The Philippines," and "Whiteness and Other Racial Fictions in Colombia: How literature created racial imaginaries and senses of privileges." For more information on the series, email Professor Godón, new academic adviser of Sigma Delta Pi at FAU: ngodon@fau.edu.

(Printable Version)