Lecture and Reception with FAU's New Director of Jewish Studies
Tuesday, Sep 05, 2023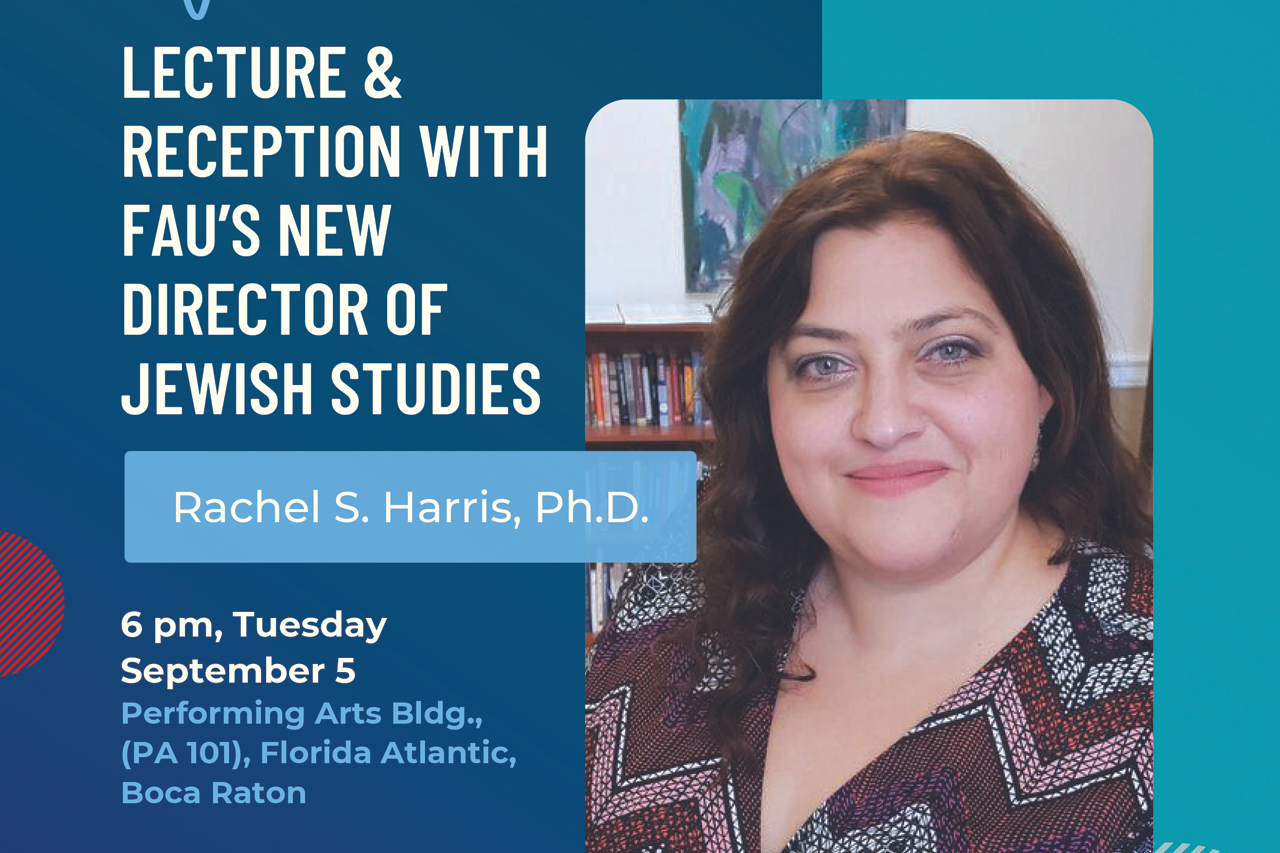 ---
The Jewish Studies Program at Florida Atlantic University will host a lecture and reception to introduce the new director, Rachel S. Harris, Ph.D., Herbert and Elaine Gimelstob Eminent Scholar Chair in Jewish Studies. Harris will discuss upcoming plans for Jewish studies at FAU, and her recent research on Israeli Cinema as a Fulbright Scholar in Tel Aviv. The event is free and open to the public. Registration is required at tinyurl.com/harris-sept5.
Prior to coming to FAU, Harris was an associate professor of Comparative and World Literature and The Program in Jewish Culture and Society at the University of Illinois, Urbana-Champaign (2009-2022). She was also the Shoshana Shrier Distinguished Visiting Professor at Toronto University. She is active in the Association for Jewish Studies where she served as the chair of the Women's Caucus (2017-2019) and the Association for Israel Studies where she served two terms on the board (2015-2019) and chaired the 37th Association for Israel Studies Annual Conference "Pluralistic Israel: Women, Minorities and Diversity" in 2021. She has served on the committee for the Yonathan Shapiro Award for Best Book in Israel Studies (2019-2022) and as its chair (2021-2022).
The Jewish Studies program at FAU is interdisciplinary and interdepartmental with an academic foundation in Hebrew language and Jewish culture offered by core faculty members from across the college. The program promotes the academic study of Jewish culture, society and religion for all students at the University. Through the Jewish Studies Program, students may train for a career in the Jewish community or in Jewish education, learn about Jewish issues and opportunities for Jewish public service, and develop a deeper understanding of American and world Jewry, as well as enhancing a degree in the humanities or social sciences with a minor or a degree in Jewish Studies.
For more information about Jewish studies at FAU, contact Rachel Harris at harrisr@fau.edu.