Art and Activism Lecture at FAU
by FAU College of Arts and Letters |
Wednesday, Feb 24, 2016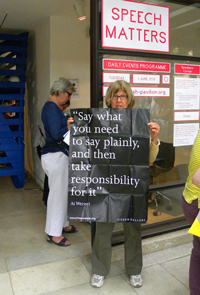 ---
The University Galleries and the Department of Visual Arts and Art History in Florida Atlantic University's Dorothy F. Schmidt College of Arts and Letters will present "Art and Activism in a Time of Crises," a lecture by Susan Platt, Ph.D., on Thursday, March 3 at 6:30 p.m. in PA 101, the lecture hall next to the Schmidt Center Gallery, 777 Glades Road, Boca Raton campus. The lecture is free and open to the public.
Platt's lecture is presented in association with "Jay Critchley, Incorporated," an exhibition in FAU's Schmidt Center Gallery that goes through Saturday, April 2, and surveys 30 years of projects by Critchley. Platt's lectures and writings analyze social and political concerns in contemporary art, with a perspective shaped by her background as an art historian. Her book "Art and Politics in the 1930s, Modernism, Marxism and Americanism" (Midmarch Arts Press, 1999) examines the contradictory critical arguments catalyzed by politically-engaged art during the Depression years. Her more recent book, "Art and Politics Now, Cultural Activism in a Time of Crisis," (Midmarch Arts Press, 2011) focuses on art-engaging issues such as opposition to war and racism, and ecological art between 1999 and 2009.
As a professor of art history, Platt has taught at Mills College in Oakland, Calif., as well as at Washington State University in Pullman, Wash., and at the University of North Texas in Denton, Texas.  Platt is currently an independent art historian, freelance art critic, monthly columnist and blogger at artandpoliticsnow.com which is based in Seattle, Wash. Her blog posts emphasize traditionally marginalized artists.
The "Jay Critchley, Incorporated" exhibition is open Tuesday through Friday from noon to 4 p.m. and Saturday from 1 to 4 p.m.
University Galleries programs are supported by Florida Department of State Division of Cultural Affairs and Florida Council on the Arts; the Cultural Council of Palm Beach County; the R.A. Ritter Foundation; and Beatrice Cummings Mayer. The University Galleries' Museum Education Programs are supported Kaye Arts integration Endowment and a three-year grant from the Community Foundation of Palm Beach and Martin Counties. For more information, visit www.fau.edu/galleries.



Warning
: simplexml_load_file(): I/O warning : failed to load external entity "/export/apache/htdocs/new-artsandletters/news/art-and-activism-lecture/index.xml" in
/export/apache/htdocs/artsandletters/news/art-and-activism-lecture/index.php
on line
95
Notice
: Trying to get property of non-object in
/export/apache/htdocs/artsandletters/news/art-and-activism-lecture/index.php
on line
96