Aquatic Animal Health Laboratory Team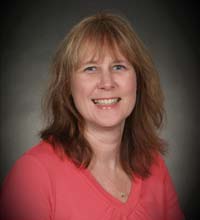 Susan Laramore, Ph.D. - Project Lead
Associate Research Professor
772-242-2525
slaramo1@fau.edu
Lab Staff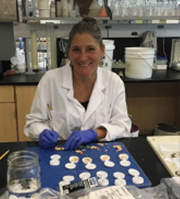 Cari Sinacore-Migliano – Technical Assistant
Cari received her Dental Hygiene degree in 1991 and worked as a Registered Dental Hygienist for a decade.  In 2005 she graduated with a B.S. in Biology from Mercy College in NY. In 2010 she received an M.S. in Biological and Environmental Sciences from Western Connecticut University.  She worked for the Town of Somers, NY., educating the public education concerning  the effects of and prevention of water pollution on local water supplies.  Cari moved to Florida in 2011 and began volunteering at HBOI's Ocean Discovery Center. She joined the Aquatic Animal Health Lab in 2013, and has assisted in a variety of crustacean, bivalve and fish projects.  She has co-authored two Sunray Venus Clam papers and is currently working on a paper that assesses oyster health in the Indian River Lagoon. In addition to conducting histology and molecular lab work she also performs administrative tasks for AAHL. In 2019 Cari attended the University of Arizona's Shrimp Pathology Short Course.
Dee Harmody - Technician
Dee graduated with a B.S. in Biology from Stetson University.  She has worked for the Marine Biomedical and Biotechnology Research group at HBOI in the Microbiology lab for over 20 years.  Dee joined the AAHL team in the fall of 2018 and works part-time using molecular tools to certify aquaculture feed, crustaceans and bivalves for 16 different aquatic animal diseases. She also assists with aquaculture industry related projects, funded by Zeigler and Pebble Labs.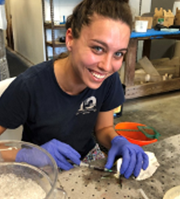 Caitlyn Courtemanche – Aquaculture Lab Assistant
Caitlyn volunteered for AAHL in the spring of 2016 while attending FAU's Semester by the Sea Program at FAU-HBOI. She graduated from FAU with a B.S. in Biological Sciences and certificates in Environmental Science and GIS in 2016. After graduation she worked as an animal husbandry intern at the Smithsonian's Model Ecosystem Exhibit in Fort Pierce, FL.  Caitlyn rejoined the AAHL team in 2017. Her primary duties include conducting DNA and RNA extractions and histology necessary for certification for commercial shrimp and bivalve operations.  She works on industry related projects, in which she conducts bacterial and viral challenges with the Pacific white shrimp, Litopenaeus vannamei. In 2019 Caitlyn attended the University of Arizona's Shrimp Pathology Short Course, and received her certificate. Her greatest accomplishment was winning fourth place in the "Great Pumpkin Over the Lagoon" contest in 2018.
Erica Albright – Aquaculture Lab Assistant
Erica also attended FAU's Semester by the Sea Program at HBOI and graduated with a B.S. in Biology and an Environmental Science certification from FAU in 2018. During that time she worked at the FAU Marine Research Lab at Gumbo Limbo, Boca Raton, FL, caring for sea turtles.  Erica was a Link summer intern in 2017, where she completed research regarding diet and temperature effects on the amphipod Parhyale hawaiensi. She works on industry related projects, in which she conducts bacterial and viral challenges with, the Pacific white shrimp, Litopenaeus vannamei. Since joining the AAHL team Erica has learned molecular and histological techniques, and assists in performing DNA and RNA extractions and histology necessary for certification for commercial shrimp and bivalve operations. 
Lily Newman – Aquaculture Lab Assistant
Lily graduated with a B.S. in Marine Biology from the College of Charleston, SC. in May 2020. She is currently working as a lab technician in the AAHL using molecular techniques such as DNA and RNA extractions, PCR, and gel electrophoresis in order to certify shrimp and bivalve commercial operations. Lily plans on entering a graduate programs, eventually earning her PhD in coral reef ecology and become a professor.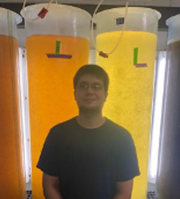 Benjamin Peskin – Aquaculture Technician
Ben received his Aquaculture certificate from Indian River State College in 2018. He has a certificate in boat mechanics from Marine Mechanic Institute in Orlando, FL.  For the past 5 years Ben has been involved in experiments with shrimp, sea urchins, bivalves, and amphipods.  His most recent projects have focused on the impact of probiotics added to shrimp feed and biofloc tank water, and a Florida Sea Grant funded project focused on improving Sun Ray Venus clam production.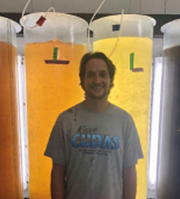 Eddie Perri – M.S. Graduate Student
Eddie received his undergraduate degree from the State University of New York at Cobleskill, in Fisheries Management and Aquaculture Engineering in 2015. Since graduating Eddie has worked with the USDA Forest Service in the Hiawatha National Forest on water quality and fisheries management projects, and more recently at the New York Aquarium focusing on water quality and life support systems. Eddie began his MS studies at FAU-HBOI in the fall of 2019 working on a Florida Sea Grant funded project focused on building hatchery capacity to produce Sun Ray Venus clams. His project involves determining optimal conditioning requirements, spawning and hatchery techniques, evaluating performance of nursery systems, and the role of diet on broodstock maturation and larval production.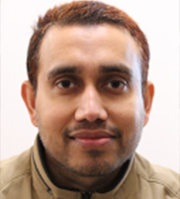 Mahbubul Hassan "Lotus" – Post Doctorate Fellow
Lotus is broadly interested in Aquaculture and Marine Biology. Over the last ten years, he was involved in research, teaching and commercial production of finfish and shellfish. He received his PhD at Flinders University in Australia where he investigated the reproductive strategy and sperm cryopreservation of the flat oyster Ostrea angasi. Following his PhD, he worked on an aquaculture nutrition project to investigate the efficacy of fishmeal replacement by soybean meal and EnzoMeal™ on barramundi. Lotus became an Assistant Professor and taught Fish Physiology and Genetics at Hajee Mohammad Danesh Science and Technology University in Bangladesh. Most recently, he worked for a Pacific oyster hatchery in South Australia where he cultured microalgae and oyster larvae/spat. Currently Lotus is working as postdoctoral fellow at FAU-HBOI. His current research includes optimization of diets and development of temperature tolerant lines for hard clam aquaculture.
Summer interns (since 2015):
2015 Nicolas Brandimarte – Prevalence assessment of Bonamia spp. and Perkinsus marinus within select eastern oyster populations in the Guana, Tolomato, Matanzas National Estuarine Research Reserve
2016 Reika Yu - Health Assessment of Crassostrea virginica in Natural and Restored Reefs of the Indian River Lagoon
2017 Erica Albright - Production of Parhyale hawaiensis: Dietary and Temperature Effects
2018 Charlotte Ahls - Molecular screening of Eastern Oysters in the Indian River Lagoon for Toxoplasma gondii and Enterococcus faecalis
2019 Emily Rutkowski - Survey and Salinity Preferences of Suberites aurantiacus in the Indian River Lagoon.
2019 Tonia Henning - Production of the Sea Cucumber Holothuria floridana with three different diets in an IMTA system
Graduate Students:
MS-FAU Lucas Jennings, Biology (2012-2014). Nematocyst replacement in the sea anemone Aiptasia pallida following predation by Lysmata wurdemanni: an inducible defense?
MS-FAU Nicolas Brandimarte, Biology (2016-2018). Health and performance of the Eastern oyster (Crassostrea virginica) under various culture conditions (Did not complete)
MS-FAU Edward Perri, Marine Science (2019-2021). Dietary impacts on Sunrvay venus clam (Macrocallista nimbosa) maturation and production
Graduate Committees:
MS-FAU Mary Crider, Geosciences (2011-2012).The Social and Environmental Effects of Shrimp Mariculture: Case Study of Two Coastal Villages in Ecuador.
MS-FAU Pedro Lara Biology (2014-2015). Mangrove prop roots as a potential disease vector and environmental refuge for the American oyster, Crassostrea virginica
MS-FAU Christie Gonzalez, Biology (2016-2017). Histopathologic Study of the Stomach Mucosa in Stranded Atlantic Bottlenose Dolphins of the Indian River Lagoon, Florida, 2000-2014. Changed to non-thesis
MS-FAU Rachel Plunkett, Biology (2015-2016). Discovery of Loxosomella vivipara in the Marine Sponge Hippospongia cf. gossypina in the Florida Keys
MS-Texas A&M Hailey Boeck (2017-2018). Survey for the oyster parasites Bonamia, MSX, and Dermo in Texas Bay systems
PhD-Univ FL Marlyn Kallau (2019-2022). Nutrient Value of Microalgae on Growth and Development of Hard Clams Mercenaria mercenaria
Post-Doc:
Holly Nance, Ph.D., Clemson University (HBOI 2010-2012). Oyster Restoration in SE Florida Estuaries: Use of population genetic methods to monitor effects of the Deepwater Horizon oil spill on an ecologically and commercially important indicator species, the Eastern oyster, along its Gulf Coast range
Md. Mabubul Hassan, PhD., Flinders University (FAU-HBOI 2020-2022). Exploring dietary impacts on improved spawning in Mercenaria mercenaria; Developing temperature resistant lines of M. mercenaria.