Celebrating 50 Years of Ocean Science for a Better World
Founded in 1971, Harbor Branch Oceanographic Institute is a world class research organization with a focus on exploring the marine environments, studying key species and understanding the connection between humans and the ocean. In 2007, Harbor Branch joined Florida Atlantic University, further expanding the reach of our programs to over 100 miles along Florida's east coast. Located in St. Lucie County, our 144-acre campus along the Indian River Lagoon employs over 200 scientists, engineers, educators, staff and students.
Pursuing
solution-oriented research
on critical issues affecting coastal zones, oceans and human well-being.
Marine Ecosystem Conservation
Intimately understanding the function of fragile ecosystems along the coasts and in the ocean has remained one of our lead research priorities since the inception of FAU Harbor Branch. From the diverse habitats to the protected marine life they support, we examine their responses to pressures like coastal land development, nutrient and plastics pollution, ocean acidification, warming temperatures and overfishing. Study results are essential for policy makers as they develop sound conservation, management and restoration strategies to help protect and save our oceans.
Ocean Health: Human Health
The ocean is teeming with life that has potential to unlock cures and treatments to some of the most devastating diseases facing humankind. Marine biomedical and biotechnology research is a hallmark of FAU Harbor Branch with ongoing federal funding and an international reputation. Our scientists closely examine natural chemicals and compounds derived from animals and plants found in and around coral reefs, resulting in promising drugs and therapeutics for the future. While the aquatic environment is a source for cures, it can also be a source for illness. There is not yet a full understanding of how changing environmental conditions and Harmful Algal Blooms (HABs) affect ecosystems and human health. FAU Harbor Branch conducts research spanning the issue, assessing the true risks.
Aquaculture Innovation and Food Security
More than 50% of the seafood we eat comes from aquaculture, but less than 1% is produced in the United States. Global demand for seafood is expected to double over the next 40 years. From seaweed to fish, FAU Harbor Branch research has advanced aquaculture in Florida, the United States and internationally. Our work aims to provide the research and technological advances needed by aquaculture businesses, allowing them to prosper and increase the supply of nutritious, safe and high-quality domestic seafood.
Technological Innovation and National Defense
Engineering advanced technology is the overarching solution for uncovering the mysteries of deep-sea ecosystems and how they can benefit people, like revealing new sources for medical drugs, food and energy resources. It is important to providing enhanced security for all Floridians and United States citizens. FAU Harbor Branch works with major defense contractors and the U.S. Department of Defense to better understand the oceanic environment in which the Navy operates and the biological, chemical, and physical processes that regulate that environment.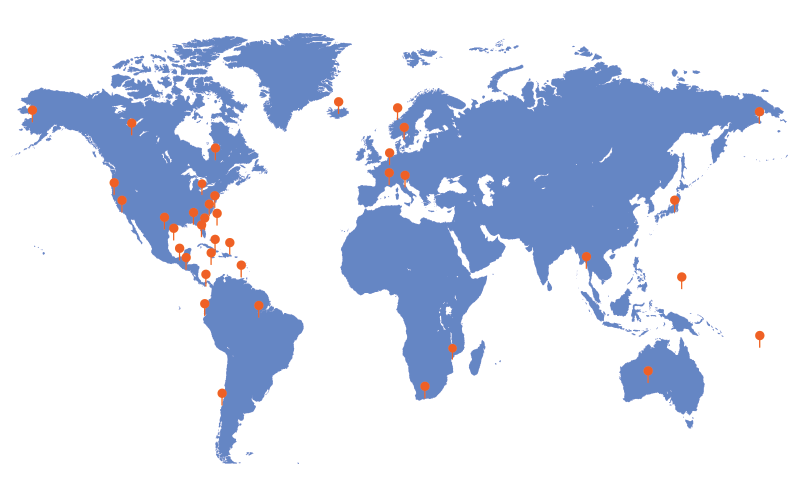 World Class Research in Florida and Across the Globe
FAU Harbor Branch research scientists take a global approach, conducting studies around the world in varying climates, ecosystems and cultures.
Trusted Leadership
The Institute is an active, longtime member in many key organizations, such as:
Consortium for Ocean Leadership
IRL National Estuary Program Management Council
Florida Ocean Alliance 
Florida Institute of Oceanography
Florida Sea Grant
Florida Governor's Blue-Green Algae Task Force
Florida Red Tide Mitigation Technical Advisory Council
National Marine Fisheries Service Marine Mammal Stranding Network
NOAA Cooperative Institute for Ocean Exploration, Research and Technology, Lead Member
National Aquaculture Association
Southeast Coastal Ocean Observing Research Association (SECOORA)
Organization of Biological Field Stations (OBFS)
National Association of Marine Laboratories
Southern Association of Marine Laboratories
Science that Informs Change
When it comes to the coastal and ocean environment, FAU Harbor Branch is a trusted leader and expert resource for government officials and agencies. We play a critical role in delivering credible science to key decision makers as they weigh important decisions related to environmental policy and stewardship.
Now more than ever, there is a critical need to understand the ocean and how to best manage this complex ecosystem for the benefit of society. FAU Harbor Branch was founded in the spirit of ocean exploration to unveil the mysteries of the deep. To this day, the Institute relentlessly pursues innovative ocean research, while providing top tier educational programs that will lead us to solve the most pressing issues facing our oceans—and us."
Jim Sullivan, Ph.D.
FAU Harbor Branch
Executive Director
Educating the Community & Training the Next Generation
FAU Harbor Branch's engagement in internationally relevant research attracts a diverse group of driven students. We offer formal educational opportunities to students pursuing degrees in marine science, engineering or related fields. For the community, our Mission: Ocean Discovery outreach and citizen science programs are designed to foster ocean literacy. In addition, the local school district's Marine and Oceanographic Academy high school is located on site and taps the expertise of our education team.
Mission: Ocean Discovery
Summer Internship Program
Semester by the Sea
Marine and Oceanographic Academy
M.S. Marine Science and Oceanography
Quick Facts
location
Fort Pierce, Florida
campus
144 Acres, 32 Facilities
people
200+ Scientists, Staff & Students
research
$20M+ in research funded by federal and state agencies and private foundations
How You Can Help
Florida Atlantic University (FAU) Harbor Branch Oceanographic Institute is rapidly evolving. Now is the time to expand our impact through private philanthropic support. The Institute is increasing its funding to core programs that will make a significant and timely impact on critical ocean issues in Florida and beyond. FAU Harbor Branch has strong partnerships with government officials, the Department of Defense and leading research institutions around the world. These key connections and partnerships ensure that we inform decision makers about science and how to ultimately mitigate impacts to the ocean and coastal environment.