Alexis Peña Wins Florida Student Planner of the Year Award
Thursday, Mar 03, 2016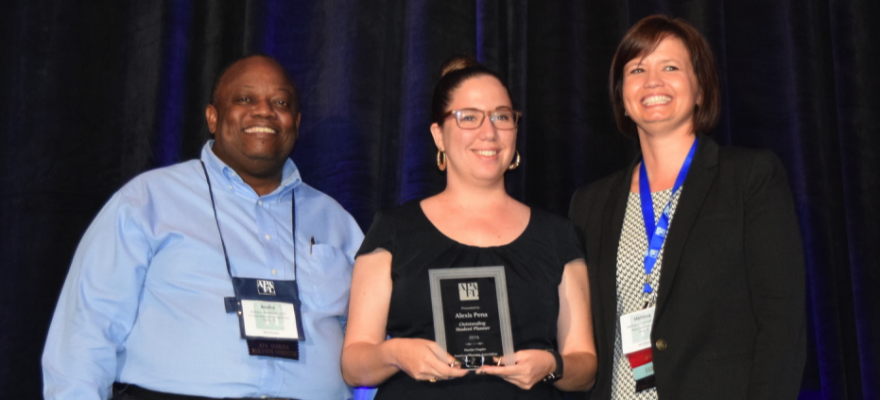 ---
Alexis Peña (center) receiving the 2016 Student Planner of the Year Award at the American Planning Association Florida Chapter Annual Meeting in Tampa. 
For the second year in a row, an FAU student has won the Florida Student Planner of the Year Award.  Last year's winner was Alison Goldberg and this year's winner is Alexis Peña.
Alexis entered the Master of Urban and Regional Planning program at Florida Atlantic University in January 2014 immediately after completing her Bachelor of Urban Design degree with cum laude honors at FAU.  Since then Alexis has demonstrated an unusual commitment to her studies and engagement with the planning profession.
Alexis ranks among our top students in terms of academic performance.  She is focusing on Geographic Information Systems: she completed a certificate in that area in 2014 and is now finishing an advanced certificate.  She has also completed or is completing several ESRI GIS certificates.  She has developed skills in a wide range of software packages with applications to GIS and planning.  She has enthusiastically taken advantage of every opportunity to prepare herself for a successful career in GIS applications to planning.
In addition to her studies, Alexis has been very active in extracurricular activities at FAU and in the community.  She served as the Treasurer of the Planning Society @ FAU (the student planning organization) during the 2015-16 academic year.  She was also founding President of the Geographic Information Systems Club at FAU and President of the Owls Supporting Diversity Club during 2014-15.  She has served for several years as a student liaison to the Gold Coast Section of FAPA.  She published an article in the May 2014 issue of FAPA's Florida Planning Magazine titled "Reinventing the Wheel and Charting a New Course: Incorporating Deafspace Planning in the Master Planning Process".  This paper won the first place award in the FAU Graduate and Professional Student Association Research Day in 2014. She also has worked as an intern for Keith & Schnars, PA.  She was a graduate research assistant for FAU's Center for Urban and Environmental Solutions, undertaking GIS analysis for redistricting projects for the cities of Tamarac and North Lauderdale.  She also has supplemented her practical experience with work as a GIS Cadastral Technician for Miami-Dade County and as a GIS Specialist for the City of North Miami.
In summary, Alexis Peña is an extraordinary student who has demonstrated her passion for planning through her commitment to studying, learning, and experiencing as much as she can about her area of specialization and through her extracurricular activities. Congratulations to Alexis!