Congratulations Class of Spring 2020
As Dean of the Charles E. Schmidt College of Science, I would like to congratulate every single member of our Spring 2020 graduating class on a job well done! Achieving the milestone of earning a college degree, whether it's a bachelor's, master's, or Ph.D., is one of the most challenging and rewarding tasks you will accomplish in your lives. Now, as each of you looks forward to the next phase of your lives, rest assured that your FAU experience has prepared you for what's to come. Later in your life journey, when you look back on your time at FAU, I'm sure you will agree that the return on your investment of time and effort turned out to be valuable beyond measure. I want to wish all of you the best of luck in all of your future endeavors and Go Owls!
Ata Sarajedini, Ph.D.
Dean and Professor, Charles E. Schmidt College of Science
---
The College of Science is featuring Spring 2020 graduates from across the college this week. Keep an eye out for new graduates that will be added to this webpage and College of Science social media:
 

Facebook ,

 

Instagram ,

 

Twitter .
---
Alexandra DeCesare, B.S. in Physics
What does FAU mean to you?
My experience at FAU has been full of opportunity, support, and success. I am very grateful to have been a part of the  Department of Physics. Although it is smaller in comparison to other departments, this department has presented me with so many life-changing opportunities and tools from novel research, publications, and awards to mentorship and leadership roles, all to ensure my future successes. The lifelong relationships I have formed with my professors, mentors, research teams, and classmates have been one of the most important aspects of my time at FAU. My time with them has taught me so many things about teamwork, patience, and courage. They have all been so supportive and motivating. Without them, I don't think I would be where I am today. A big shout out to them!
How will you commemorate graduation?
The Society of Physics Students at FAU has plans to host a virtual graduation ceremony for its graduating members.
What are your plans after graduating?
After graduation, I will be starting in June as an Associate Optical Engineer at L3Harris in Palm Bay, FL. There, I will be involved in projects related to the design and development of defense and commercial technology. Such projects mainly aim to advance the security of our communication systems.
---
Daniele Leoce, M.S. in Environmental Science
Daniele performs research with FAU associate professor, Maria Fadiman, Ph.D., and her research focus has been how people construct and maintain their cultural identities in the modern food landscape.
What does FAU mean to you?
I was a directionless student for a long time. I enrolled in community college right out of high school because it was the thing to do. In the beginning, I doubted I would ever achieve a bachelor's degree, let alone my master's. It took me a long time to figure out where I fit until I finally found my place in the Sciences at FAU. Here, I found classes that energized and inspired me, and the supportive faculty in the  Geoscience  and  Environmental Science  departments have played a huge role in helping me build my confidence as a student. I am so grateful for my time here!
How will you commemorate graduation? 
This is certainly an odd time to be graduating! Given the unexpected backdrop to this achievement, my commemoration plans are to pretend my apartment is a luxurious resort, cook myself an elaborate celebration meal, enjoy a bubbly beverage in a fancy flute, and have my entire family change my contact name in their phones to "Master Daniele."
What are your plans after graduating?
I am so lucky to say that I have worked as a full-time Science Educator for the City of Boca during my entire graduate degree. I will continue to work with them for the foreseeable future, helping elementary-aged kids learn that science is cool! Now that I am on the other side of the school, my eyes are open to new opportunities as they come up.
---
Kelsey Witkay, B.S. in Exercise Science and Health Promotion
What does FAU mean to you?
I am earning my Bachelor of Science in  Exercise Science and Health Promotion, and I focused primarily on athletes and athletic performance. Additionally, I competed four years as a member of FAU's Swim and Dive team, primarily in sprint freestyle events. Coming from California, FAU became my home away from home. My professors always had the student's best interest at heart and the Exercise Science program definitely went above and beyond in preparing me for my field of interest post-graduation. My team, especially, became my family and I will cherish my time as part of FAU's Swim & Dive team for lif
How will you commemorate graduation? 
Thankfully, my roommates and I were able to still commemorate this special time with pictures around campus, as we are all quarantine-ing together!
What are your plans after graduating?
After graduating, I am hoping to pursue a career in Sports Management/Marketing, while serving as a trainer part-time with F45 Boca Raton!
---
Nate Shanok, Ph.D. in Experimental Psychology
Nate Shanok's Ph.D. focused on developmental and cognitive neuroscience. Shanok's dissertation project examined various associations between executive functioning skills, resting-state brain activity, and anxiety in preadolescent children. 
What does FAU mean to you?
I've been fortunate to call FAU home the last five years and have had nothing but positive experiences while working with human resources, marketing, and accounting employees and of course my stellar professors in  Behavioral Sciences. My department has been extremely supportive of my goals and has given me the tools to excel as a student and to develop into a successful professional as a graduate. I'm extremely grateful that I've had the opportunity to learn from and work with the department chair (Dr. Teresa Wilcox), my advisor (Dr. Nancy Jones), and both Dr. David Bjorklund and Dr. Monica Rosselli. I would like to thank my professors for their continuous dedication and guidance, and I would, of course, like to thank my peers for helping to make my experience at FAU so rewarding and enjoyable! 
How will you commemorate graduation?
I am looking forward to commemorating graduation with my immediate family including my wife Jen, my parents and sisters, and of course my two dogs Oliver and Moses. I will be celebrating with them and also hope to take a nice walk around the FAU campus to feel connected with my school.  
What are your plans after graduating?
I am currently working as a clinical researcher at the Els For Autism Foundation in Jupiter, FL. It's a rapidly growing center with many exciting services for individuals with autism spectrum disorder, founded by professional golfer Ernie Els and his wife Liezl. At the foundation, we have formed a partnership with the Seaver Autism Center of Mt. Sinai Hospital in New York and have been conducting research to examine early eye-tracking and neurophysiological markers of autism, as well as the ways in which early interventions can alter developmental trajectories in preschool-aged children with autism. I am also being considered for a position as a research psychologist with the U.S. Navy.
---
Alex Dowling, B.S. in Mathematics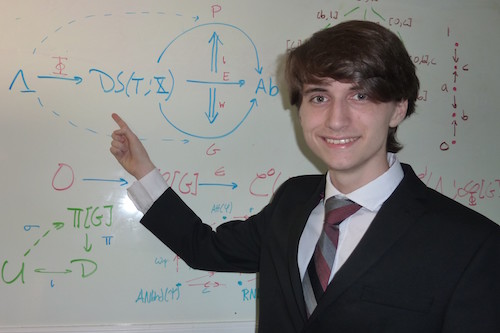 What does FAU mean to you?
I initially was drawn to FAU's University High School program at A.D. Henderson, which allowed me to take college-level and even graduate-level coursework in high school. I transferred to FAU High in my junior year. After I graduated high school, I stayed at FAU for the excellent research opportunities, accommodations for accelerated coursework, and spectacular faculty. I would like to give a  special thank you to Dr. Kalies and Dr. Lundberg for all their support.
How will you commemorate graduation? 
My family is considering a "drive-by" graduation ceremony for myself and my cousin (who is graduating high school and entering FAU this fall). 
What are your plans after graduating?
After I achieve my master's, I plan on pursuing a Ph.D. in Mathematics at Rutgers University. From there, I will either complete a postdoc or apply my skills in topological and dynamical data analytics to the industry.
---
Sigourney Kame, B.S. in Exercise Science and Health Promotion
What does FAU mean to you?
What started as a dream to study and play volleyball in the USA one day as an international student, became a reality when I committed to attending FAU four years ago. My time at FAU has now come to an end after four INCREDIBLE years. I am super grateful that God blessed me with such amazing people here at FAU (my  Exercise Science and Health Promotion Department, Volleyball Team, Athletics and entire FAU community), who all truly care about you as a person and genuinely want to see you succeed as a student and athlete! FAU definitely made a huge impact on my life! Looking back I can see how God made me to grow into a strong young woman with great faith!
How will you commemorate graduation? 
I will celebrate my "quarantine graduation" to the fullest by dancing to my favorite music at home and gather virtually with my best friends and family!
What are your plans after graduating?
My plan after graduation is to get as much work experience as I can, before going back to school to pursue a master's or doctorate degree and maybe continue my career as a volleyball player God willing!
---
Sara Durgan, Ph.D. in Geosciences
What does FAU mean to you?
I've had a wonderful experience as a doctoral student at FAU. As a graduate student, you are mainly associated with your department. I was fortunate to be able to collaborate with researchers in outside departments like Harbor Branch Oceanographic Institute and the Department of Engineering, which greatly contributed to my research.  The Department of Geosciences  was incredibly supportive throughout my time at FAU and provided me with excellent career opportunities. As an alumnus of the program, I look forward to actively giving back to the department so future students can have as positive of an experience that I did.
How will you commemorate graduation? 
The current epidemic definitely shifted my expectations for celebrating my graduation, but I hope I am still able to walk in a future ceremony. Until then I will probably enjoy some champagne in the backyard with my husband and cat while video chatting with friends and family.
What are your plans after graduating?
I accepted a position as a Field Data Capture and Unmanned Aircraft System (UAS) Specialist at AECOM in Fort Lauderdale that I start the week after the semester ends. I am thrilled about the position as it is a perfect fit for the skills I have gained while at FAU. I get to continue to fly drones professionally for a wide array of applications.
---
Melissa Moorehouse, M.S. in Environmental Science
What does FAU mean to you?
My mentors were great. Dr.Jay Baldwin has an amazing way of fitting a study into the bigger picture and guiding you through the process. Dr. Jeanette Wyneken is an expert in marine turtle biology and has an incredible reputation in the field. Dr. Kristen Hart from the United States Geological Survey (USGS) is who brought me into FAU. This is her project and she is the one who encouraged me to take it on and gave me the freedom to shape the project any way I wanted to. The USGS also provided the samples and funding for my research. Dr. Hart is the expert in marine turtles in Buck Island Reef National Monument, USVI where my study site was located. She has mentored me both through the project and through future career goals. She will be a lifelong colleague.
How will you commemorate graduation? 
I am in the middle of moving now when I would have been celebrating graduation. So, I will spend the weekend with my parents in Long Boat Key, FL, and hopefully enjoy the beach one last time before I head up to New York (since the beaches are still closed here).
What are your plans after graduating?
I am active duty military and the Army allowed me to take these two years to earn my degree so that I would be prepared for my next assignment. I will be an instructor at West Point Military Academy in NY. I will be teaching environmental science and geography beginning in the fall.
---