Physical-Biogeochemical Ocean Observation & Modeling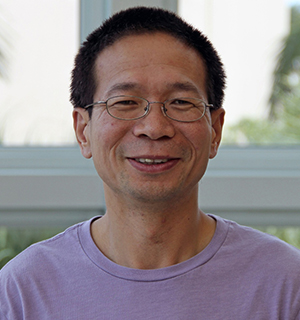 Mingshun Jiang, Ph.D.
Associate Research Professor
772-242-2254
jiangm@fau.edu


Research overview
Dr. Jiang is a physical oceanographer specializing in ocean coupled physical-biogeochemical-ecological modeling. His primary research focuses on understanding coastal and ocean meso-scale physical processes and their roles in controlling nutrients and carbon cycle, Fe cycle, phytoplankton blooms, and ecosystem dynamics. These processes are important to addressing many pressing issues that strongly impact coastal and ocean environments and ecosystems including eutrophication, harmful algal blooms, and health of shallow and deep corals. The goal is to acquire information and knowledge that assist in management decisions in marine ecosystem protection, habitat restoration, and conservation efforts. His research tool is primarily numerical modeling but he has increasingly led and participated in field research using traditional and advanced technology including CTD, ADCP, benthic lander, Acrobat, AUV, and ROV. Dr. Jiang's recent efforts focus on 1) hydrodynamics, water quality, and harmful algal blooms in the Indian River Lagoon, St. Lucie Estuary and the adjacent areas, 2) phytoplankton blooms, seagrass, meso-scale dynamics, and carbon cycle on the southwest Florida shelf, 3) deep corals in the Gulf of Mexico and Florida Straits, and 4) iron cycle and food-web dynamics in the Antarctic Peninsula, Drake Passage, Scotia Sea, and Weddell Sea region of the Southern Ocean.
Selected Recent projects
Development of Florida Center for Coastal and Human Health, HBOIF, Amy Wright (PI), co-PIs Mingshun Jiang and 10 others. 7/1/2019-6/30/2020, $850,000.
Precipitation, water management, and algae blooms in South Florida estuaries, NASA, PI: Chuanmin Hu, co-PIs: Mingshun Jiang (HBOI lead), Brian Lapointe, Malcolm McFarland, 7/15/2019-7/14/2022, $1.2M.
Exploration and characterization of fine-scale physical-biogeochemical environment over deep coral reefs on the west Florida Slope using integrated ROV-lander-sensor system, NOAA OER, PI: Aleck Wang (WHOI), co-PIs: Mingshun Jiang and Sandra Brooke (FSU), 10/1/2018-9/30/2020, $469,003.
The connectivity and retention of Antarctic krill in the northern Antarctic Peninsula, Scotia Sea, and South Georgia, Antarctic Wildlife Research Fund, Mingshun Jiang (PI) and Christian Reiss (NOAA), 1/1/1/2017-12/31/2018, $74,524.
Water quality impacts of St. Lucie river plume on northern end of the Florida Reef Tract, Mingshun Jiang (PI) and Brian Lapointe, NOAA CRCP program, 7/1/2015-12/31/2016, $59,556.
Connectivity of the Pulley Ridge - South Florida Coral Reef Ecosystem: AUV/ROV Complementary, Fraser Dalgleish (PI) and Mingshun Jiang (co-PI), NOAA/CIOERT, 7/1/2014-6/30/2016, $250K.