FACILITIES
Facility Requests  - External and Internal groups with FAU may request facility usage by filling out and submitting the following form:  Campus Recreation Facility Reservation Form.
Fields
Campus Rec has two fields located in the heart of FAU's Jupiter campus. The North and the South fields are utilized often for open rec and other organized activities. The recently renovated North Field has lights that allow for evening play. They measure around 180 feet by 160 feet and have available seating for audiences.
Pool
The pool is closed for the Summer. Hours will resume in the Fall once classes start. 
FAU Jupiter's pool is located behind the Pool Locker room building in between the sand volleyball court and basketball court. It is L-shape designed with a max depth of 5 feet and always has a lifeguard on duty. It is open throughout the year when classes are in session and hosts various events. Student may lounge around, study at one of our tables, or have fun with our new water basketball or water volleyball net!
Tennis Court
Features:
 Has lights for evening play
Basketball Court
Features:
 Has lights for evening play
Sand Volleyball Court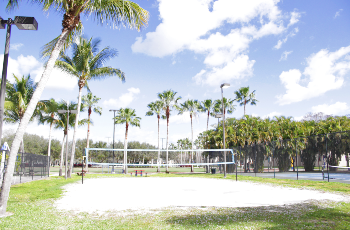 Features:
 Has boundary lines and lights for evening play