Visual Brand
Our visual brand is how we consistently identify ourselves. 
The FAU Wordmark
The Florida Atlantic University logo features a depiction of a wave inside the letter "A." This wave is a tribute to an important part of our name: Atlantic. The proximity of all our campuses to the Atlantic Ocean is part of FAU's cultural DNA. The ocean is not only an important element of the South Florida culture but also the subject of many fields of specialized study at FAU. The wave also represents energy and forward motion. The acclaimed faculty and staff and dedicated students at FAU are part of a "wave of the future."
Wordmark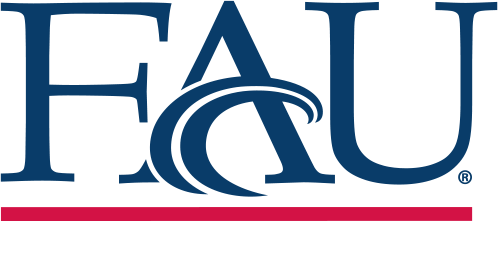 Initial Mark
The FAU Spirit Logos
The FAU spirit logos are the preferred marks to represent FAU and are also used as the University's main athletic marks.
The FAU Colors
FAU Blue – Wisdom, Trust, Atlantic
PANTONE 295
CMYK: 100C-78M-26Y-28K
WEB SAFE/RGB: 003366
FAU Red – Boldness, Vibrancy, Spirit
PANTONE 200
CMYK: 20C-100M-81Y-10K
WEB SAFE/RGB: CC0000
FAU Silver – Dignity, Illumination
PANTONE 877
NO CMYK
NO WEB SAFE/RGB
FAU Gray – Formal, Intelligence
PANTONE 428
CMYK: 23C-16M-14Y-0K
WEB SAFE/RGB: CCCCCC