Broward Student Research Symposium
This event features research activities of Broward graduate and undergraduate students and gives student researchers the opportunity to experience presenting research (planned or ongoing) or course projects.
In addition to the awarding of prizes, the event provides a forum for student interaction with faculty and peers while showcasing their work. The annual event is usually covered by the media and provides a virtual forum for student interaction with faculty and peers while showcasing their work.
The event is hosted by the Broward Campus and partially supported by the University's office of Undergraduate Research and Inquiry (OURI).
11th Annual Broward Student Research Symposium
---
Since the health and safety of our students, faculty and staff is FAU's highest priority, the 11th Annual Florida Atlantic University Broward Student Research Symposium will be a virtual event this year on Canvas. The site will be open from Monday, November 15th till Friday, November 19th 2021.
We will have live Zoom presentations on Monday November 15th and Tuesday November 16th.
Please note that this year our student presentations will not be judged. There will be a People's Choice Winner for the Doctoral, Masters, and Undergraduate categories.
How to Apply
Interested students must submit an electronic application, and abstract by October 15nd, 2021 no later than 5 pm. Thesis and dissertation work, individual and group ongoing or planned research and course projects are all appropriate. Options include: recorded 3 minute narrated poster presentations, 8 minute recorded performance art pieces, and 8 minute recorded oral presentations.
Please complete the online application through Qualtrics. Read through all of these instructions before clicking on the link.
After clicking on the link, you will land on the application.
You must submit your application once all questions have been answered.
You will be notified by October 20th of your acceptance and will be tasked to upload your presentation on the canvas course by November 5th.
Instructions for Participating Students
---
Photo Release Needed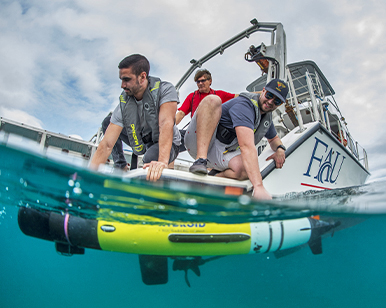 If you are posting a presentation that will include yourself physically in the camera shot (not a narrated PowerPoint, but an actual video of yourself) we need you to complete a video and photo release. Please e-mail Shireen Lalla for the form.
Research Integrity
Please note that, on accessing the Symposium Canvas site, all presenters and attendees will be asked to acknowledge that they will not misuse or share the original research being presented in the symposium without direct permission from the authors.
Audience Participation
Faculty, Staff and Students are invited to join us in virtually celebrating the research and inquiry activities of our student scholars and attendees can engage through discussion boards. Attendance is open, and if you have time, please participate in some of the discussion boards by reviewing the student presentations and posting some helpful comments to the discussion thread.
Anyone interested in joining the Virtual Symposium as an audience member, please fill out the attendee registration form by Wednesday, November 10th.
Instructions for Poster Presentations
For poster templates, visit the Provost's poster template page. Please ensure that your presentations have been uploaded to stream via either a YouTube, Google Drive or OneDrive public link (MP4 or web-quality MOV files stream best). For any technical questions, please e-mail Shireen Lalla.