Research Opportunities at Broward
The Office of Undergraduate Research and Inquiry (OURI) serves as a centralized support office for FAU faculty, staff and students who are engaged in undergraduate research, scholarship, and creative activities.
OURI offers university wide programs such as undergraduate research grants, the annual undergraduate research symposium, the undergraduate research journal etc. Through OURI faculty and students can:
Broward Student Research Symposium
---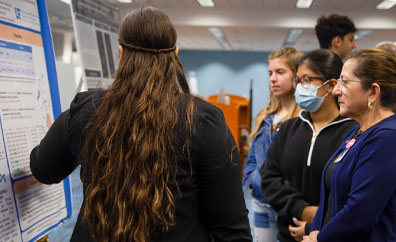 FAU Broward Campuses celebrates students and their research in a one-day event that includes a series of concurrent talks, a poster sessions, presentations, as well as a keynote address.
The Broward Student Research Symposium is unique event, where FAU Broward Campuses showcases the diverse academic achievements of our students, and the work they are doing with their faculty members.
The event is hosted by the Broward Campus Administration and partially supported by the University's Office of Undergraduate Research and Inquiry (OURI).