FAU Broward Campuses Library Services
If you are a FAU Broward student, you do not need to go to the main campus in Boca Raton to get access to the library. Besides having access to library facilities in Davie and Fort Lauderdale, there are also several online resources available to all the students. Some of those resources include:
University/College Library


FAU & Broward College Joint Use Facility
---
The University/College library (U/CL) is a four-story building that serves as a joint-use facility for students, faculty, and staff of Florida Atlantic University and Broward College.
The facility includes a reference desk, café, open stacks, archives/special collections, study rooms, learning resource labs (Academic Success Center), interlibrary loan, and a check-out desk. Patrons can visit the library seven days a week.
To borrow materials from the library FAU students need to have a school identification card. FAU students may obtain an OWL identification card in room 201 of the Davie Student Union building. Books may be checked-out at the check-out desk.
To schedule library instruction for your classes, please contact the FAU/BC Davie Campus Library Administration Office:
Monique Blake
Dean of the FAU/BC Davie Campus Library
3501 Davie Road, Davie, FL 33314
E-mail: mblake@broward.edu
Phone: 954-201-4555
University/College Library Web Site
Davie Campus Online Catalog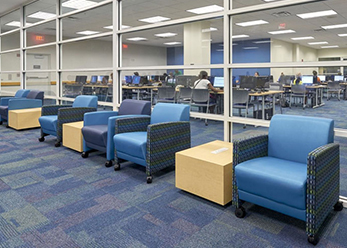 | DAY | TIME |
| --- | --- |
| Monday-Thursday | 7:30 a.m. - 9 p.m. |
| Friday | 7:30 a.m. - 4 p.m. |
| Saturday | 9 a.m. - 4 p.m. |
| Sunday | 2 p.m. - 9 p.m. |
Fort Lauderdale Campus Library


Broward County Library
---
In addition to being able to use all of the online collections and services available to all FAU students and faculty at the FAU-run branch libraries, Fort Lauderdale students can have direct access to library spaces and materials through FAU partnership with Broward County Library.
The Broward County Library is a public library system in Broward County. The system circulates over 10.5 million items annually. The Main Broward County Library in Fort Lauderdale is next to the FAU Fort Lauderdale campus, and it contains materials specific to FAU students.
To schedule library instruction for your classes in the Fort Lauderdale campus, please contact the administration office:
Linda Golian-Lui
Dean, FAU Libraries
Wimberly Library Room 232
777 Glades Road, Boca Raton, FL 33431
E-mail: lgolian@fau.edu
Phone: 561-297-3717
Broward County Library Web Site
Broward County Online Resources
| DAY | TIME |
| --- | --- |
| Monday-Wednesday | 10 a.m. - 8 p.m. |
| Thursday-Saturday | 10 a.m. - 6 p.m. |
| Sunday | Closed |
Other Library Resources
---